Gay footballers should feel free to come out, say fans
Supporters blame clubs and agents for forcing players to keep quiet about their sexuality
Gay footballers should feel free to come out, say fans

Show all 2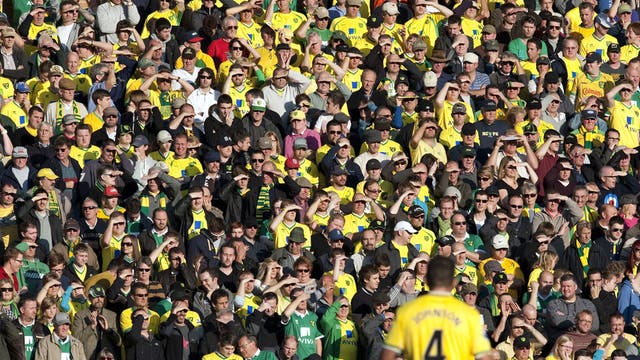 The taboo surrounding gay players in football is a myth – among fans at least – according to new research. Supporters would welcome players coming out, and many blame clubs and agents for keeping gay footballers in the closet, according to the study by the University of Staffordshire.
More than 90 per cent of fans would approve of a gay player and say there is no place for homophobia in football. Despite overwhelming support for homosexual players, many fans said they viewed homophobic abuse – frequently cited as a major reason dissuading players from coming out – as good-humoured banter. The survey of 3,500 fans, published in the Journal of Sport & Social Issues, found that fans judge players on their ability, not their sexuality. Clubs and agents are cited as the main obstacles by more than 40 per cent. "Brand damage" was how one fan put it.
Professor Ellis Cashmore, who led the study, said: "Football's gay players have been reluctant to come out. Their reasons for remaining silent lie inside the football industry rather than in the crowds. Most fans are embarrassed by the popular conception of football as a homophobic environment. It is an impression, they believe, maintained by a code of silence orchestrated and enforced by agents and clubs."
But Mel Stein, chairman of the Association of Football Agents, criticised the study. "It is utter nonsense to suggest that a sports agent would place any pressure on a client confirming or denying or concealing his sexual status," he said. "In the 21st century I think that a heterosexual affair would be far more damaging to a player's image than any acknowledgement of a player's homosexuality as far as sponsors were concerned."
Yet only one British professional footballer, Justin Fashanu, has ever publicly admitted being gay. That was more than 20 years ago. Britain's first £1m black player, he committed suicide in 1998. The prejudices he faced were cited at the inquest into his death.
Away fans would taunt openly gay players, admitted Efe Sodje, a defender for Bury and Nigeria. "If anybody's going to come out it might be the fans who give him a hard time – not his own fans. It will be the away fans when they find out."
A number of players have come out to teammates, but not to the fans. "There are many people who are openly gay in the industry. If they don't wish to broadcast this via the media, that's understandable," said a Premier League spokesperson.
Chris Basiurski, chairman of the Gay Football Supporters' Network, said: "We have heard anecdotal evidence that there are players out to their clubs and teammates, but not to the wider footballing community."
Paul Miller of the International Gay and Lesbian Football Association said: "We know of gay and bisexual players being advised to remain in the closet by their agents fearing the effect it would have on their 'saleability' in the transfer market."
Liverpool is set to be the first Premier League club to sign up to the Government's charter to kick homophobia out of sport. "The club is committed to signing up to the Government's charter, and it is hoped that this will be achieved before the end of the year," said a spokesman. But there is still some way to go before most clubs publicly embrace the issue of homosexuality, with just a handful of professional teams signing up to the charter.
While football itself is ready to accept gay players, anyone coming out would face media intrusion of "titanic proportions", warned Clarke Carlisle, the Burnley defender currently on loan to Preston North End, who is also chairman of the Professional Footballers' Association.
To take part in a survey on racism and football in the 21st century, visit www.topfan.co.uk
Join our new commenting forum
Join thought-provoking conversations, follow other Independent readers and see their replies