Ian Holloway: Best player? Grant Holt. Just don't expect him to be picked for England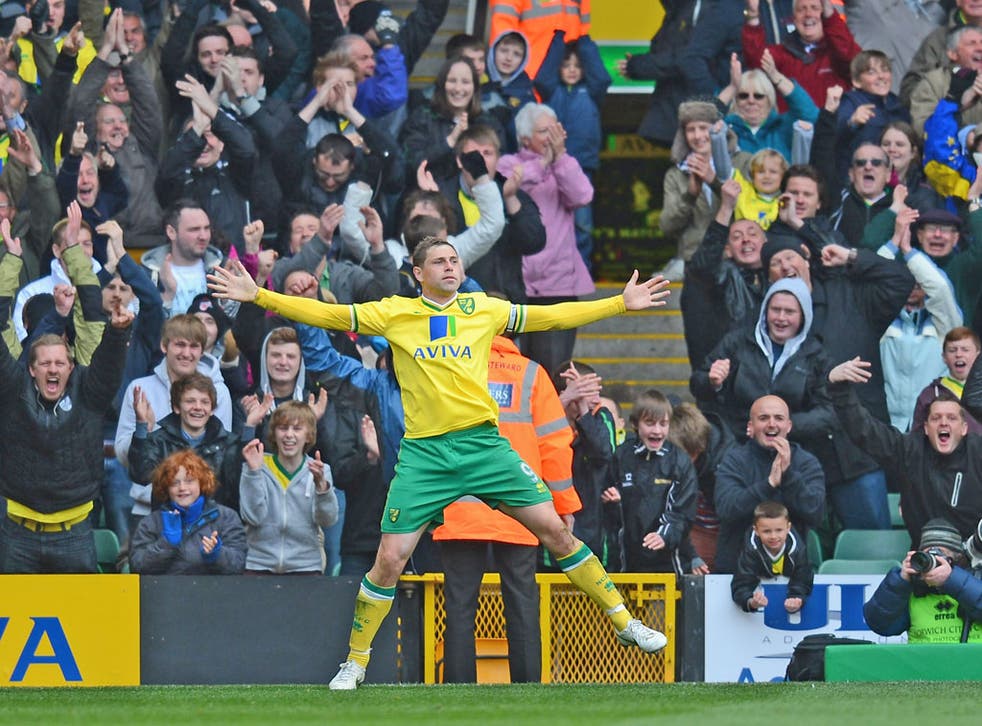 I am delighted to say our season isn't over yet. Blackpool are in the play-offs later this week with a chance of going back to the Premier League, which is bloody fantastic.
But as everyone else is coming to the end of the year, I want to take a look back and hand out some awards. You've heard of the Oscars, well here are the Ollies.
Manager of the year
Tony Pulis has once again done a remarkable job and to survive so comfortably in the top flight, as well as competing in the Europa League, really is some achievement.
Alan Pardew taking Newcastle to the brink of the Champions' League is incredible. But I cannot look past Brendan Rodgers and Paul Lambert.
The pair of them have been an absolute credit to the Premier League with the way they have gone about trying to stay in the division.
Lambert just about gets the nod, as he has taken Norwich from League One to the very top in the space of two years.
Underrated hero of the year
Every so often the player you least expect to have a remarkable season does just that. Take a bow Grant Holt. He has been terrific at Norwich.
There has been a debate about whether he merits a call-up to the England squad. I think that would probably be taking it too far, though he hasn't a chance anyway; the bottom line is that if you don't play for one of the big clubs in this country, you don't get selected by England. That's just the way it is, unfortunately.
But in this year's Premier League Holt has been sensational and well done to the lad – a victory for perseverance and hard work. Ashley Williams at Swansea has also been outstanding.
Worst decision by a chairman
Too many to choose from, but I think the Wolves board just about claim the prize. Mick McCarthy did not deserve to get sacked and what has happened since has been inevitable.
Lee Clark losing his job at Huddersfield was bizarre, and to sack Simon Grayson when his Leeds team were three points off the Championship play-off places was ludicrous. You can understand managers in charge of struggling teams getting the chop but what has happened this season has been nonsensical. It has been the craziest year yet and the people who run clubs must calm down and stop acting stupidly.
Best Blackpool game
Beating Leeds 5-0 at Elland Road in November was special. As a kid in the 1970s, I remember Leeds as one of the country's best clubs and it was an honour to take my Blackpool team there. To then win, and in the style we did, made the hairs on the back of my neck stand up.
It was bizarre because our worst defeat came a few days earlier when we lost 3-1 at Burnley and were plain awful. We didn't have a shot for 60 minutes and I've never been so depressed after a match.
It was especially bad as I live in Burnley and all my neighbours were taking the mickey out of me. It was a horrible evening, so that Leeds win later that week cheered me right up.
Worst decision
Not so much the decision to send off QPR's Shaun Derry for his "challenge" on Ashley Young – though it was a shocker – but the FA's failure to rescind the red card. Young barely got touched – and he was offside anyway. I sometimes wonder what planet our FA are on. You couldn't make it up.
Most welcoming ground
We played our local neighbours Fleetwood in the FA Cup in January and my wife and I were bowled over by how nice they were. We have been to some very pleasant places this season – Reading, Everton in the FA Cup – but nowhere matched Fleetwood for sheer warmth.
We won 5-1 that day – though the scoreline massively flattered us – but Fleetwood went unbeaten for the remainder of the season and won promotion to the Football League for the first time in their history. I did a little jig at home when I found out they had gone up. It is brilliant for the whole of the Blackpool area.
Best hotel
One of the perks of that season spent in the Premier League is that since then, and now the chairman has a few extra quid in his pocket, the wife and I often get a room upgrade at the hotels we stay in before matches.
When we played at Reading, we got a top-floor suite with a terrace overlooking the River Thames. Me and the missus felt like millionaires.
It made a nice change from our two up, two down in Lancashire! Lovely hotel, just a pity the football ruined it; we lost 3-1 and defended like lemons.
Most embarrassing moment
My skipper Barry Ferguson got sent off at Birmingham on New Year's Eve and out of sheer frustration I kicked the dug-out. I then turned to the fourth official and said, calmly by my standards: "what was the red card for?"
He told me he'd seen me kick the dug-out, that it wasn't allowed and he ordered these two big security guards to take me to the stand. They literally picked me up by the armpits, lifted me clean off the ground, and my little feet were swinging in the air.
I was fuming at the time but it must have looked quite funny to anyone watching. The Birmingham fans certainly enjoyed it.
Best team
I chose Paul Lambert over Brendan Rodgers for best boss, so I'm going for Swansea here. The way they have played has been a joy to watch and they have never wavered from their desire to pass the ball and be pleasing on the eye. We have a duty in football to entertain and that is what Swansea do. Well done to them.
Best bit of business
Take your pick from any of the new boys at Newcastle – Papiss Cissé, Demba Ba, Yohan Cabaye – they have all been brilliant. But I'm going to be selfish here and say I did the best bit of business.
When I signed Kevin Phillips on a free transfer last summer, a few people said: "why is Ollie getting him, he's way too old." I told them not to be daft, to wait and see Kev in action.
I think I have been proved right. He might be 38 but he remains pure class. He has 16 goals and has played a massive part in us getting to the play-offs. The bloke is a legend.
Surely it was the game's finest week
I cannot wait for tomorrow's Manchester derby, but it will have to be something special to match what could well rank as one of the best weeks of football of all time.
Everton started it all by showing the fortitude and belief at United to come back from 4-2 and keep going. It looked like the game, and the season, were over. I don't think Fergie's men threw it away, it was just Everton kept going at them. Two fantastic goals later, the door for City was well and truly open.
Chelsea then produced the most amazing performance and result I've ever seen. It also made me feel better about conceding two goals to a 10-man West Ham a few weeks ago. If the mighty Barcelona can concede two goals to 10 men, then God help the rest of us!
Barça were too cumbersome and predictable. They also looked tired. But it was still a phenomenal effort by Chelsea. John Terry will have to thank his team-mates for the rest of his life. The magnitude of the occasion got to him and he did something very stupid.
Just when it couldn't get any better, Bayern Munich showed the will to come back after Cristiano Ronaldo's goals. It shows how much you need willpower and drive as well as skill – an astonishing week of football.
Glad to be back in the doghouse
It's absolute chaos in our house; we have a new lodger. I saw an advert for Miniature Poodles near our training ground.
Kim and I have been feeling a bit lonely since our kids moved back to Bristol last month and took all the pets with them, so we thought: "sod it, let's get a dog."
We got him last Sunday. He is jet black – which isn't very practical because we keep tripping over him in the dark – and we've called him Dougal after the dog from the Magic Roundabout.
He's not potty-trained yet sothe entire house is covered with plastic sheets and some of the sights we see when we come down the stairs first thing in the morning aren't very pleasant.
He must be missing his mum because he spends all night crying and howling. I've never been so tired in my life because he has been keeping me awake.
But I love dogs, I've had one all my life, and the house has felt like a proper home since he arrived.
Join our new commenting forum
Join thought-provoking conversations, follow other Independent readers and see their replies