The Independent's journalism is supported by our readers. When you purchase through links on our site, we may earn commission.
Inside Cristiano Ronaldo's museum: 'I have room for more trophies'
Museu CR7 in Funchal, Madeira, is devoted to just one subject: the footballer Cristiano Ronaldo. Alice Jones pays a visit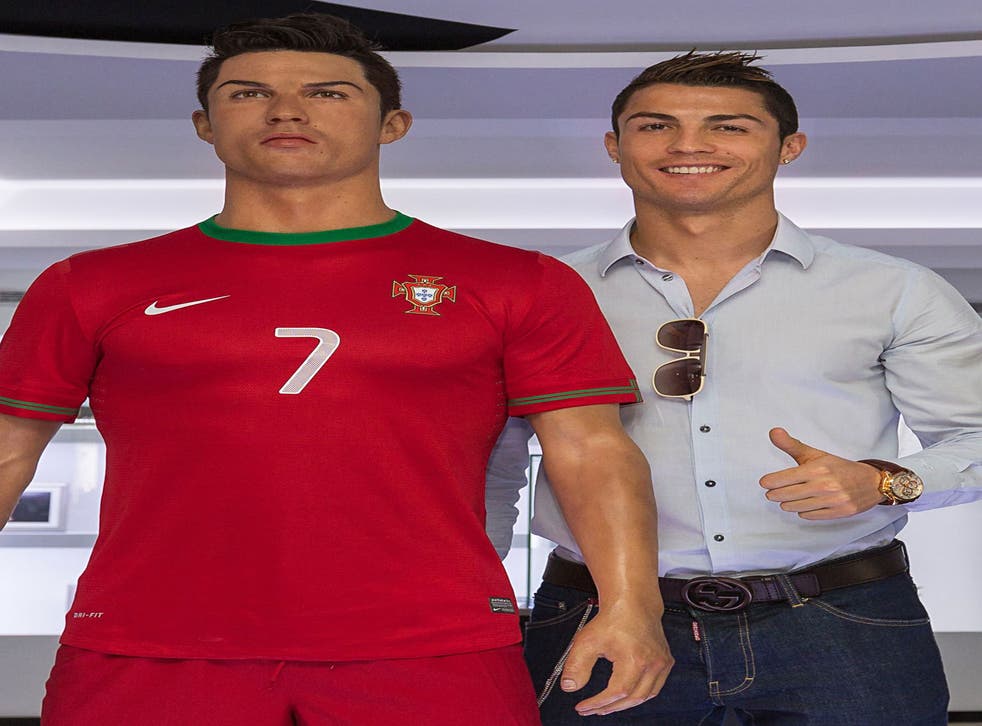 What to do when your trophy cabinet gets too full? If you are Cristiano Ronaldo, you build your own museum. As storage solutions go, it sounds extreme but Ronaldo, the world's most expensive and highly paid footballer and arguably the world's finest and vainest too, operates in extremes. Museu CR7, dedicated to the life and times of the Portuguese forward, 29, opened in his native Funchal, on the island of Madeira in December. It contains every trophy Ronaldo has ever won, from the tiny tarnished gold cup he received as top scorer for his local team Andorinha, aged eight, to the 2013 Fifa Ballon d'Or, awarded to him as the best player on the planet last month.
In the gleaming white cabinets inbetween there are 140 or so other gongs, cups and golden boots, medals, signed balls and shirts. There are countless photographs of the player on and off the pitch over the past 20 years, an interactive video wall where visitors can jostle for the ball against a virtual Ronaldo and, in pride of place on a podium, a waxwork in a Portugal strip. In other words, Museu CR7 has everything Ronaldo fans could want, and some things they never knew they wanted as well.
It is the brainchild of Ronaldo's older brother, Hugo, who still lives in Funchal where he runs a construction business and is now director of Museu CR7 (the 7 refers to the footballer's shirt number at Manchester United and Real Madrid). A few years ago he went to stay with Ronaldo in Madrid and, finding trophies scattered all over his brother's villa, suggested that he should gather them up and put them on show for his fans. Ronaldo had bought a five-storey building just up the hill from the Funchal harbour four years earlier and had been wondering whether to make it into a disco or restaurant. In the end, he and Hugo settled on a museum instead.
The grand opening took place just before Christmas. Ronaldo flew in from Madrid where he lives with his model girlfriend, Irina Shayk, and his mother, Maria Dolores dos Santos Aveiro. His three-year-old son, Cristiano Junior, unveiled a plaque. A big screen in the gift shop plays footage of the footballer's visit on a loop. "I have room for more trophies. I don't really want to mention specific ones", Ronaldo said. "All I want is to win more awards and if the Ballon d'Or comes, there is extra room here." The Ballon d'Or did come, and this month will take its place next to his other one, from 2008, somewhere behind the waxwork. In its first month, Museu CR7 had over 10,000 visitors, each paying €5 a ticket.
Ronaldo is Funchal's most famous son. Christopher Columbus settled on the island for a time and Winston Churchill loved to paint the sea from the hills above the Madeiran capital, but it is Ronaldo, born and bred in the suburb of Santo Antonio, whose face pops up most frequently in the town's shop windows. Now with a new tourist attraction to promote, he has become even more ubiquitous. A giant CR7 banner is the first thing that the cruise ships see as they pull into the harbour. Another, featuring Ronaldo kissing the Ballon d'Or, hangs halfway up the hill. A smaller version of his face features on the tuk-tuks that whizz tourists up and down the waterfront.
Museu CR7 itself is rather unassuming, tucked away on the corner of a side street, Rua Princesa Dona Amelia. But for the black-tinted windows, it could be just another real-estate office or timeshare-selling business. Step inside, though, and double doors emblazoned with the giant, smiling, tanned face of Cristiano Ronaldo slide open to reveal a footballer's paradise of shiny black mosaic floor, sparkling spotlights and glass cabinet upon glass cabinet of crystal balls, granite players and golden bowls.
Floor-to-ceiling portraits chart the evolution of Ronaldo, from his schoolboy days playing for local team Andorinha, in a strip made by his late father, through to his teenage years training at Sporting Lisbon, where he was teased by his team-mates for his small island accent. "And this", says the museum's manager Nuno Mendes, "is a picture of the night that changed Ronaldo's life." It shows a gangly Ronaldo in Sporting kit on the night in 2003 that his team beat Manchester United 3-0. "Alex Ferguson saw him play and signed him the next day", says Mendes.
From then on, the trophies are endless – Manchester United Player of the Year, PFA Player of the year, a pair of golden boots awarded for being the top European scorer 2007/2008 and 2010/2011, a whole shelf of Portuguese Golden Globes, a cabinet of Portuguese caps and, in an alarmed glass case, the Ballon d'Or. One wall is entirely taken up with 26 footballs – each one marking a match where he scored at least a hat-trick.
Some trophies are more obscure: a tiny silver Oscar figure turns out to be an award for "The World's Best Football Player 2007. Fans from Czech Republic", another is a Player of the Year as voted for by "Manchester United Supporters Club – Cyprus"; a framed certificate from Now Sports simply says "PERFECTION. MR CRISTIANO RONALDO. 2010." For the gossip-inclined there are plenty of photographs – Ronaldo as a child, Ronaldo posing with his brother and his first FA Cup, Ronaldo grinning with his mother on his private jet.
The clientele on a Friday morning is diverse: a few local men talk animatedly next to a replica of the Champions' League trophy, a group of squealing schoolchildren mob the waxwork and, over by the video wall, a couple of pensioners from Harrogate pose for an interactive portrait with Ronaldo, which will be posted on the museum's Facebook page later that day. "It's absolutely amazing isn't it?" says Mary. "I can't get over it", agrees her husband Derek.
The staff wear branded Museu CR7 cardigans and polo shirts, a spin-off from Ronaldo's CR7 clothing range, which are on sale in the small gift shop at €29 for an adult T-shirt and €19 for the children's version. There are also branded magnets, mugs, keyrings and ashtrays. The truly dedicated fan can also visit the CR7 boutique next to Funchal's mall, The Forum. Run by Ronaldo's older sister Elma, it is a shrine to WAG style, with CR7 diamante crucifixes and belts, slinky tunics and Ronaldo's own-brand boxer shorts on sale. A giant black-and-white portrait of Ronaldo hangs on the back wall.
"Right now, Ronaldo is the main ambassador for Portugal's image abroad", explains Mendes. "There is no other brand in the country that is as important or valuable. The President of Portugal gave him a medal last month and said, 'Ronaldo is Portugal to the rest of the world." Is Mendes a fan? "Yes of course. Who isn't?"
Apart from Pele, Ronaldo is the only footballer to have a whole museum dedicated to himself; at 29, he is certainly the youngest. One suspects he will not be the last. It may be a colossal vanity project, it may be a favour to his fans, it may be a message to rivals who are out to steal his crown. "He doesn't have any trophies at home", says Mendes. "All of his trophies and all of his future trophies will come to the museum. We have room for more."
The final cabinet before visitors leave through the Ronaldo doors is filled with a selection of the fan mail the footballer receives by the sackload. There are romantic charcoal portraits, rosaries, caricatures and, last not but not least, a child's glitter painting which says simply, "Ronaldo. Best player in the world. Not Lionel Messi."
Museu CR7, Rua Princesa Dona Amelia, Funchal, Madeira (facebook.com/MuseuCr7)
Join our new commenting forum
Join thought-provoking conversations, follow other Independent readers and see their replies