Jack Grealish: Surely the FA will belatedly try to snap up Aston Villa star after his Wembley heroics
COMMENT: Put him in a phone box with two defenders and he'd come out with the ball at his feet, writes Sam Wallace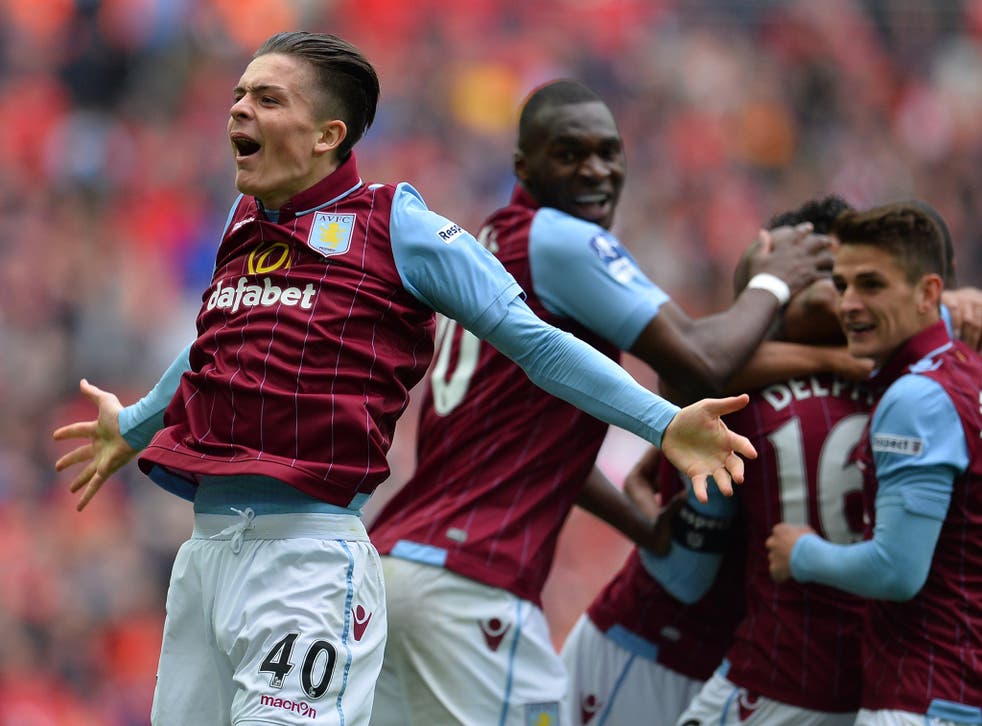 The Football Association of Ireland has a scout for English football who does a good job of identifying the young Irish talent in the academies of leading clubs, including those whose Irishness is not plain to see on their passports. For the FAI's Mark O'Toole, the Aston Villa midfielder Jack Grealish might yet be the greatest discovery who never plays for the country's senior team.
There will have been Irish pride in the 19-year-old's splendid performance for Villa against Liverpool in the FA Cup semi-final at Wembley on Sunday, but there will also have been concern that even the ponderous English Football Association will not allow a player of this quality to slip away.
Eligible for both countries, Grealish's ultimate international football loyalty is unresolved, and his decision to withdraw from the Republic of Ireland's Under-21s this year to concentrate on his club naturally alarmed the FAI which has so far failed to clinch the deal.
Grealish was named the Irish Under-21s player of the year last month and while he went to Dublin to collect the award, he did not reciprocate with a cast-iron commitment beyond saying "hopefully" he would play for the Republic of Ireland again in September.
On that occasion even Grealish expressed surprise he had won the award, given that he had played in just two of the Irish Under-21s European Championship qualifiers, but the intentions of the FAI were not hard to divine. It was a good opportunity to court the Grealish family living on both sides of the Irish Sea.
While the FAI's scouts have been quick off the mark with Grealish, Martin O'Neill has tended to ignore his claims – aside from one invitation to train with the senior squad in October that was rejected in favour of Grealish keeping his options open. In recent days O'Neill has said that he will not consider Grealish for the Euro 2016 qualifier against Scotland in June, which is preceded by a warm-up friendly against England.
In November, Roy Keane, briefly Paul Lambert's assistant at Villa, was publicly critical of Grealish's father, Kevin. O'Neill has hinted that previously his decision not to push Grealish into the senior side was based on his lack of playing time under Lambert. Either way, the English have been handed an unlikely second chance on Grealish who could so easily have been a paid-up Ireland international by the time he played Sunday's semi-final.
Aston Villa 2 Liverpool 1 player ratings

Show all 23
Like the most awkward boy at the sixth form disco, late to the party comes the English FA. If a virtuoso performance in its showpiece competition, on the turf of its purpose-built home of football does not wake the FA up to the undoubted talent of Grealish, then you have to wonder what will.
On Sunday, Grealish demonstrated he is a different kind of footballer to those that English academies have ordinarily produced, most notable his ability to glide past opponents in the tightest of spaces. You could put him in a telephone box with two centre-halves and the chances are that Grealish would come out with the ball at his feet. It is still early days in his pro career, but Grealish has been a big name in junior football for years.
This is one player for whom the English FA needs to go that extra yard to ensure he plays for the country of his birth. It is not as if Roy Hodgson finds himself so overwhelmed with teen midfielders capable of running the show against Jordan Henderson and Steven Gerrard that he can afford to overlook Grealish.
The usual charge thrown at the English is a tendency to overreact to one good performance from a young footballer, but Grealish's situation is different to that of Raheem Sterling or Harry Kane.
Grealish has options. He grew up playing for the junior Irish teams and resisted subsequent overtures from England because, it is understood, he felt happy playing among friends. In an ideal world, the privilege of international recognition would be an honour that young English players would seek out, but in Grealish's case there is a strong argument for taking the initiative.
Hodgson's default position has been that any young English footballer considering playing for another country can, quite frankly, sod off and do just that. He said as much after Jamaica's overtures to Sterling and, with respect, Burundi's offer to Saido Berahino. Every player is different, however, and Grealish is worth going the extra mile for.
The England manager could do a lot worse than make Grealish's conversion a personal project over the next months to ensure he is in Gareth Southgate's squad when the Under-21s cycle begins anew after the European Championship in June.
It might stick in the craw for a traditionalist like Hodgson, who would also probably rather Grealish pulled up his socks and got his hair cut. But times have changed. Gary Neville pointed out this weekend that these days the modern coach has to consider the players' cultural norms rather than insisting it is the other way round.
Thus far, the strongest English FA approach to Villa over Grealish has been from Aidy Boothroyd, the manager of the Under-20s side, a team that tends to round up the best group of players it can after the seniors and the Under-21s have taken their first pick, and which has struggled for years to gain recognition from the clubs.
Southgate said in October that Grealish was a player whom the English FA rated and on Sunday's evidence the Under-21s is, at the very least, the level at which the 19-year-old belongs. Given that he eclipsed Sterling, so far the stand-out player of the current English Under-21 generation, he may well have his sights set higher.
While nationality is an intensely personal thing, Grealish was born in Solihull to English-born parents and has a great-great grandfather, William Garraty, who played for Villa – putting in a man-of-the-match display as the club lifted the FA Cup in 1905 – and was capped for England in 1903. In that respect, he is as English as bad weather and crisp sandwiches, albeit with a set of Irish grandparents.
The English position is that there should be no special treatment for anyone who does not leap to attention when the call comes, but can it afford to lose a players of Grealish's quality? This is not the 1960s, a golden era of terse FA call-up letters and second-class rail travel to Burnham Beeches. Modern internationals require a different approach, and on Sunday, Grealish looked like he would be worth the effort.
Join our new commenting forum
Join thought-provoking conversations, follow other Independent readers and see their replies