Jack Pitt-Brooke: Sunderland's set-up looks ill-suited to get the necessary goals from Jermain Defoe
The chance of him doing for the Black Cats what he did for West Ham and Tottenham are remote without drastic change on Wearside
Jack Pitt-Brooke
Wednesday 14 January 2015 23:22 Comments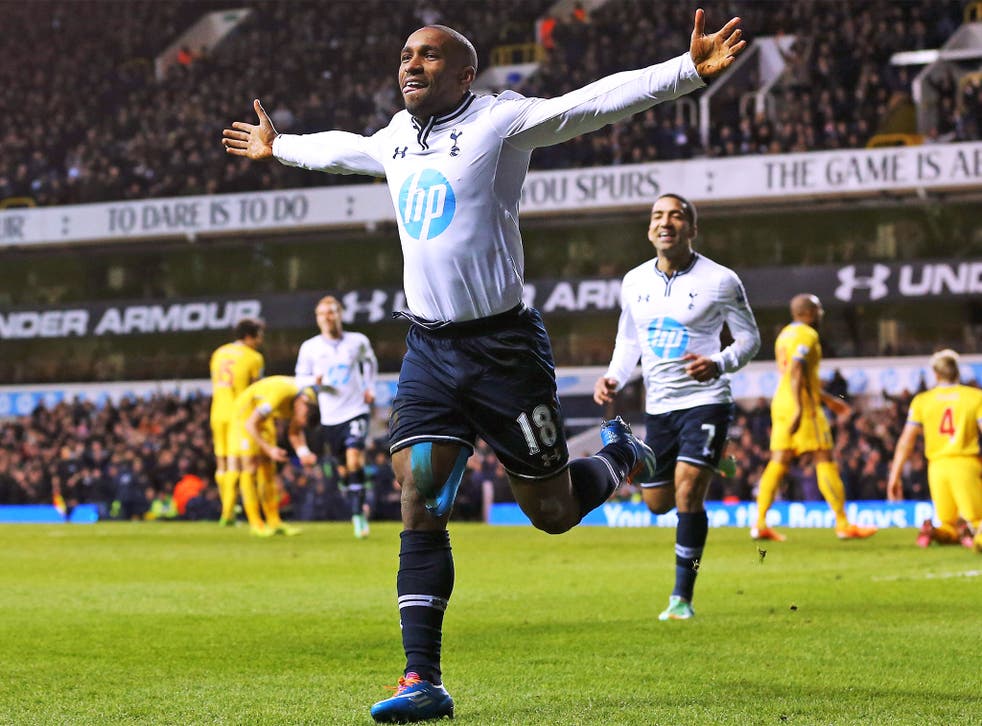 Few forces are quite as effective in parting Premier League teams with their money than fear of the drop.
Sunderland are just one point ahead of the relegation zone. They have scored the second fewest goals in the league this season. The chance to sign Jermain Defoe – 124 Premier League goals to his name – is obviously attractive. If he can replicate his goalscoring form for just the next four months then he will more than earn in television rights whatever he costs in wages.
This logic, though, presumes that Defoe will be able to do for Sunderland what he did, over the years, for West Ham United and Tottenham Hotspur. And the chances of that, without a drastic change on Wearside, are remote.
Defoe's best years at Tottenham – who host Sunderland on Saturday – whether under Martin Jol or Harry Redknapp, saw him playing up front in an attacking side using a 4-4-2 system.
He was lucky enough to play with strike partners like Robbie Keane, Dimitar Berbatov and Peter Crouch, who brought the best out of him. He received brisk, intelligent service from Michael Carrick, Aaron Lennon, Luka Modric and Gareth Bale.
If Gus Poyet thinks that his Sunderland side can provide Defoe with anything like the same platform to score goals then he is guilty of wishful thinking in the extreme. Sunderland, this season, have not been missing chances but rather failing to create them. Poyet has been struggling to balance attack and defence all season and his team have almost ground to a halt over recent weeks, with six goals in their last 10 league games.
Sunderland play in a 4-1-4-1 system which has at least prevented a repeat of their 8-0 defeat at Southampton in October. But it is a set-up devoid of everything that Defoe needs to be successful. If he plays up front on his own he will be isolated and ineffective. If he is partnered by Steven Fletcher or Connor Wickham, it may leave the team too exposed elsewhere.
This is the eternal dilemma for teams fighting to stay up. Queen's Park Rangers have a poacher of their own, in Charlie Austin, and Redknapp, the QPR manager, recognises that he needs Bobby Zamora alongside him to maximise his potency. This is why he persists with 4-4-2, despite the clear limitations.
Defoe clearly has his heart set on a return to the Premier League after one season at Toronto. That is why Toronto president Tim Leiweke told him to "get the hell out of the way" if he did not want to stay there. Redknapp tried to sign Defoe in August and, had Austin not performed so well, he would likely have tried again this month. While Defoe's final months at Tottenham before he left last February suggest that he is not quite the player he once was, starring in the Europa League and Capital One Cup rather than in the Premier League, he still has something to offer. He has an exceptional nose for goal and that is not something that fades at 32.
But if Sunderland can only afford one big gamble this month, it is not obvious that Defoe is the right one.
Register for free to continue reading
Registration is a free and easy way to support our truly independent journalism
By registering, you will also enjoy limited access to Premium articles, exclusive newsletters, commenting, and virtual events with our leading journalists
Already have an account? sign in
Join our new commenting forum
Join thought-provoking conversations, follow other Independent readers and see their replies