James Lawton: Come on, Rafael Benitez what did you expect? It was never going to be a bed of roses at Chelsea
Last night Rafael Benitez produced echoes of the US president Richard Nixon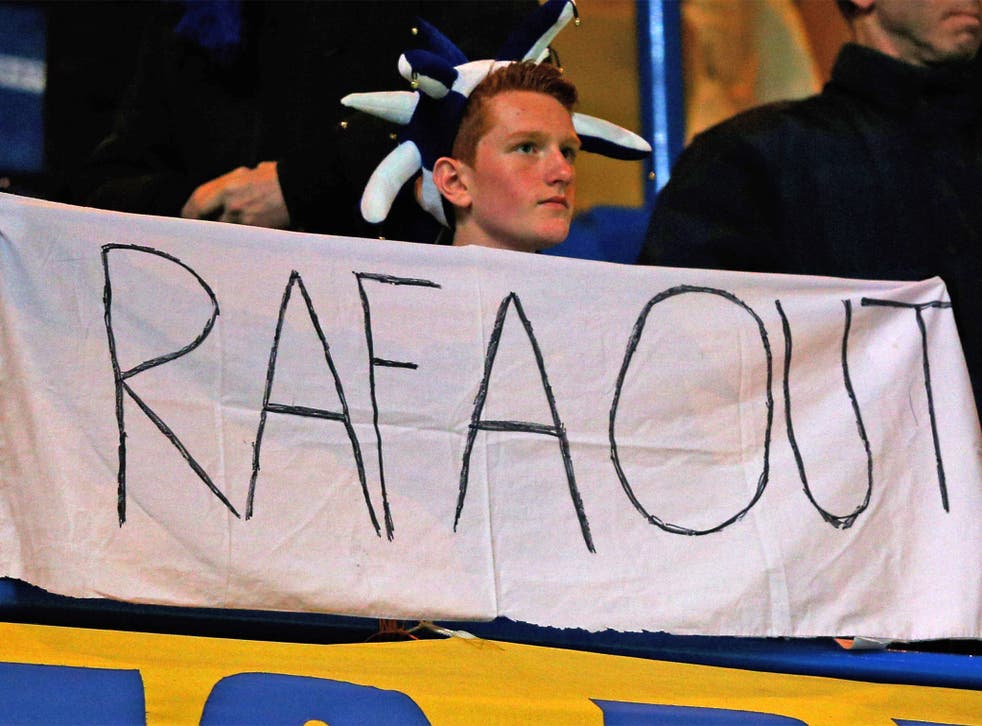 All the angst of Rafael Benitez came spilling out last night and if some of it was understandable enough as it reflected the pain generated by one of the worst ordeals ever endured by a leading football man, there was too an inevitable response.
It said, "Really, Rafa what did you expect?"
Did you anticipate a bed of flowers as you came racing out of exile and into the shoes of a manager much respected, and even adored by some sections of the Chelsea support? Did you think that Roberto Di Matteo's extraordinary contribution to the affairs of a club which had repeatedly broken the normal operating rules of a successful football organisation, which had treated its managers with not much more dignity than might have been accorded a series of errant office boys, would be buried in the welcome for a man so widely disliked on the terraces of Stamford Bridge?
It would have been an improbably huge ask in any circumstances and of course it was impossible to imagine any that could have been worse when Benitez was introduced to his new club against a background of hostility quite unprecedented even in the turbulence of today's high pressure football.
There was even the savage irony of Benitez's arrival coinciding with the death of one of the great figures of Chelsea, the tough and beloved manager Dave Sexton.
Last night Benitez produced echoes of the American president Richard Nixon when he believed his political career was over long before his Watergate denouement. "You wont have me to kick around any longer," he told his worst critics," and that was the substance of Benitez's outburst after another night when Chelsea supporters reminded him that he was still so far anything like acceptance.
Chelsea won their Cup-tie at Middlesbrough but there was always the sound of anti-Benitez sentiment.
It was plainly breaking point for the man who believed that his power to transform Chelsea would sooner rather than later win him a new and more tranquil phase of a career which, after success at Valencia and the extraordinary Champions League success with Liverpool in Istanbul, ran into serious trouble at Anfield and then the humiliation of a swift ejection at Internazionale in the wake of his bitter foe, and Chelsea hero, Jose Mourinho.
Benitez can now hardly conceal his bitterness towards Roman Abramovich and the Chelsea hierarchy who made it clear that his reign at Stamford Bridge would never be more than a brief holding operation.
Unfortunately, Benitez was unable to hold together a situation always threatening to break at the seams.
He says that the club's refusal to grant him any more than interim status was a massive mistake but then there is something of a pattern in Benitez's attempts at crisis management. He has a tendency to apportion blame some way from his own direct responsibilities. At Liverpool the problem was the club's errant American ownership, yet never satisfactorily explained that he was still unable to improve and re-animate the team with not inconsiderable spending power.
His failure to communicate with key players – notably the ramrod Xabi Alonso – was a factor which was never acknowledged from the manager's office and, of course, his relations with the Chelsea players has been wrapped in controversy over recent days.
His rant last night was pitched at both the fans and the ownership and at no point was there any concession that his promise of renovating £50m Fernando Torres, which may saw as the key reason for his summons to London, and a new level of team efficiency had fallen to the point where his performance record had slipped below the mark which provoked the sacking of Di Matteo.
Indeed, there was a powerful case to believe that the truly massive mistake was not in granting him temporary powers but allowing his style of management to take any root at all.
It has not, after all, ever been marked by the kind of professional compromise adopted by Di Matteo when he was parachuted into the challenge of repairing, in any kind of fashion, the vertiginous collapse of the project of Andre Villas-Boas.
Di Matteo did it with the astounding short term effect of winning both the Champions' League and the FA Cup. He also created a sense that he would conjure the best he could from players of great experience but uncertain futures. He had the nous to live in the moment and when that time came to an abrupt end, when Chelsea failed to defend their European title, he left the arena with a philosophical shrug.
Benitez doesn't do such gestures. He imposes his will and his theories and there is not much sense of accommodation with old pros who had in their time achieved a few things perhaps worthy of some respect. It will always, you have to believe, be the Benitez show, good or bad, win or lose, but last night it seemed that even he had grasped that he had been selected for the wrong stage.
Register for free to continue reading
Registration is a free and easy way to support our truly independent journalism
By registering, you will also enjoy limited access to Premium articles, exclusive newsletters, commenting, and virtual events with our leading journalists
Already have an account? sign in
Register for free to continue reading
Registration is a free and easy way to support our truly independent journalism
By registering, you will also enjoy limited access to Premium articles, exclusive newsletters, commenting, and virtual events with our leading journalists
Already have an account? sign in
Join our new commenting forum
Join thought-provoking conversations, follow other Independent readers and see their replies