James Lawton: An example of football's classic values to serve any age well
Borussia Dortmund brushed brilliantly against fate. Bayern Munich did more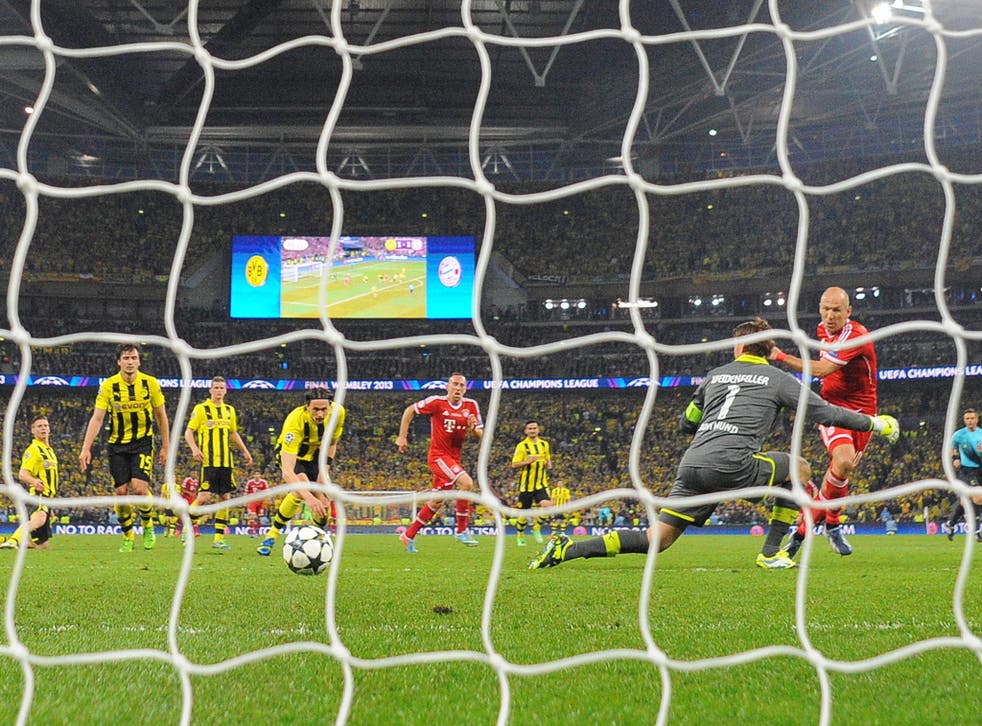 What a game it was, what winners, what losers and what a football culture they represented. This was billed as not so much the championship of Europe as a contest for the bragging rights of a new era.
It did not disappoint. Better still, it said that club football was in the most capable of hands, that if the centre of power had moved quite dramatically from the old point of light, Barcelona, it could hardly be said to have gone on a random journey.
Even those of us who craved victory for the glowing young Borussia Dortmund and their messianic manager Jürgen Klopp had little to mourn when Arjen Robben, the half-mad, half-brilliant Dutch virtuoso, delivered Bayern Munich their fifth European Cup.
This was not only because a just result was rendered at a Wembley Stadium which has now, alongside the statue of Bobby Moore and all the sleek reconstruction, an example of superior competitive standards guaranteed to serve well any age of the world's most popular and innovative game.
There may be tactical twists down the years and some of them might well come from the man in the shadows of Saturday night, the most lauded football coach in the world, Pep Guardiola, who will shortly take over from one of the most defiant veterans football has ever seen, Bayern's triumphant retiree Jupp Heynckes, but about one thing we can be absolutely sure.
It is that no one will represent better the classic values of football more unflinchingly, more consistently than Bayern Munich and Borussia Dortmund on the night of 25 May 2013.
Dortmund partisans, surely swollen now by an army of volunteer neutrals, may want briefly to dissect the decisions of Italian referee Nicola Rizzoli which certainly helped Bayern ultimately inflict the power that so relentlessly underpinned extraordinary levels of intense ambition.
Undoubtedly, they can claim that Rizzoli might well have handed Franck Ribéry a red card for the blatant elbow thrown at Robert Lewandowski and that his team-mate Dante was also extremely fortunate to escape a second yellow card when conceding the penalty with a crude assault on Marco Reus.
Would a 10- or nine-man Bayern have been able to exert so powerfully its right to a reclaimed place in football history? Would Thomas Müller have had the scope and the encouragement to grow so hugely in the final phase of a game that was never less than compelling?
Ribéry certainly wouldn't have been around to back-heel the ball into the path of a Robben so hell-bent on finally nailing a bizarrely delayed Champions League final kill at the third attempt.
As we will never know the consequences of a stronger intervention by Rizzoli we should probably rejoice in the certainties – and lessons – offered up on a spring night in north London. We should always remember the thrill of Dortmund's first assault, when for the best part of half an hour they gave us football that, had it been crowned by a goal the superb Bayern keeper Manuel Neuer worked so hard to prevent, would have been enough to sate any appetite. Then, Klopp's team were everything we hoped they would be.
Lewandowski brimmed with menace and behind him Reus, Sven Bender and Ilkay Gundogan seemed as if they had an unlimited supply of both speed and invention. Bayern, mighty Bayern, were obliged to drop deep and play long balls. Müller was as near to inconsequential as he will ever be. So was the other giant-elect, Bastian Schweinsteiger.
Yet if Dortmund brushed brilliantly against fate it was, in the end, the extent of their achievement. Bayern did more, however you assessed the degree of their good fortune.
They claimed with inexorable self-belief the prize which had been denied them so freakishly in front of their own people by Chelsea a year earlier and in 2010 by the tank traps laid so fastidiously by Internazionale under the watch of Jose Mourinho. Now, they proclaimed quite unanswerably, it was time to cement the achievements of an extraordinary season. They would not be denied the most important booty.
How, when you thought about it, could they really have been denied? Only, maybe, by some deeper resources in a Dortmund squad which, as the match wore on, plainly became wearied by the weight of their opposition. For an insight into the poignancy of their situation it was enough to glance at the haunted expression of young Mario Götze, arguably their most creative force in the march to Wembley. There was much speculation that Bayern's new possession was prevented from making one last show for his old club not just because of injury but the ambivalence which would have descended on him the moment he walked on to the field.
Maybe, but maybe not because when the camera caught the 20-year-old's expression after the tigerish Mario Mandzukic had given Bayern the lead, you didn't see a picture of confused loyalty but the kind of regret that goes into your bones and stays there for a lifetime.
Lewandowski is also expected to join Götze in the care of Guardiola and we can only speculate on how much the great coach will draw from such exceptional talent.
It is reasonable to believe that it will be more than enough to underline Bayern's new status as the flagship of football, the club who have sailed so serenely into a place of unique power in their own land and the football universe. Odd, now, that some were surprised when Guardiola turned down the kind of personal fortune that might have been available at clubs like Chelsea and Manchester City and Paris Saint-Germain.
At the time, you were bound to wonder why on earth he would be seduced by the blandishments of Roman Abramovich, and this was before Bayern destroyed his old team Barcelona and the popular myth that they were the greatest force club football had ever seen.
Even though they smashed Barça by a margin of 7-0 before arriving at Wembley, no one should make such claims on behalf of Guardiola's new team. However, they might well say that football has a new set of values and certainties. Bayern came to Wembley to make the point and, for the moment at least, it is no longer an argument.
Join our new commenting forum
Join thought-provoking conversations, follow other Independent readers and see their replies