James Lawton: The hand of God? No, this was a diabolical act from Luis Suarez that cast a shadow over the FA Cup
Liverpool striker confirmed his status as the most brilliant but troubling enigma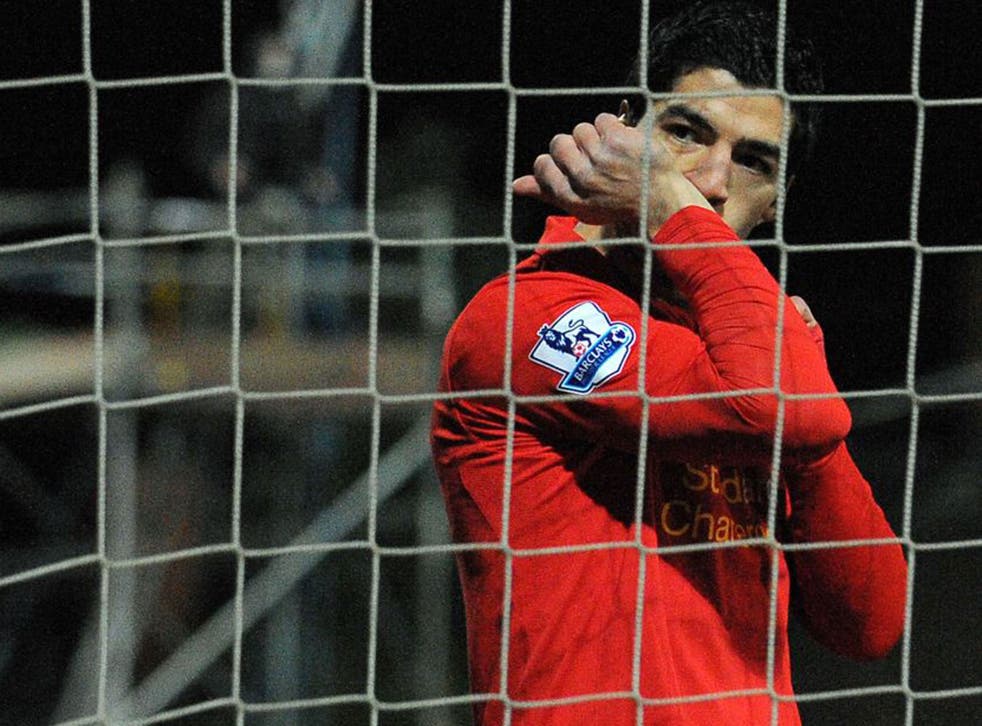 Just when it seemed that Swansea and Arsenal had taken the remnants of what we like to call the old glory of the FA Cup into some kind of safe-keeping, Luis Suarez popped up with a hand to play.
He looked sheepish enough not to repeat the claim of his fellow South American Diego Maradona that it was the work of God but you didn't have to be a supporter of Mansfield to believe that he had come off the bench with diabolical intent.
Liverpool reckoned, correctly, that Suarez was by far their most potent means of putting down a furious onslaught from their non-league opponents but when he controlled the ball illegally before scoring his team's second goal he confirmed his status as arguably the most dazzling but troubling enigma ever to arrive in English football.
Once again, and after one of the most brilliant phases of his extraordinary career, he showed that for some men, however uncomplicated their gifts, doing the right thing, as opposed to simply gaining any kind of advantage, is the most difficult of challenges.
Beside this, another shadow over the FA Cup was maybe the least of surprises. This was unfortunate because what happened in the Liberty Stadium in Swansea was not only praiseworthy, it qualified for advancement as a middle-sized miracle, an FA Cup tie that didn't have to be sold like some cheap postcard by the TV rights holders.
Of course Swansea-Arsenal had some striking advantages. One was that both teams produced plenty of evidence that they wanted to win. Another was that they picked teams of sufficient experience and ability to have a very good chance of doing it.
This was, of course, a stunning throw-back to that time when the FA Cup was something to prize for its own meaning – and certainly more than a tournament that might just repair an otherwise broken season.
Even that last selling point had elsewhere disappeared virtually without trace and if you doubted this you only had to ask the 5,000-odd Newcastle fans, who, with such little else to shout about, travelled the length of the country to watch one of the proudest Cup traditions of them all almost casually ridiculed by Brighton and Hove Albion.
Newcastle produced a performance so witless and denuded of competitive passion that their manager Alan Pardew could hardly avoid the public musing that by fielding a reserve team of such slender resources he was obliged to conclude that in the wake of the sale of Demba Ba – Chelsea's new-found hero at Southampton – Newcastle had a desperate need for a better class of cover for a misfiring, injury-raddled first team.
Headlines concerning the glory of Conference team Macclesfield also dwindled sharply when you learned that Championship leaders Cardiff City picked a team which announced quite how far progressing in the FA Cup lagged behind the chance of enjoying, for one season at least, the riches of the Premier League, in their priorities.
Even Manchester United, who had apparently come full circle from their decision to abandon the great competition as holders 13 years ago in favour of a cheap version of the World Club championship in South America, kept the hammer of their attack, Robin van Persie, in mothballs until defeat beckoned at West Ham.
Arsenal, of course, haven't always been believers in the enduring mystique of the old trophy, even though it was the last silver they picked up in what to many of their fans must now seem like another lifetime. It was Arsène Wenger, who at times yesterday wore the expression of a man looking into an extremely deep chasm, who delivered an early damning verdict on the lost status of football's oldest knockout competition. He declared that finishing fourth in the Premier League had become infinitely more important and, of course, in so many ways he was right.
However, when Michu struck so clinically for Swansea, Wenger's face conceded that maybe a great football club doesn't live on bread alone. Certainly it was a moment when the old showcase third round found a measure of competitive integrity.
Complaints that the first half had been altogether too tentative were swept aside by the impact of the extraordinary Michu. If there had been any doubt about the intensity of Arsenal's need to wipe away the memory of that shocking League Cup pratfall in Bradford, or deal with the growing possibility that they faced still another year without any kind of triumph, they were consumed by the force of Arsenal's response. The goals of Lukas Podolski and Kieran Gibbs – and Jack Wilshere's mounting anger at the possibility of another disaster – could hardly have carried much more force.
Here indeed was an FA Cup tie which clearly mattered supremely for at least a day to everyone involved. It was also one which reminded us again of the extraordinary development of Swansea City. Despite the imminence of their League Cup collision with Chelsea and the need to entrench their Premier League position, Michael Laudrup's team once again showed an absolute refusal to limit their ambitions.
That Danny Graham delivered an equaliser – and ensured another chapter of a remarkable tale of one football club's growth – should have been the most arresting image of a weekend rescued by a match of impeccable competitive quality.
However, that was before we had the makeshift squalor of Suarez's decisive intervention. It was the difference, maybe, between an inspiring picture and one of those cheap postcards.
Join our new commenting forum
Join thought-provoking conversations, follow other Independent readers and see their replies