James Lawton: Harry Redknapp, like Brian Clough, just didn't fit the England blazer
Which Englishman in recent years has produced the most exhilarating football? Not Hodgson, for all his virtues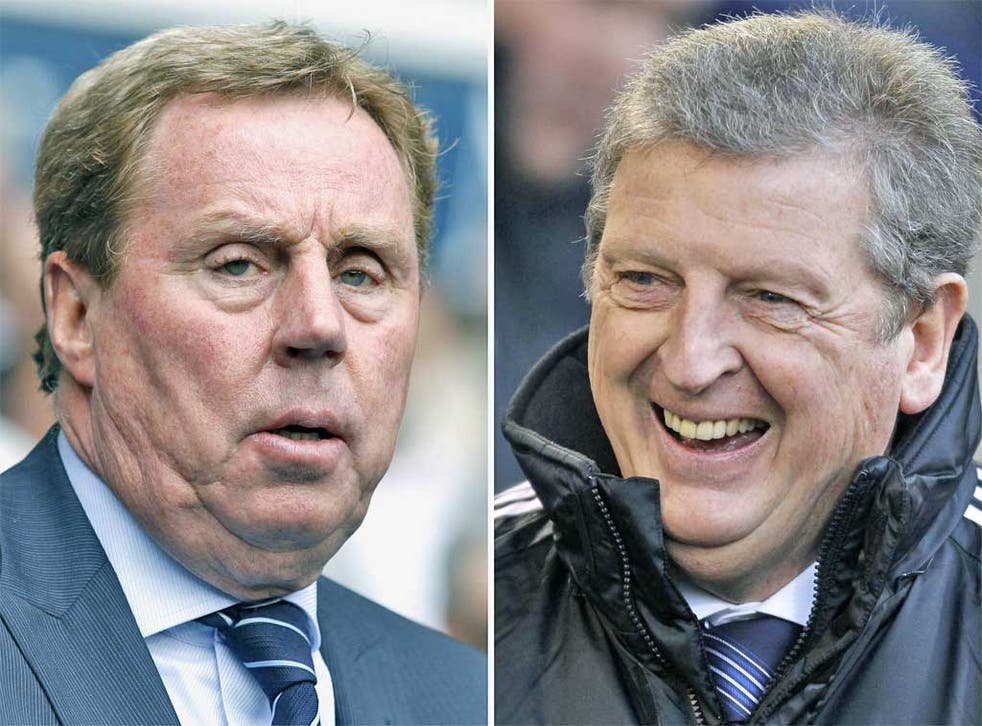 As is so often the case in any debate over the future of England's national football team, the real point of the Hodgson-or-Redknapp argument has been cast so far out into a sea of drivel we can only regret that someone hasn't written it down and put it in a bottle. Then, who knows? The penny might at least drop on some distant desert island.
The nub of the matter, despite what you have heard, is not that a bunch of sports hacks – including yours truly – unsuccessfully picked, or even tried to impose, the wrong horse. When, after all, did the triumphalist, all-seeing Football Association last pick a winner?
We should all know the answer to that question. It was as far back as 1964, give or take the quickly curtailed promise of Terry Venables 30 years after England won the World Cup under Sir Alf Ramsey.
The gut question is simple – and as relevant as it was a mere 30 years ago when Brian Clough, the most brilliant of English football managers, was judged at the FA's old Lancaster Gate headquarters not a proper fit for the England blazer.
It is not about who happens to be best mates with Harry Boy (my own relations with him down the years have been generally cordial but scarcely intimate) or who doesn't see Roy Hodgson's impressively broad background in the game, and enthusiasm for involvement in every level of the national football operation, as necessarily sure-fire endorsements of his succession to Fabio Capello.
No, the big issue – somewhat by-passed by the FA when it made its announcement earlier this week – is which Englishman in English football over the last few years has produced the most exhilarating football and suggested most strongly that he has the wit and the imagination and, maybe most vitally of all, the understanding of players, how they think, how they operate, how they work, how they play, to get something of a response from arguably the most chronically underachieving nation in the world game.
Is it Roy Hodgson, for all his virtues, or was it Harry Redknapp?
Instead of dwelling on the fact that the FA, given all of the latter's track record at White Hart Lane, not least his brief but thrilling adventures in the Champions League when the reigning champions Internazionale and the Serie A title winners-elect, Milan, were put to the sword, has treated Redknapp with an egregious lack of courtesy, we should get back to the indisputable fact that in these terms Redknapp wins by the length of Seven Sisters Road.
No, he is not Clough. He hasn't won a couple of European Cups with football that, while not always luminous, invariably carried the hard edge of a winning instinct. But he has got into the heads of players like Gareth Bale and Luka Modric and Kyle Walker and made them immeasurably better players.
What Redknapp has most in common with Clough, and Venables, is not so much an easy rapport with players (Clough could play the martinet as readily as the father figure) but the capacity to cause uneasiness in the FA's upper echelons.
Clough was outrageous in many respects. He was a brilliant player and always knew it and when he came to management he had a genius for building great teams – rather than preserving one at Leeds United – that persuaded him that his claims for the England job could not be resisted.
It turned out to be no more than a pretty thought – as did the hope in some quarters that Venables would be able to survive some troubling business adventures and build on the promise of his work in Euro 96, which included a wholesale ransacking of the Netherlands at Wembley.
Over Redknapp, the FA has applied the policy of omerta. Trevor Brooking, the head of football development at the FA, strenuously denies that his recommendations were coloured by old enmity. The FA chairman, David Bernstein, steadfastly refused to mention the non-candidate's name. That this was at the very least curious, and at worst wilfully ungenerous, has been dismissed as the jaundiced reaction of Redknapp admirers.
However, if the debate isn't to lose all rationality, we have to go a little deeper under the cloak of denial. We have to see it as a defensive posture, an implicit acknowledgement that a legitimate measuring of Roy Hodgson's extremely worthy career against the old pro flair of Harry Redknapp simply didn't happen.
This doesn't mean that Hodgson should be denied the support he and the FA have requested so urgently, however brittle it may prove.
But nor does it say that we are not entitled to question the wisdom of a decision that was handed down so imperiously it might have been written on a piece of stone. That it landed so heavily on the head of Harry Redknapp was gratuitously insulting, apart from also – it is believed here – being plain wrong.
Join our new commenting forum
Join thought-provoking conversations, follow other Independent readers and see their replies