James Lawton: Time to walk away? No chance. Manchester United boss Alex Ferguson is up for his toughest fight
He always lives in the moment. He knows that winning is just the other side of the coin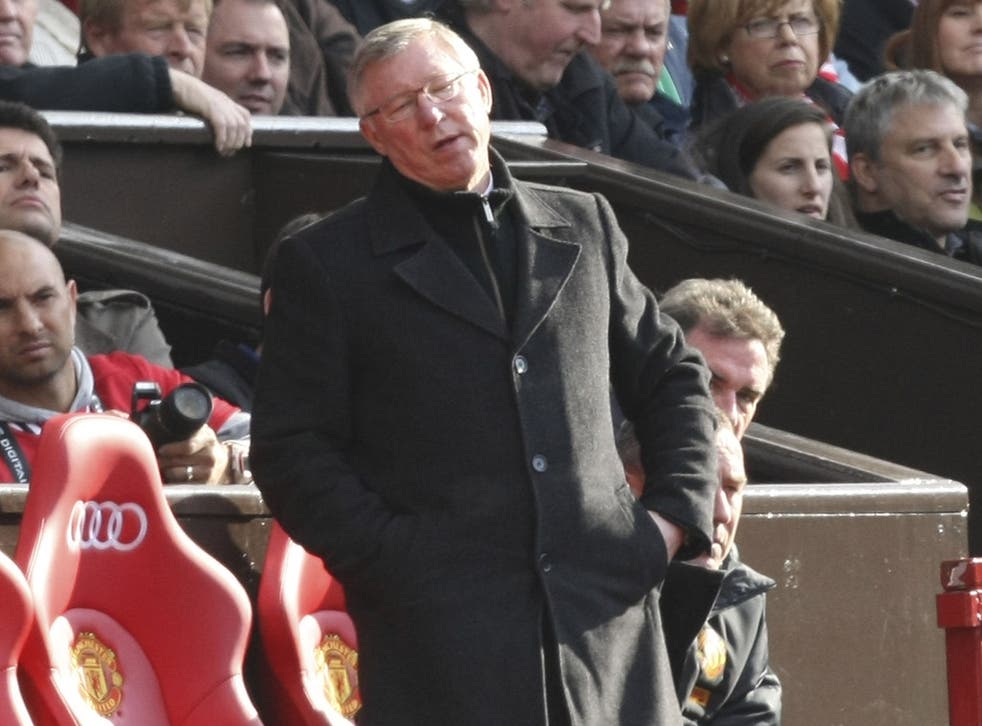 It is the question that some say Sir Alex Ferguson, aged 70, will never face, let alone answer. Yet perhaps it has never carried a sharper edge than in these last few days when the 13th Premier League title he seemed to have conjured from, if not thin air, then extremely unpromising odds, has almost certainly been taken away.
When does he stop to hold up his hands and say it is time for the smelling of the flowers? When does he acknowledge, as did his great predecessor at Manchester United, Sir Matt Busby, who also made three great teams, that it is time to put down the challenge?
Busby was a mere 60 when he said farewell to the day-to-day cares of managing a club which carried monstrous expectations – and of course Barcelona's Pep Guardiola is just 41 as he insists that he desperately needs his year break after a total of just four years in charge of world football's most sublimely gifted team.
But then what do we get from Ferguson but an airy wave of his arm and the cryptic assurance that he will go when he deems the time to be right, which it plainly wasn't a decade or so ago when he stepped back from what he quickly realised would have been a step into the abyss.
In fact he has probably told us as much as we will ever need to know about his astonishing appetite for the action – and the reality that he is no more likely to retreat in the face of his current crisis – and palpable need to make still another team to compete at the highest level – than if he had headed off the threat of Manchester City at the Etihad Stadium last week.
It was, after all, at the highest point of his career, when he had landed in 1999 an historic treble of League, Cup and Champions League – and had at least 12 more major titles to win – that he put the imperatives of his life into a fierce perspective.
The Ferguson credo was spelled out on the final page of his autobiography, Managing My Life, where he said: "I relate to ambitious individuals but I appreciate that in millions of lives talk of ambition is an insulting irrelevance. Sometimes I joke about recognising people's natures in their choice of ideal holidays. Some want to go to Blackpool, others to Spain and some want to go to the moon.
"I tell myself I identify with that last group. Then I remember the people I was raised among. The great holiday adventures of my childhood was to go to Saltcoats on the Ayrshire coast for the Glasgow Family Fortnight... but some families in Govan couldn't afford even that and would go to the local parks to be surrounded by a little greenery. For the men it was respite enough to be spared the noise and the grime of the shipyards for a couple of weeks, to escape the hammer of the Clyde.
"Ambition had nothing to do with their lives. Survival was the essence. Yet there was an incredible warmth of fellow feeling among them, a loyalty that was deep as the marrow. I wish I could re-visit, however briefly, the sense of community that existed in the Govan of my childhood. It could be a rough world but there were wonderful values at the heart of it. Loyalty has been the anchor of my life and it is something that I learned in Govan."
It is an anchor that will no doubt be beset by some extremely stormy weather in the next year or two but if Ferguson has some bad moments contemplating the power that has been assembled across the city at the Etihad Stadium, if he must wince at the advantage City currently enjoy in terms of squad resources and players of the now-proven competitiveness of Yaya Touré, Vincent Kompany and Sergio Aguero, he might also re-assure himself that his own ability to motivate has team has not dwindled conspicuously.
Indeed some might say that of all his achievements at Old Trafford, last season's title and the fact that United, with just one game left, still have an at-least theoretical interest in the current race, are among the most astonishing.
Certainly while appealing for a major funding increase from the American ownership, Ferguson can say that staying so close to a City whom many hard judges expected to run away with the Premier League title is a remarkable statement of nerve and ambition over available resources. The other problem, of course, is that if Ferguson does get more money, there is no certainty of sure-fire purchases to strengthen the team – and most notably in midfield where Paul Scholes and Ryan Giggs have surely reached the limits of their physical resilience.
The challenge would be daunting for any football man and if Ferguson's apparent willingness to embrace it has to be considered remarkable, it is perhaps less so for those who are closest to him. One of their number said this week: "When Alex talks about loyalty it is something unconditioned by winning or losing. He always lives in the moment, he knows that winning is just the other side of the coin. You are always going to lose at some point. He once said to me, 'The greatest feeling, of joy or despair, comes when the referee blows his whistle. Then, to a large extent, it is gone. You just get on with the business of what you have to do'."
What he has to do now, it is reasonable to presume, is engage in the toughest battle of his life. However, everything in life is relative. He might tell you that it beats the hell out of the hammer of the Clyde.
Bolt shows why he will become face of London
When all the hype is done, we will know well enough from where the London Olympics will draw their greatest supply of oxygen.
If anyone doubted this, they were surely reminded by the restatement of earth-moving brilliance made by Usain Bolt in his native Jamaica at the weekend. His 9.82sec 100 metres, the fastest in the world this year, was timely evidence of his potential to push back the barriers of athletic achievement in east London this summer.
When he did it in Beijing four years ago it was an uncanny reminder of Ben Johnson's electric surge in Seoul in 1988, when the eyes of the world switched instantly from the track to the flashing numbers on the big screen. There was also the same concern over the cleanness of what we had seen.
Bolt's glory held, Johnson's of course didn't. Four years on Bolt retains the ability to light up the world. It is the best Olympic news so far.
All roads lead to one last fight for Mayweather
There was a major regret inevitably in Floyd Mayweather's latest victory over the excellent Miguel Cotto in Las Vegas.
It was that, while Cotto was good enough to draw from the world's best fighter some of his most impressive work, he was not Manny Pacquaio – not a man guaranteed to help deliver one of the truly great fights.
Still, boxing is right to make one last push for the contest that has been delayed for so long by drug-testing disagreements, purse issues and Mayweather's need to serve an 80-day term of imprisonment for a battery offence against a former girlfriend.
Mayweather's profile can never be heroic – there are too many deeply offensive sides to his nature – but, at 35, he remains a boxer of the most formidable accomplishment.
At 33, Pacquaio also inhabits the last of his brilliance, but a meeting with Mayweather might just bring some final definition to a superb career.
Mayweather is estimated to have earned somewhere close to $50m (£30.1m) from the Cotto collision. He owes his raddled sport one last real fight because, without it, boxing will have taken yet another heavy defeat.
Join our new commenting forum
Join thought-provoking conversations, follow other Independent readers and see their replies