James Lawton: Wenger can take pride in his side's refusal to buckle
At times, City's stars, particularly Aguero and Silva, threatened to run wild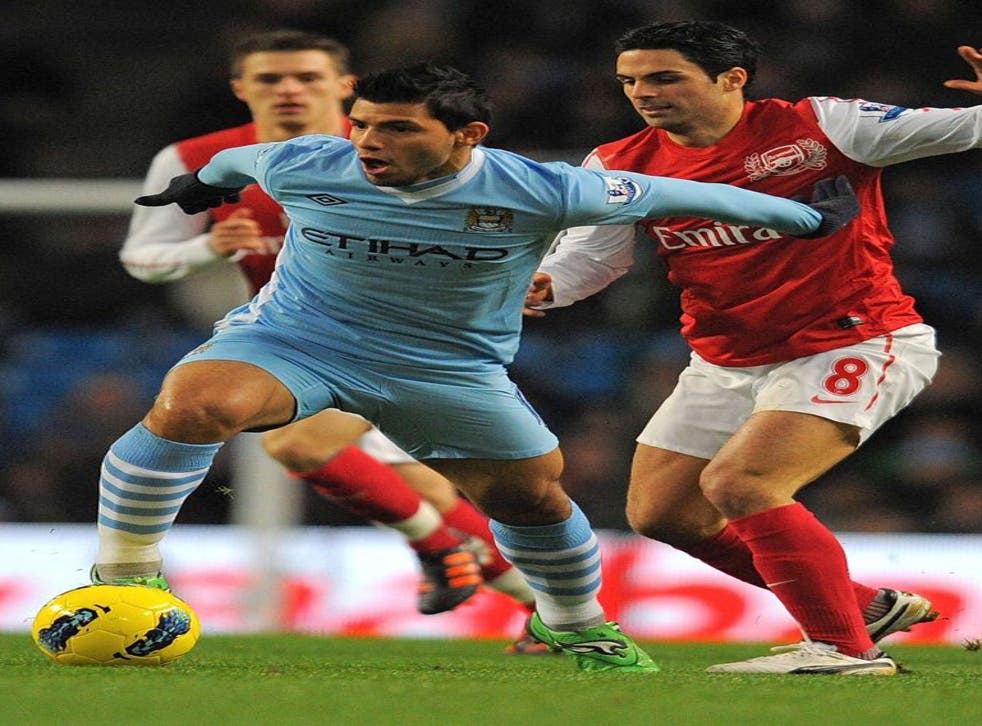 Arsène Wenger made it sound more a sacred mission than merely the most oppressive challenge in English football but in the end his team collided with a reality that confounded the noblest intentions. City were just too strong in their ability to generate the kind of pressure that wears down the toughest resolve and that was the fate of Wenger's best hopes.
There was, however, an edge of optimism in his voice when he had talked of Arsenal's chances of not only containing the creative force of City but firing a few shots of their own and – if it didn't happen that way, if Robin van Persie's extraordinary marauding ran into a rare blind alley – no one here could say that Wenger was merely whistling in an Arctic wind.
Arsenal took on the team with attacking resources to burn – and indulge and tolerate to a remarkable degree. In the end, they had played them pretty much to a standstill. Certainly, City manager Roberto Mancini was obliged to cut back on some of that indulgence when Arsenal, far from cowed by the Silva strike, launched a series of menacing counter-attacks. He pulled Balotelli off for the much tighter discipline of James Milner. It was then a question of which team's nerve would hold the better.
Van Persie roamed with an often biting edge, was defied point-blank on one occasion by Joe Hart and had a goal ruled offside. Gervinho twisted and turned against the force of City's defence, in which Vincent Kompany started magnificently and then tended to improve, and before long it was clear that we had a game of great edge and quality. It was one that also made Wenger's speculation about Arsenal's stiffening resistance to the might of City seem a good deal less than fantasy, although of course the suggestion that Van Persie will soon enough be heading up the M1 and the M6 to join City's stable of attacking talent has become one of the game's firmer projections.
Still, seven wins in eight games no doubt helped Wenger's musing, along with the ambush Chelsea inflicted on Mancini's team at Stamford Bridge. It all sounded perfectly reasonable when Wenger said it – right up to the moment Balotelli, Sergio Aguero and David Silva combined for the first goal early in the second half.
The move was launched by Samir Nasri, who ran a gauntlet of boos from the Arsenal fans that may have been relentlessly tedious for the rest of us but seemed to give him an edge of determination that hasn't always been so obvious since he defected from the Emirates. A few minutes later, the Frenchman was a few inches away from killing off his old team, his pass across the Arsenal goal carrying just a fraction too much weight, flying past the unmarked Balotelli.
A sacred mission, did we say? This was more like a firestorm, not least when Pablo Zabaleta swept on to a loose clearance and smashed it against the post.
But if Arsenal seemed on the point of disintegration, or at least a serious running into the ground, it was entirely an illusion.
There is now a substance about Arsenal that you might have thought had gone forever had you been across town at Old Trafford a few months ago. Then, they were deserted by Cesc Fabregas and Nasri and pretty much the last vestiges of the team around whom, Wenger kept insisting, a reasonable person might just keep on spinning a few viable dreams. Yesterday, it was not so hard believing that this was an Arsenal team hoarding something more than too many regrets.
Thomas Vermaelen enlivened the last act with two ferocious drives on Hart's goal. Both of them brought a chill to the stadium which has come to assume that all opposition is likely to sooner or later come under a little too much pressure.
What Arsenal did here, though, was show that the foothold they have regained near the top of English football is one which they can defend with some strength and plenty of skill. It was a statement which Mancini acknowledged with his move to stiffen City's resistance to Arsenal's attempt to rescue something more than pride in a fine performance.
City, of course, reclaimed the leadership of the Premier League they had relinquished for just a few hours. Ultimately, it was a re-possession that no one, not even the downcast Wenger, could seriously challenge. There were moments when City stars, Aguero and Silva in particular, threatened to run wild.
It says everything about the re-gained spirit of Arsenal that it didn't happen. However, it was hard not to believe that someone might pay for Arsenal's considerable achievement – and quite soon and possibly with some considerable pain.
Join our new commenting forum
Join thought-provoking conversations, follow other Independent readers and see their replies