Joao Havelange guilty of taking bribes for World Cup rights but 'clumsy' Fifa president Sepp Blatter escapes
Q & A on the bribery case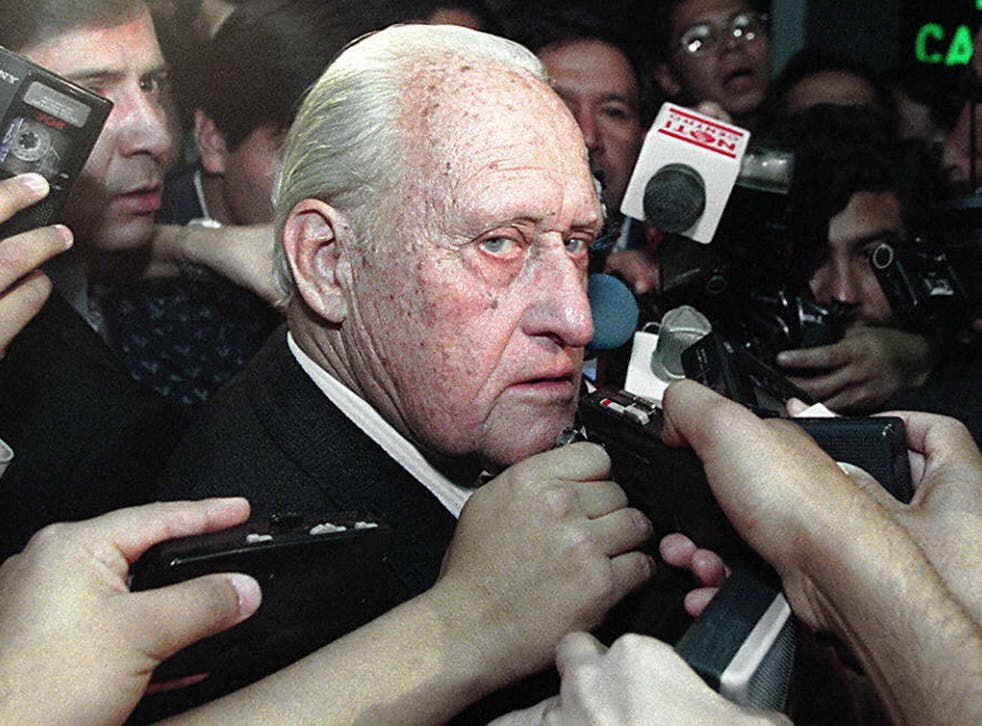 Fifa finally published its long-awaited report into the corruption investigation at the top of the organisation, which has led to the resignation of Joao Havelange, 96, one of the leading figures in the history of the governing body.
Sepp Blatter, 77, the current Fifa president, was not found guilty of any misconduct but was branded as "clumsy" in his handling of the case. But Blatter, who succeeded Havelange in 1998, has faced calls to resign after the corruption at the heart of Fifa was exposed by its own ethics committee.
Q. What happened on Tuesday?
A. Hans-Joachim Eckert, chairman of the adjudicatory chamber of Fifa's ethics committee, published his full report into ISL (International Sport and Leisure), a sports marketing company that worked closely with Fifa in the 1990s, buying broadcast rights to Fifa events such as World Cups on multimillion-dollar contracts and selling them on. Eckert's report was based on another by Michael J Garcia, chairman of the investigatory chamber of the ethics committee. Garcia first looked at the case in July 2012. There was no chance of sanctions, as the Fifa code of ethics was only introduced in 2004, after these incidents. But another member of Fifa's ethics committee, Vernon Manilal Fernando, was banned from football for eight years yesterday for breaches of Fifa's code of ethics.
Q. What happened in the 1990s?
A. Eckert's report made clear that ISL was, between 1992 and May 2000, paying bribes to top Fifa officials. "It is certain that not inconsiderable amounts were channelled to former Fifa president Havelange and to his son-in-law Ricardo Teixeira [president of the Brazilian Football Confederation] as well as to Dr Nicolas Leoz [President of South America's football governing body, CONMEBOL], whereby there is no indication that any form of service was given in return." ISL went bankrupt in 2001.
Q. How bad was the corruption?
A. Havelange was Fifa president until 1998 while Teixeira was head of the Brazilian Football Confederation until 2012 and sat on the executive committee. "It is clear that Havelange and Teixeira, as football officials, should not have accepted any bribe money," said the report, which described their conduct as "morally and ethically reproachable". Court documents said Havelange received at least £1m and Teixeira at least £8.4m. Nicolas Leoz was also involved. "He claimed that he donated all of the money he received from ISL to a school project," the report said, "but only in January 2008, eight years after he received it."
Q. What happened to Joao Havelange, Ricardo Teixeira and Nicolas Leoz?
A. Havelange and Leoz, after decades at the top of South American and international football, recently left their posts. Havelange resigned as Fifa honorary president on 18 April. Leoz had been president of CONMEBOL since 1986 as well as sitting on the executive committee. He resigned last week on "health and personal" grounds. With both out of Fifa, the report said further steps would be "superfluous" and the matter was now closed.
Q. What did the report say about Sepp Blatter?
A. It said there were "no indications whatsoever" that Blatter was responsible for bribes or that he received any money. But it added: "It must be questioned, however, whether president Blatter knew or should have known over the years before the bankruptcy of ISL that ISL had made bribes to other Fifa officials." Blatter, then Fifa general secretary, was informed in 1997 of a £625,000 payment from ISL to Havelange. The report said: "The conduct of president Blatter may have been clumsy because there could be an internal need for clarification, but this does not lead to any criminal or ethical misconduct."
Q. Does that mean he is safe?
A. Blatter has taken the report as vindication. "I note with satisfaction that this report confirms that: 'President Blatter's conduct could not be classified in any way as misconduct with regard to any ethics rules'. I have no doubt that Fifa, thanks to the governance reform process that I proposed, now has the... means to ensure that such an issue … does not happen again." But Fifa campaigner Damian Collins MP called on the president to quit: "Blatter should resign for his failure to expose the wrongdoing sooner, and to take action earlier against those who had done wrong."
Join our new commenting forum
Join thought-provoking conversations, follow other Independent readers and see their replies