Johan Cruyff: Did we really know the Dutch master?
A player who stared before television, Cruyff has passed into concept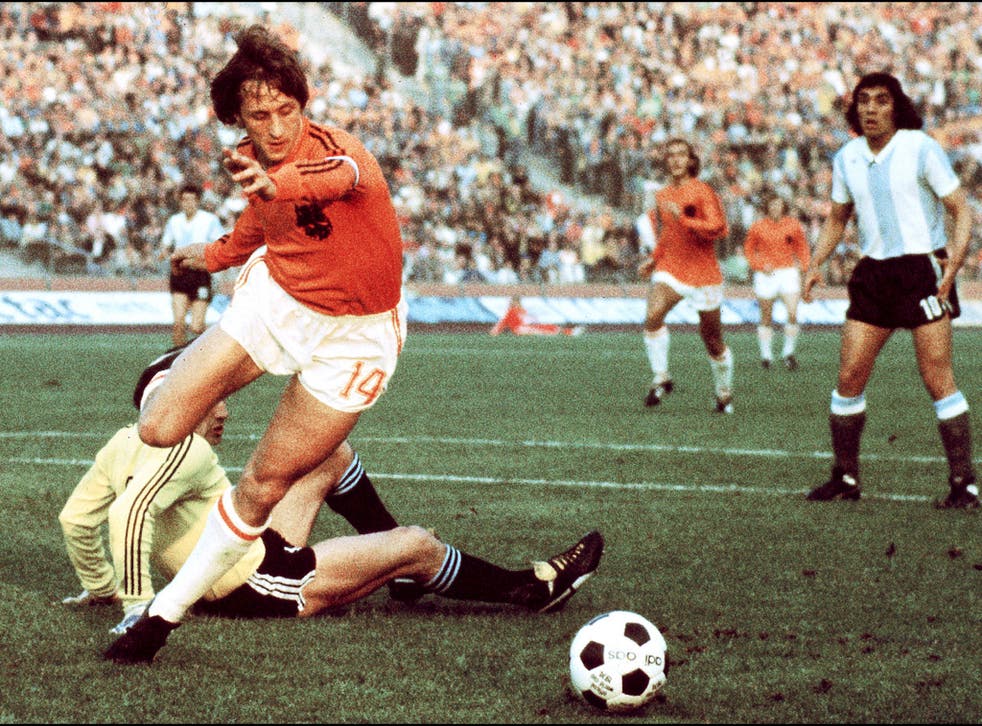 The deification process continues unabated. Johan Cruyff has passed into concept, no longer a figure of flesh and blood, of imperfection and human frailty but, like Plato's forms, a being of idealised beauty.
Thus stripped of blemish and error, Cruyff now exists in a state of universal appreciation and adoration, the father of all things, the son of none. You would have thought he arrived on this earth 69 years ago fully formed in an Ajax kit with a ball under his arm speaking the words: "My name is Johan, I am a footballer."
I was grateful, therefore, to read an account by my Independent colleague, Simon O'Hagan, who, amongst all the brilliance, recalled seeing Cruyff scuff a shot at Villa Park in 1978. There was none of that in the paeans of adulation, in the reams of rhapsodic script dedicated to his memory.
Like the rest of us Cruyff was shaped by his surroundings, football an obvious way out of the unpromising circumstances governing the post-war working class experience in Holland. The genius, if there were any in his story, was his coach at Ajax, Rinus Michels, whose own ideas about the game transformed the landscape in a country where football had still to evolve into a professional sport.
Johan Cruyff - life in pictures

Show all 12
Of course Cruyff was a monumental talent. He was the outstanding figure in a generation of greats, but the real joy in that distant epoch was one of discovery. Cruyff emerged in what might be called the pre-broadcast age, when live sport on television was a rarity.
Word of Cruyff reached us via the radio waves before most had seen him play. When he finally appeared on these shores in the 1971 European Cup Final at Wembley there was an impossible sense of mystery about him and the whole Ajax thing.
Given the glut of long-haired blondness on view it was not certain that we would identify the right player as Cruyff, after all, Johan Neeskens could play a bit, and the following year when they beat Arsenal en route to the European Cup Final, the witheringly cool Ruudi Kroll was introduced with that magnetic swagger of his.
There was therefore some sympathy this week, (as well as much mirth), for the Guardian sport desk, which combined to run a picture of Rob Rensenbrink in its tribute to Cruyff.
The great man would ultimately make himself known with his lithe industry and balletic shifts of direction. And by the time Michels' Netherlands side reached its magnificent apotheosis at the 1974 World Cup, where Cruyff detonated his celebrated turn on the Swedish defence, we were all pretty much fluent in the concept of Total Football that Cruyff would transport to Barcelona so effectively.
Like Hungary's Golden Team of Ferenc Puskas, Nandor Hidegkuti and Sandor Kocsis, who fell to Germany in 1958, the Netherlands were the best side in the world yet contrived not to win the game's biggest prize, the robust organisation of the Franz Beckenbauer-led Teutons prevailing again.
The world is not a perfect place, the best team does not always win and the best player is never perfect, not that you would know that from our immersion this week in epic eulogies to a Dutch master gone too soon.
Join our new commenting forum
Join thought-provoking conversations, follow other Independent readers and see their replies