John Terry and Luis Suarez to face Fifa grilling on racism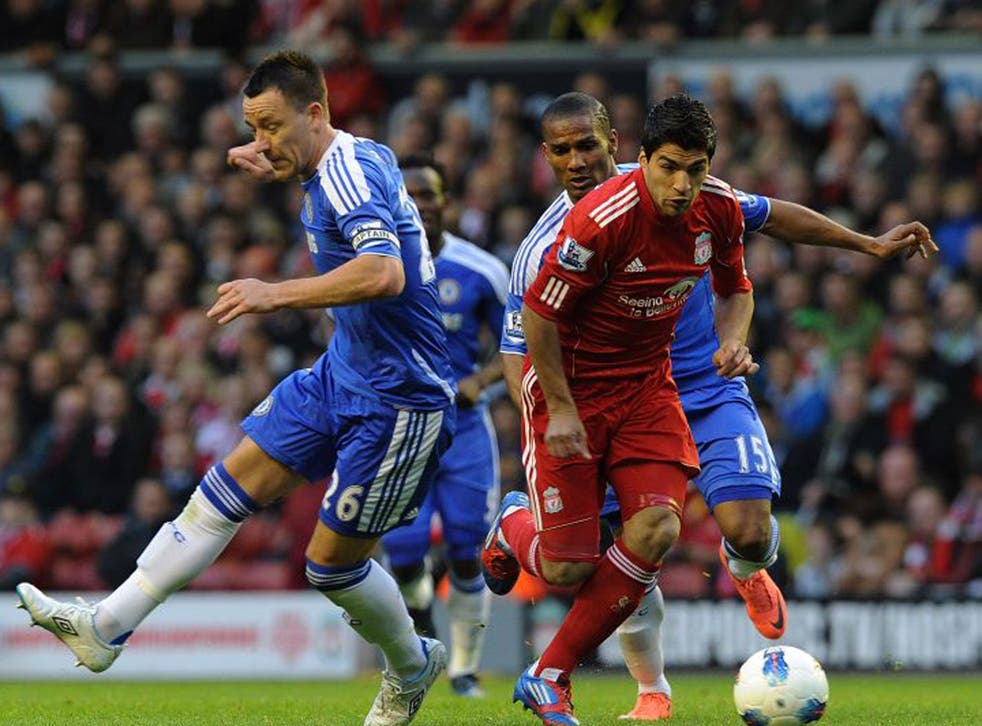 John Terry and Luis Suarez look certain to be summoned before Fifa's new anti-racism chief in a crackdown on discrimination, following an unprecedented spate of recent incidents that have tarnished the image of English football. Jeffrey Webb, the head of Fifa's anti-racism taskforce, has asked to see Chelsea's captain and Liverpool's Uruguayan striker as part of a global campaign to clean up the game.
Terry was banned for four games, and Suarez eight, last season after verbal assaults against Anton Ferdinand and Patrice Evra respectively. "It is a huge concern to be honest. I think the incidents were unacceptable," said Webb. "Football has been talking for a long time but we have not been sufficiently supporting the [abused] players."
Webb, one of Fifa's most refreshing reformers, took over last year from the disgraced Jack Warner as Fifa vice-president and Concacaf president. Yesterday he held a lengthy meeting here with the FA chairman, David Bernstein, at the AGM of the International Football Association Board, the law-making body who comprise Fifa and the four home associations, and they plan further talks.
"I will be meeting with David Bernstein and visiting the FA," said Webb. "At that time I would also like to meet with some of the players, perhaps have a round-table discussion to talk to the players and get their input, get some suggestions from them and learn from what their experiences are.
"Obviously there's a number of players who have been victimised, targeted. We would ideally like to hear both sides."
Although Webb conceded the FA had done more than most to tackle racism, he was keen to comprehend what had prompted so many high-visibility cases. "The FA have been very aggressive in their campaign. I think if these incidents do exist in an environment such as the Premier League then it begs the question what happens in some other leagues where they don't have the resources and the will."
Once the new taskforce, comprising a minimum of six officials, have been given their rules of engagement at Fifa's executive committee on 21 March, Webb warned that relegation could become the ultimate sanction for clubs whose players and fans are repeatedly found guilty of racial abuse. "I don't think we've necessarily put the right sanctions in place," he said. "It's a travesty that it comes to that. We have to be strong. The talking time is over, it's time to put proper things in place." Asked if that meant clubs being relegated, he replied: "Yes it does."
Although Webb backed away from any suggestion of institutional racism, he said an intensive educational campaign was needed to open more doors for black players and managers. "As a football family, overall we have to sit down and take a look in the mirror. What happens to the players after they finish playing? Do they really have a chance at being a professional manager? Do people of colour really have a chance to become executive directors of various clubs and boards? That is something on which you can give me an answer.
"I played football and I wanted to go into administration. Sol Campbell might want to be the next coach for Arsenal. Do they really have that opportunity? We need to put in place an educational programme"
Bernstein said Webb's visit could only improve anti-discrimination measures. "We had a very positive and productive meeting," he said. "I have invited him to London as soon as possible for a round-table discussion with players and administrators from across the English game. As I have made clear, the fight against racism and discrimination is at the very top of my agenda."
Join our new commenting forum
Join thought-provoking conversations, follow other Independent readers and see their replies