Kings or clowns: Surviving as a football manager - Michael Calvin
Being a football manager has always been stressful. But, as Michael Calvin discovered when researching his new book, in the modern world of 24-hour scrutiny, hi-tech coaching and highly paid players it is tougher – and more intrusive – than ever. And for new bosses there is only one certainty: it's probably not going to last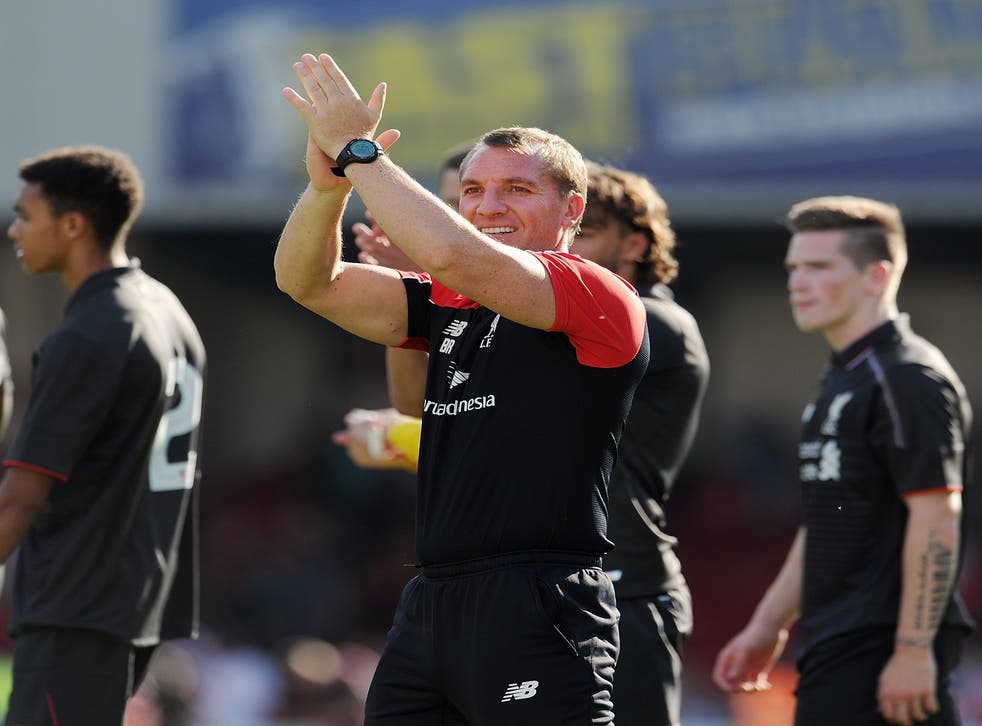 On any given Sunday, Karl Robinson rises early and takes his eight-year-old daughter, Jasmine swimming. They sip coffee afterwards, as they walk around the lake close to their home in Milton Keynes. The ritual represents a snatched moment of innocence, a semblance of a release from an all-consuming job.
One day last spring, during a brief blip in MK Dons' successful promotion season in League One, a stranger saw them laughing, sharing the sort of silly joke that is part of the parenting process. He cut across the manager's path and sneered, "You find losing funny, do you?" The threat was fleeting, but the memory endures.
"It was incredible," Robinson recalls. "What a stupid thing to say. This was someone I didn't know, intruding on my time, my family time, but I had to close my ears so as not to cause a scene. That's why so many managers become almost a recluse the day after a game. People are all too willing to tell you what you should have done, what they would have done.
"There are sides to us we can't ever let other people see. They don't realise the strength of our feelings, the extent of the worry and anger. You don't go through life without having some valve to release that sort of emotion, but we cannot allow them to see what the valve is, and how we let it all go, because we would be perceived as being weak." The casualty rates, collated by the League Managers' Association, are familiarly bleak. There were no fewer than 62 managerial changes last season: 47 were sacked and 15 resigned. The average tenure of a manager is less than 15 months, the lowest since Sky invented football in 1992. Fifty-six per cent of first-time managers fail to secure another job.
Premier League fans survey

Show all 6
Statistics set the agenda without revealing the complexities of a trade that, due to a perpetual news cycle, makes managers resistant to anything other than the superficial scrutiny of coconut-shy press conferences. They are fascinating, often deceptive, characters.
I set out, in researching my book, Living On The Volcano, to discover how they cope with irrational, often malicious judgement. Management is changing, subtly but swiftly, as football reflects societal change. It is increasingly difficult for its exponents to reconcile career and family.
The sack is a shared burden. Aidy Boothroyd is reinventing himself as England's Under-20 coach, but I caught him at his lowest ebb, dismissed by Northampton Town when they were bottom of the Football League. His 14-year-old son Nathan, waiting in the family estate car, dissolved in tears when his father broke the news.
"Listen mate, watching what happens to your dad is a lesson in life for you, because you've always got to remain true to who you are and what you do," he told him, with touching tenderness. "Always understand that people are going to put you on a pedestal if you do that, and they're going to knock you off it when you're down, particularly in this job. Don't be upset about it. Treat it as just another chapter."
The short speech made an impression on father and son: "Nathan has sat on an open top bus, watching 25,000 people come out on to the streets of Watford to greet us when we beat Leeds to reach the Premier League. He's sat in the dressing room as a young kid, listening to me talking about how we're going to deal with Drogba, Rooney, Fabregas. What an education he's had.
"Now he's seen his dad get the sack at Northampton Town, a League Two club. After being a king, he's a clown. That's what I tried to tell him in the car: he has seen the highs and lows. I think, well, I hope, that it's going to make him a more rounded person."
Brendan Rodgers enters the new season as favourite in the Sack Race, that tawdry distraction in which bets are solicited on the first Premier League manager to lose his job, but will not be unduly concerned. The Liverpool manager has overcome infinitely greater challenges, since an ability to compartmentalise his life is an intrinsic part of his coping strategy.
"I've been through probably the most traumatic four years of my life," he reflected. "I lost my mum. I lost my dad. I split up from the woman I loved for 23 years. I had a court case, two Old Bailey trials over six weeks with my son who was charged with sexual assault, which was an absolute disgrace. Yet professionally, here and at Swansea, these have been the best four years of my life.
"Something has to come from within. You have to put the professional and personal to each side. It's about being happy of course, but the owners have paid me to do a job, so I will do the job. There's a story about Jimmy Sirrel at Notts County which has stuck with me since I was a young coach.
"His wife, Cathy, died late on the Friday night, but he came in on the Saturday. Nothing was said. He got on with his job, he did his job. Team played the game, won the game. Normally after every game, him and his wife would sit at a little table and have a glass. Then they'd go.
"This Saturday night he quickly popped into the bar. Someone asked about his wife, and he said, 'She died last night'. He'd lost the woman of his life, his right hand, but he still came in and did his job. Makes you think, doesn't it?"
The new breed of manager is emotionally intelligent, conscious of everything from the tone of his voice, in communicating with his players, to the impact of the imposition of his authority. Gareth Ainsworth, whose work at Wycombe Wanderers marks him as a modern, empathetic leader, understands the delicacy of human relationships.
"It took me a good few months to realise that as a manager I'm the most important person in my players' lives," he said. "I can shape careers. That's a big responsibility to take on. Some of these guys have no dads, no families, broken homes. They need this arm around them. You have to be a counsellor and a social worker as well as being a football manager.
"There's a young boy here, who's lost people in his life close to him in the last couple of years. He's a top, top guy, but he just needs some love. He's a tough one on the outside, but I can see right through it. He just wants to do well and feel he can impress someone in his life. He wants to turn round and say, 'See, I want you to be proud of me'. That's hard to take sometimes.
"I've released pros, where they are trying to keep a straight face, but a tear runs down their cheek because they've blinked and they've welled up. They're not crying, and you want to say everything's going to be all right, but you can't. You can't lie to them, you have to be honest. You have to say, look, I don't think you've got what it takes. It's my opinion, but that's what counts at this club. Go and prove me wrong."
The nature of recruits is changing. Young players are conditioned to expect reward before achievement. Even well-intentioned parents are contributing to the feeding frenzy which passes as youth development in the modern game. Sean Dyche, whose reputation has survived Burnley's relegation to the Championship, straddles cultures: "Parents need to be educated. I'm not getting on my high horse about how they bring their kids up, but I'm referring to football education. Some old- fashioned beliefs are absolutely relevant to the modern game.
"We've got so drunk on technical detail that people have forgotten about moral fibre, about what it takes to walk out in front of 78,000 and deal with it. I'm not trying to be a dinosaur here, but in the old days you had to earn the right. I played 200 senior games before I earned a contract that you would recognise as being decent. Now, there are players in youth systems earning more than I ever earned as a player, and they're probably never going to kick a ball in the first team. I find that astonishing.
"There are a lot of players whose desire has gone by the time they're 21. Basically, they're confused. They've been paid a hell of a lot of money almost to the point of it being life changing, but they've never played in the first team at their own club. There are some really conflicting messages out there."
Garry Monk, at Swansea City, is at the vanguard of a new generation. He wears a radio microphone so he can check the clarity of his communication. He assesses the subtleties of his body language with psychologist Ian Mitchell who, unusually, works proactively with him on the training pitch.
However, technology cannot totally override the instincts he utilised as a player: "The whole point of everything I've done, and it's still in its infancy because I've got a lot to do, is to take as many excuses away as possible. You know the stuff players come up with: 'the grass is soft today, we didn't know what we were going to do, the instructions weren't clear.'
"I've seen and heard it too many times. I've trained with players who think they can nick half a yard on you, or nick an off day, take it easy. If they look at the manager and reckon 'he doesn't care, he won't notice' they take liberties. Take all of that away, and they think 'shit, the onus is on me, I can't fuck around. I haven't got an excuse today'.
"The word I always use when I walk into a changing room, especially at half time, is balance. When I'm angry my players know it, but you don't have to go absolutely mental. If I spend five or six of my 10 minutes just bollocking someone, I haven't really helped him, or the group. If I've just gone nuts I haven't given him the information to make him better.
"Put yourself in his position. Number one, you probably don't know what you've done wrong. Number two, you probably don't know how to correct it. Number three, you go out there, pissed off, thinking I'm a twat. You'll probably end up trying harder, but still making the same mistakes. It's far better for me, as manager, to concentrate on the next half. I give them three points defensively, three points offensively, as a group, so they have clear information. What's done is done at that point. I can show them what was wrong next day in the post-match reflections. That's when accountability kicks in, because there's no hiding place."
Ultimately, the job requires a distinctive type of courage, best articulated by Paul Tisdale, the Exeter City manager and second longest serving behind Arsène Wenger. With the game on the line, he is in his element: "It's all about tone and feel. You need a very tight understanding of the game, what's needed, and what's not. You're dealing with dozens of variables at the same time, and if the structure and coaching are right, it is easier to assess which bit is making the difference.
"Say you're 1-0 down with 10 minutes to go. You can't describe the pressure you are under. You're picking next week's team as you're watching, thinking what you're going to say to that player, or the press. You're desperately trying to get that goal, blocking the supporters out because they think about it for two hours every week and then they go home. You think about it 16 hours a day.
"At that point, it's very easy for a manager to think, 'I want someone on that pitch to reflect what that lot behind me are thinking.' They're usually going 'fucking get stuck in'. So, to take off the player who is putting himself about, running everywhere and putting tackles in but doing all the wrong things, my God, you've got to be brave.
"I live this, I'm consumed by it. Try thinking about a really important decision and screaming at the same time. It doesn't work, does it? Keep quiet, think clearly. I'm taking everything out of my mind and concentrating on one big decision, the 30 seconds out of 90 minutes where I have to get everything right."
It is far from easy. As Wenger, the Dean of football management, confirms: "We all suffer."
Michael Calvin's latest book, 'Living On The Volcano: The Secrets of Surviving as a Football Manager', is published by Century (£16.99) on Thursday. His last two books, 'The Nowhere Men' and 'Proud', a collaboration with former British Lions captain Gareth Thomas, have been named Sports Book of The Year
Join our new commenting forum
Join thought-provoking conversations, follow other Independent readers and see their replies