The Last Word: Blame is the game and everyone is primed to kick it into touch
The Terry affair has highlighted a problem that is becoming endemic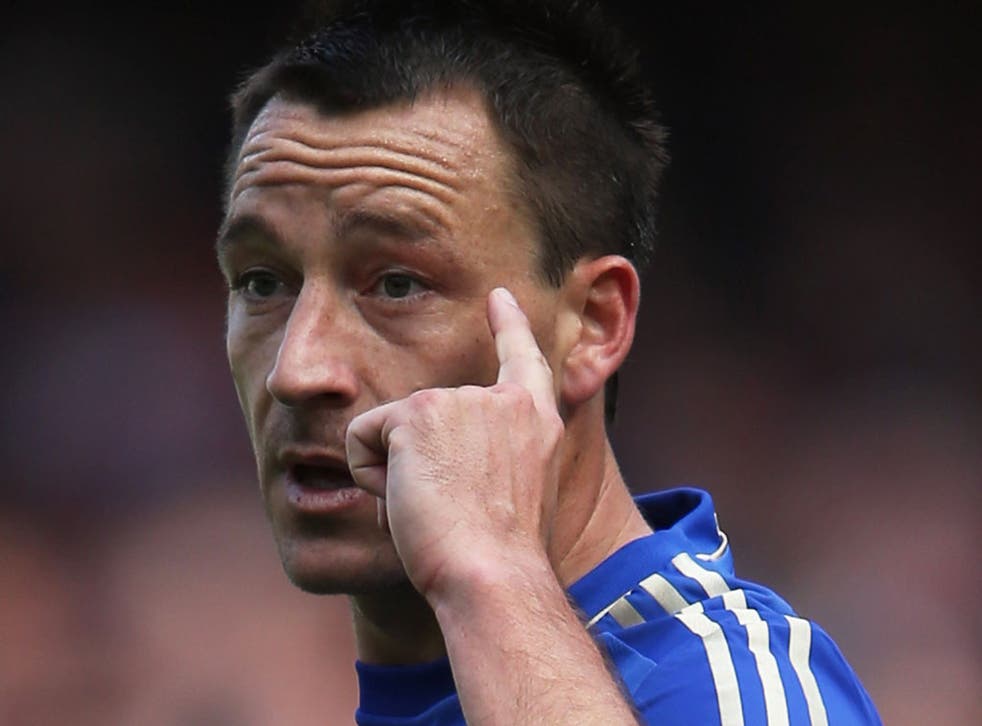 Whatever they claim, deflect the blame, and never explain. Vindication might be unlikely, but victimhood means never having to say you are sorry. A rag-tag army of attention-seekers, rabble-rousers and conspiracy theorists will rally to the most incoherent cause.
Sport's culture of complicity and denial has never been more entrenched. Yet, with rare exceptions, the level of popular debate sparked by John Terry, and sustained by the likes of Luis Suarez and Lance Armstrong makes the Jeremy Kyle show seem positively Ciceronean.
A member of a Wham! tribute band, later identified as the former Crystal Palace chairman Simon Jordan, offered such philosophical gems as: "First it's kick out racism, then it's kick out homophobia, what next? Kick the smokers out? Kick the drinkers out?"
A gap-toothed Terry apologist, the former politician David Mellor, metaphorically took that Chelsea shirt out of the wardrobe before suggesting the verdict of the FA's "kangaroo court" was "outrageous". M'learned friends may be unsurprised to discover he no longer practises as a barrister.
No one lacks an opinion, however banal. One TV programme featured JT's psychodrama alongside such profundities as "Could you ever be in a relationship with someone who supported a rival club?"
There is a serious point here, buried in a landfill site of deceit, malice, prejudice and blind faith. Since sport reflects society, no one feels the need to apologise, or even acknowledge the concerns of their accusers. Contrition tends to be theatrical and transparent.
Individuals and institutions are unable, or unwilling, to accept the link between actions and consequences. When challenged, even on such a fundamental issue as racism, they simply cling to assumptions of authority, or approximations of reality. Little wonder we are lost in a moral maze.
Millions still accept the myth of Armstrong's martyrdom. Terry and Suarez exploit illogical tribal loyalty. All three have indulged, shamelessly, in the worst type of emotional blackmail: believe in me, or lose faith in your instincts and convictions.
The FA, quietly congratulating themselves for channelling the spirit of Clarence Darrow, have no room for complacency. Their disciplinary process is opaque yet, despite Parliamentary calls for greater independence, deemed untouchable. Such lack of scrutiny is, to use the word of the week, untenable. The system is deeply flawed, open to abuse. Since the media are not allowed access, public opinion is shaped by off-the-record briefings rather than a contemporaneous report of proceedings. The written judgment in the Terry case will be filtered through lawyers and communications specialists.
Rules are there to be applied when convenient or massaged when politically expedient. David Bernstein has received approval for a one-year extension to his contract as FA chairman, through to 2014. The statute requiring him to retire at 70 – he will be 71 at the next World Cup – has been quietly rewritten.
Football has credibility problems – challenged by his own anti-corruption adviser on Friday, the Fifa president, Sepp Blatter, felt the need to insist "We are not corrupt or a mafia organisation" – but they pale alongside those of cycling.
Pat McQuaid and Hein Verbruggen, key figures in the UCI, cycling's governing body, refused to accept the legitimacy of questions about their approach to the Armstrong crisis, which can charitably be described as inept.
They then went further, taking legal action against Paul Kimmage, the former cyclist whose work as a campaigning anti-doping journalist is globally acclaimed. Unusually, this did not extend to the publications to which Kimmage contributed.
A fighting fund, organised through social media, had raised $44,000 (£27,000) by yesterday morning. A PR disaster for the UCI will acquire an additional dimension if, as anticipated, the Armstrong report, compiled by the US Anti-Doping Agency, includes allegations that the organisation were complicit in a cover-up.
People with everything to lose will try to ride out the storm. They always do. For once, they must not succeed.
Now Venky's need to take the Kean route
Steve Kean, Mr Bean in a tracksuit, was an accident waiting to happen. He embodied the desperation of his trade, and football's fatal imbalance of talent and ambition.
His career prospects are bleak. The perception that he is a malleable character, an inept man-manager and a poor judge of a player will endure.
A figure of fun for neutrals, Kean was loathed by many Blackburn Rovers fans, who derided him as a delusional incompetent.
They deserted Ewood Park in their droves, but there is little reason for them to return while the club remain unfit for purpose.
Quite why Venky's exposed themselves to ridicule by paying £23 million for Blackburn has yet to be adequately explained.
They are involved in a game they patently do not understand, at a community-focused club for which they obviously have no respect.
Forget the manager for a moment. Blackburn have shed their chairman and managing director, along with the deputy CEO.
They have given a deeply unpopular press officer boardroom influence and employed a former Asian TV pundit as a global adviser.
It is surreal and unsustainable. Venky's should sell the club and go back to making millions from caged chicks and processed meat.
A bad image
Lewis Hamilton is the perfect Formula One poster boy. He's glib, narcissistic and sufficiently ruthless to dump his father as a career move. Leaving McLaren for Mercedes, who will allow him to exploit his image rights, merely confirms he is driven by money.
Join our new commenting forum
Join thought-provoking conversations, follow other Independent readers and see their replies