Luis Suarez comment: Uruguay must not lionise Liverpool striker but make him see he needs help
The Uruguay striker has admitted he deliberately bit Giorgio Chiellini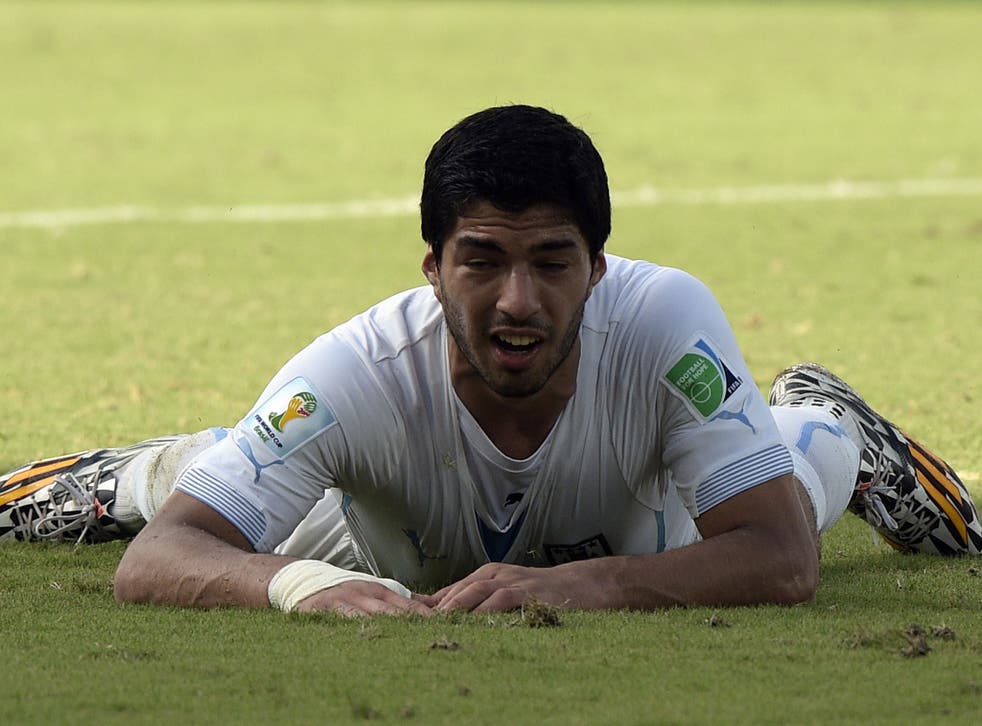 There are elections in Uruguay later this year. "Ah ha," you think, "so that's why the president has described Fifa as 'a bunch of old sons of bitches'." Dig a little deeper, though, and it transpires Jose Mujica cannot stand for re-election because of constitutional limitations; he is also not like most politicians.
While David Cameron must have wished he could use similar language following his bruising experience with Fifa when presenting England's ill-fated 2018 World Cup bid, he and Mujica's differences extend well beyond linguistic style.
Mujica, 79, is a former leftist guerilla, shot six times by the police and imprisoned for 14 years. He gives away 90 per cent of his salary to charities, primarily ones representing small businesses and the poor. He has eschewed the trappings of office preferring to live on a small farm and drive an old Volkswagen Beetle. In power he has pursued liberal policies on abortion, drugs and same-sex marriage.
Clearly, this is a man of honour, principle and stature. So why has he joined the Uruguayan chorus defending Luis Suarez? Why, indeed, does there appear to be unanimity in Uruguay that Suarez is the victim? When David Beckham was sent off in Saint-Etienne at the 1998 World Cup, very harshly, he was castigated in England. Before his first match after the finals, at West Ham, he was burnt in effigy. It is not just Beckham. England players who missed penalties in the shoot-out have been abused with chants of: "You let your country down."
Suarez, in committing an act that would inevitably lead to a ban, shattered the chances of Uruguay – an ordinary team without him – making an impact in Brazil. Yet he is being lionised, not castigated.
One obvious difference is that Suarez, having played one domestic season with Nacional, nine years ago, then gone overseas, does not invoke club loyalties in the way Beckham, Frank Lampard and others did – though diehard fans of Penarol, Nacional's historic rivals, may be less sympathetic.
The other is that the severity of Fifa's punishment has hardened opinion. While some in the Uruguayan media have suggested Suarez did not bite Giorgio Chiellini, Mujica did not claim Suarez was innocent. He agreed he should be punished. It is the four-month ban from all football activities that sparked his invective. I have sympathy with the view that the ban is disproportionate, though Suarez's initial lack of remorse and ludicrous excuse to the disciplinary panel rather undermine his case.
10 of the best Luis Suarez memes

Show all 10
Another factor, one that appears to be driving much of the Uruguayan response, is a deep-seated persecution complex. It is a small nation whose achievements in football are perhaps its most notable on the world stage. There is, among some, a genuine belief that this is part of a conspiracy with people harking back to the quarter-finals in 1966 when a German referee dismissed the Argentina captain against England, and an English referee sent off two Uruguayans against Germany.
The sad irony is this steadfast support for Suarez is unlikely to help in the long term. His testimony to Fifa suggests he has been struggling to admit he has a problem that manifests itself by biting opponents. Until he does he will not benefit from the treatment he so clearly needs. Beckham has since said that, while the post-1998 period was awful to live through, it was the making of him. Suarez should not be persecuted in the way Beckham was, but some tough love from his countrymen might be in order, for his sake.
Join our new commenting forum
Join thought-provoking conversations, follow other Independent readers and see their replies