Luis Suarez interview: Striker aims to keep calm and carry on
The Liverpool striker knows he must control his temper on the pitch but, he tells Pete Jenson, a bit of menace has been essential for him to make journey from the streets of Uruguay to the Premier League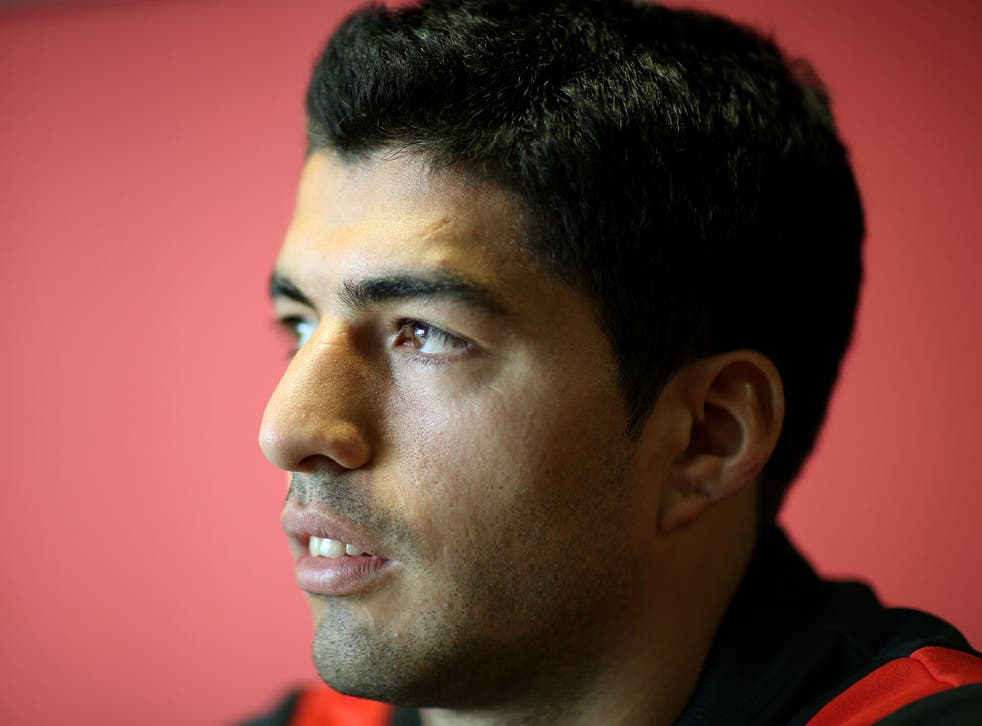 'He's a good man," says Brendan Rodgers of his best player Luis Suarez who has just taken time out from the first week of the season to talk to me about being Liverpool's No 7 and Public Enemy No 1.
There is conviction in the way Rodgers says it, when I see him at Liverpool's Melwood training ground, where he is preparing his side for the first home game of the season against champions Manchester City tomorrow.
Suarez has just told me that Liverpool will not be turning into Barcelona overnight; that he needs to hit the ball harder when he shoots instead of looking for the corners; that he moved to Europe for the love of his life; and that Steven Gerrard has gone from someone he used to have on his PlayStation to his guardian and team-mate on the pitch.
And we get around to talking about good and bad. About how you don't get from the barefoot matches on the streets of Montevideo to Champions League ties in Amsterdam ArenA without being a little bit bad. But that now he has reached the point where it may be time to accentuate the good guy, or risk not making the most of his talent.
"I know that better than anyone," he says in the South American Spanish he feels most comfortable conversing in. "If you saw me a few years ago you would know that I have improved a lot but I know I still have some way to go. I am 25 years old, I know I don't need to do the things I used to do any more because it makes things worse for me and for the team."
It's clear as we talk in the Liverpool office previously used by Damien Comolli that looks out over Melwood's lush green training pitches that for all the animosity that surrounds Suarez there is goodwill directed his way too. "The other day a player from West Bromwich, their No 24 [Peter] Odemwingie, the one who scored against us, came up to me after the game," he says. "He told me that I was an excellent player and that I should forget about everything else and just concentrate on playing my game on the pitch. For another player to say something like that is worth so much more than all the chiflidos [South American Spanish for boos and whistles]."
The Odemwingie advice about concentrating on just playing highlights a constant in Suarez's rise. The same rocket-fuel energy that has fired him to the top of his profession has constantly threatened to burn him out.
And his hatred of losing is never far from the surface. "People ask 'how can you let a defeat hurt you so much?' But it comes back to the effort you have put into your career as a youngster. I suffered a lot to get here and to not take advantage of every minute of every game hurts me."
No one has tried to tame the raging bull within Suarez more than the Uruguay coach, Oscar Tabarez, with whom Suarez has won a Copa America and reached a World Cup semi-final.
"One qualifying game against Peru, I remember we lost 1-0, [Diego] Forlan was not available, and Tabarez told me a couple of days later that I had let him down a lot because he had put so much faith in me. But he still picked me for the next game and I scored. Against Argentina in the Copa America at half-time he also told me: 'Luis, calm down or we will have to take you off, you help no one when you are like this,' and I played more calmly and much more effectively in the second half."
It's difficult to imagine the same relationship last season between Suarez and Kenny Dalglish despite the former being the most gifted Liverpool No 7 since his then manager and so having more in common with him than he could ever imagine.
There seems a greater understanding with Rodgers who speaks Spanish to Suarez's delight and has studied the game in Spain and the Netherlands.
Did the lack of anyone guiding him last season, especially in his mother tongue, leave him feeling isolated? "The language is not a barrier," he says. "There are team-mates here who have told me to concentrate on just playing. An example is Steven [Gerrard] who told me before the game against United: 'Just go out there and show that you are one of the best players in the world.' When someone like that speaks to you then you listen."
The language barrier is not an excuse he has used. It might have given him a get-out last October when he was accused of calling United's Patrice Evra "negro", the Spanish word for black, in a row the pair had in that language. He remains adamant that beyond the nuances of definition he simply did not say "that word" and that none of the lip-readers called upon by the Football Association who watched him on a big screen during three hours of evidence could find him saying it either. "It's in the past now. If we go on talking about it, then it will never end," he says.
What is clear from talking to Suarez is that he becomes another person on the field of play and that he feels without a bloody-minded determination he would never have made a success of his career.
"When you have to suffer a lot when you are a kid, you take that with you on to the pitch throughout your career. I played barefoot in the street with my friends but that was normal. It was just never an option for me to say to my mother or my father 'I want these football boots'. I grew up having to fight for everything.
"I saw players in Holland that when they are 17 or 18 years old are given a big, expensive car, something that in Uruguay you are not going to have until you are as old as I am and playing in Europe."
There is a feeling that equally talented but lesser determined players have fallen away. Suarez played in the 2007 Under-20 World Cup that Sergio Aguero starred in. But others who topped the bill back then have long since slipped down on to the undercard.
"Giovani Dos Santos [who is in Tottenham's reserves] was at Barcelona and it was very difficult for him. And there was a lot of expectation around Freddy Adu [who is in the MLS]," Suarez says of two of the young stars from the Canada finals. "Aguero has continued to get better and better. It's about different mentalities. You have to want it so much. If you score 20 goals one season, then you have to promise yourself that in the following season you will get 25."
Away from football the intensity must be diluted – if only for the sanity of his loved ones. "My wife says if people made their minds up about me based on what I am like on the pitch then they would say 'how can you be with this person?' But it's just the way I am during games."
His wife, Sofia, was one of the reasons Suarez ended up in Europe aged just 19 and playing for a side no one in Uruguay had heard of. "The idea was just to go to Groningen and try to get as many games as possible but I played so much that in no time at all I was at Ajax," he says.
"And there was another important factor in that move that I was already with my then girlfriend who is now my wife. She was living in Spain at the time so it was a way of getting close to her. I moved to Holland, she was able to move to Holland too, and it meant we could be together."
Liverpool – unlike Groningen – has always been a household name in Uruguay. "When I was a kid growing up everyone knew what Liverpool was. Later I used to be Liverpool on the PlayStation with Gerrard and [Fernando] Torres."
His two-year-old daughter Delfina is taken to Anfield (coincidentally and bizarrely an anagram of her name) by her mother and the way his family has been treated has strengthened the bond between player and club. "The support that we have had here has been spectacular. It is a major plus in terms of wanting to stay."
Staying will only be payback for Liverpool if Suarez successfully combines his explosive brilliance with a cool head. He says he is willing to listen to Rodgers, Gerrard and Tabarez – those who he recognises are telling him for his own good.
"The pressure does things to you that you can't imagine," he says. "It can make you eat more, eat less and I have gone into games feeling it so much that afterwards you think to yourself 'why was I so wound up?'
"I have to try to keep the hunger and desire but not to live the game in my head before it has even started. If you are intelligent as a player you should be able to deal with the pressure. And if someone tells you in the right way – behave yourself for the good of the team – then you do it."
Join our new commenting forum
Join thought-provoking conversations, follow other Independent readers and see their replies