Manchester City beware – Robin van Persie signing is equivalent of Manchester United's Eric Cantona coup
Van Persie signing is statement of intent from United that kills off any lingering Arsenal threat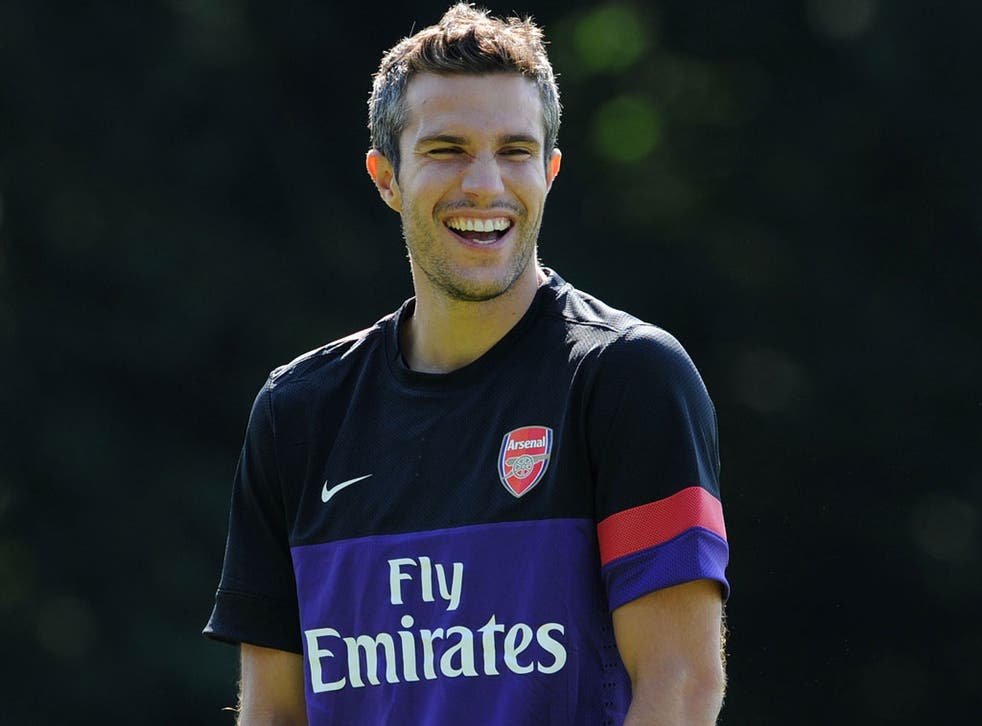 The treble season; that was the starting point for Sir Alex Ferguson yesterday. When the conversation turns to 1999, and the comparisons are coming from Ferguson himself to the forward line he had at his disposal for that campaign, one that rampaged its way through Europe, the mood at Old Trafford is not difficult to read.
Make no mistake, landing Robin van Persie is right up there with the acquisition of Eric Cantona back in 1992, when winning had become a forgotten art-form for the country's biggest club. A brilliant manager buying a brilliant player will always make sense.
It is three months since Ferguson stood on the pitch at the Stadium of Light on the final day of the season and heard a roar in the far corner of the ground, a noise that told him Manchester City had scored a third goal. His resolve hardened right there in front of those watching.
The rising Japanese player Shinji Kagawa has arrived, Danny Welbeck is close to signing a new contract, and Tom Cleverley is fit again. The first two offer reasons to believe Ferguson's hunger remains as great as ever, but the pursuit and subsequent landing of Van Persie, Arsène Wenger's golden boy, should ring out as a warning to every club side in European football.Lest we forget, Wayne Rooney was ready to leave Old Trafford 19 months ago. Manchester City sensed a possibility of taking their rivals' greatest player, a move that could arguably have been more significant than taking their rivals' title.
Within a week he had signed a five-year deal. Ferguson had flexed his muscle. Now Rooney has Van Persie, the best player in English football, Welbeck, possibly England's next centre-forward, and the livewire Mexican Javier Hernandez to form a quartet which, given time, could compete with the one he spoke so glowingly of.
United with that kind of firepower become a different, more dangerous animal and it is worth remembering that City won the title only by virtue of goal difference. You would be brave to bet on them outscoring their rivals this time, as they attempt to defend English football's top prize for the first time in 44 years, something they have never done successfully.
Some spurious arguments were floating around outside the Emirates Stadium yesterday, most about Van Persie's age – he was 29 nine days ago – and his injury record. In all competitions, including those for his country, Van Persie has played 162 games in the last four seasons, scoring 106 goals and assisting on a further 41. Over a four-year period, he has more or less contributed in some shape or form a goal in every match he has played.
In light of the price paid in recent seasons for those who have flourished in the Premier League, just over £20m is not a great amount, and that it has weakened Arsenal is undeniable.
In one move, Ferguson has cleared out 39 per cent of Arsenal's goals. Last season Arsenal scored 96 times in all competitions and Van Persie was responsible for 37 of them. It is a huge setback for Arsenal and Wenger, and their role now is defined in the current era of the Premier League; they are now nothing more than a feeder club. No wonder Wenger lauds himself for Champions League qualification, for that now is an achievement. Arsenal won the Premier League three times in six years, starting in 1998, during a golden period and it is improbable that those times will return.
The revolving door takes talent out of the Emirates Stadium and the demoralising list in recent seasons goes from Thierry Henry, Cesc Fabregas, Samir Nasri and Gaël Clichy, all the way through to Van Persie. Alex Song could be next, with Barcelona ready to make their move. Next summer, if Jack Wilshere comes through a campaign without further problems, you would not be surprised to see Ferguson really rub his rivals' noses in it with a move for him.
Nobody has stood up to Manchester United in the Premier League quite like Arsenal, certainly not for as long, but theirs is the bit-part role now, they are the subplot, desperate to scrap for local supremacy, but little more. Indeed, losing one of your stars is careless, but two, as Arsenal and Spurs look set to with Luka Modric heading to Real Madrid, is beyond careless. These were clubs who said they wanted to win the title, but their actions do not back up the verbal aspirations. City's manager, Roberto Mancini, similarly has problems, to make peace with his board and to move on at least two forwards to ease his wage bill and make a far better fist of the Champions League.
Ferguson, as in 1999, has only to keep four excellent centre-forwards happy and scoring. He has done it before, and he has done this before, manning up to those threatening his supremacy.
No wonder then, with Robin van Persie and Wayne Rooney at his disposal, he was buoyant yesterday.
Striker light: Transfer spends
Transfer net spend since summer 2008:
Arsenal +£28m
Manchester City -£394.95m
Manchester United -£60.15m
* includes £24m for Robin van Persie
Register for free to continue reading
Registration is a free and easy way to support our truly independent journalism
By registering, you will also enjoy limited access to Premium articles, exclusive newsletters, commenting, and virtual events with our leading journalists
Already have an account? sign in
Register for free to continue reading
Registration is a free and easy way to support our truly independent journalism
By registering, you will also enjoy limited access to Premium articles, exclusive newsletters, commenting, and virtual events with our leading journalists
Already have an account? sign in
Join our new commenting forum
Join thought-provoking conversations, follow other Independent readers and see their replies