Manchester United's Marcos Rojo named as footballer in sex scandal court case
A High Court judge ruled that his lawyers had tried to 'buy off' a woman he cheated on his wife with and then wrongly accused her of blackmail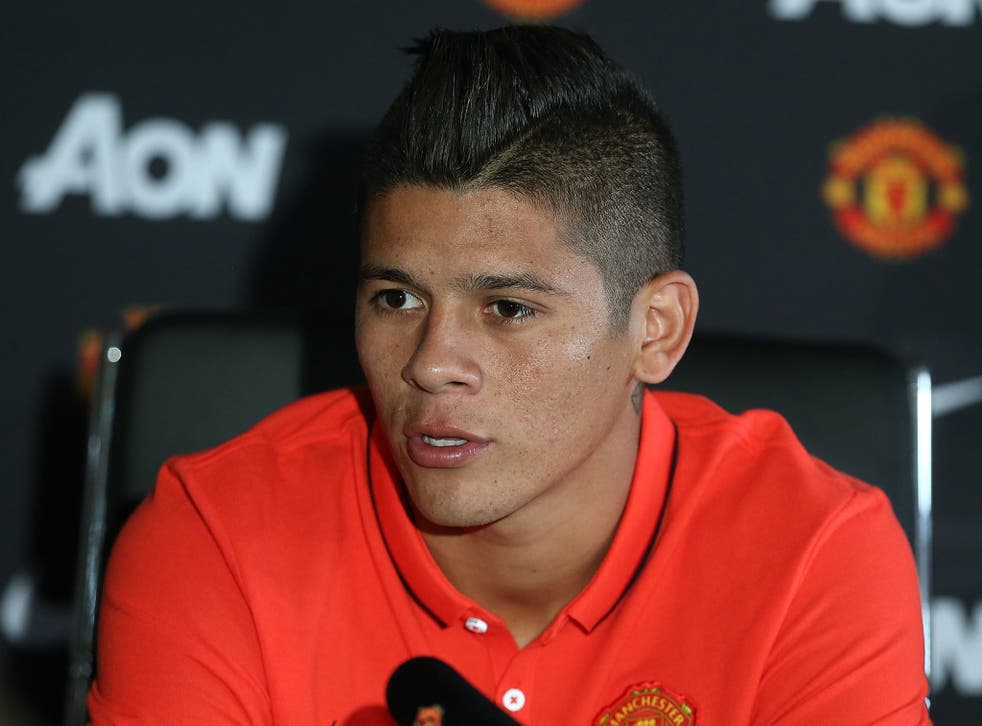 Manchester United defender Marcos Rojo has lost a court battle to stop a woman he cheated on his wife with revealing his name.
A judge initially granted the footballer anonymity after his lawyers accused Sarah Watson of "blackmailing" him by saying she would sell her story to a newspaper unless they paid her £100,000.
But Mr Justice Warby, who overturned the gagging order at the High Court, called Mr Rojo's case against Ms Watson "weak" and his team tried to silence her when she had already signed a contract with The Sun.
In his ruling, the judge said evidence "strongly supports the view that what took place was entirely initiated by (Mr Rojo's) representatives, with a view to buying off the defendant".
Mr Justice Warby said the 25-year-old footballer "has not shown any great concern about privacy for his sexual conduct" after openly engaging in sexual activity with Ms Watson at a friend's party.
"There are strong grounds for inferring as I do that commercial motives play a considerable role," he added.
He threw out the injunction granting anonymity and ordered Mr Rojo to pay Ms Watson's estimated £35,000 legal costs in the judgement issued on 25 March.
Ms Watson, a 34-year-old fitness instructor, told the Mail on Sunday the case had been a "total nightmare" that had stopped her sleeping.
"They're just so powerful. They probably thought 'She's a cheeky b****, she's trying it on," she added.
"These guys are like spoiled rich kids. They are overpaid, oversexed and have a sense of entitlement."
The pair met during a Christmas party at a Manchester club on 15 December last year, when Ms Watson claims Mr Rojo complimented her before taking her number.
She said the Argentinian, who has a wife and two-year-old daughter, did not tell her he was married and later invited her to a party at friend Kristian Bereit's flat.
There, court documents say, Ms Watson "performed oral sex on him" while four other Premier League players present repeatedly walked into the room and attempted to watch.
The pair never met again but a month later they exchanged sexual messages containing explicit images and a video of Mr Rojo masturbating.
The footballer, who played for Argentina during the 2014 World Cup, has not disputed Ms Watson's account of events.
In February, she signed a contract to tell her story in The Sun for £17,500 after being approached by reporters and the newspaper rang Manchester United for a comment.
Ms Watson agreed to meet with Mr Rojo's representatives the following day after Mr Bereit contacted her "to try and sort (it) out", WhatsApp messages presented to the High Court show.
Those messages were not presented in the evidence initially given by Mr Rojo's team – an omission Mr Justice Warby said was crucial.
While Ms Watson claims the footballer's representatives offered her money to stop the publication of the "kiss and tell" story, they alleged that she demanded it in exchange for her silence.
She denies asking for £100,000, saying Mr Bereit himself suggested the figure at a meeting with her and her mother on 16 February and she said "okay".
"The main purpose of the meeting was to make sure the defendant's story did not get out, and to that end to find out how much evidence she had and what it would take to buy her silence," Mr Justice Warby said in his ruling.
Ms Watson indicated that she wanted to cancel her deal with The Sun but following a recorded phone call on 17 February where Mr Bereit said the payment was not possible, negotiations broke down and Mr Rojo's team filed for an injunction.
She asked Mr Bereit not to contact her again in a text message sent on 18 February that was shown to the High Court, saying she was "not interested" in any more offers of money.
The footballer's legal team filed the injunction application the next day to prevent the identification of Mr Rojo and the release of any images or videos sent to Ms Watson and it was swiftly granted.
The Sun on Sunday intially published the story on its front page three days later, without naming any of the parties involved.
The case is the latest in a long line of court battles where Premier League footballers and other celebrities have been granted injunctions preventing their identification in embarrassing stories.
Mr Justice Warby called anonymity orders "a derogation from open justice and an interference with Article 10" of the Human Rights Act, protecting freedom of expression.
He maintained an injunction preventing the release of the images of Mr Rojo but said it was in the public interest for him to be named so suspicion was not cast on another footballer.
Register for free to continue reading
Registration is a free and easy way to support our truly independent journalism
By registering, you will also enjoy limited access to Premium articles, exclusive newsletters, commenting, and virtual events with our leading journalists
Already have an account? sign in