Mark Sampson on women's football in England: 'We've got to keep growing'
Women's football in this country may seem to be in a good place after the World Cup, but England manager Mark Sampson tells Glenn Moore there is much work to do to capitalise on the momentum
Glenn Moore
Saturday 25 July 2015 00:19 Comments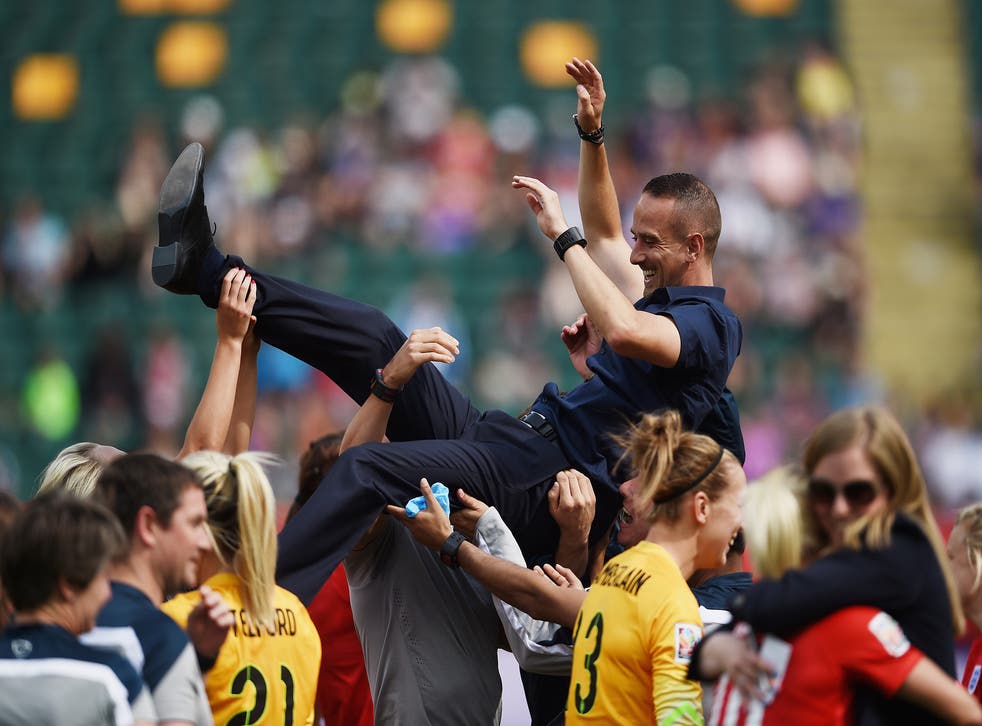 At a football dinner this week two shirts signed by current England centre-halves were auctioned in aid of charity. Nothing unusual in that, except the shirt signed by Casey Stoney, of the women's team, raised more money than that signed by Gary Cahill, of the men's.
As an indication of the "Women's World Cup effect" it was even more striking than the increased attendances being enjoyed by the FA Women's Super League since the England team returned with bronze medals from Canada.
Women's football is currently, to use one of England manager Mark Sampson's favourite phrases, "in a good place". It will receive a further boost next Saturday when Wembley stages the Women's FA Cup final for the first time. With finalists Chelsea and Notts County possessing 11 World Cup players between them, including Fran Kirby and Laura Bassett, who made headlines for very different reasons in Canada, an attendance of 30,000-plus is expected.
The task now, for Sampson, the WSL clubs and the Football Association, is to maintain and build on this momentum. "Legacy" is a much-abused word in sporting circles, with the 2012 Olympics having failed to produce an increase in either children or adults taking up sport. That may be largely down to a government that shows little interest in grassroots sport, but it underlines the reality that it takes more than watching success to turn TV viewers into participants.
"It was really heartwarming to see people queuing for WSL matches, to see some clubs break their attendance records," says Sampson when we meet in a London restaurant. "To get back home and see that interest has been really pleasing; the challenge now for everyone involved is to find a way to make sure we maintain interest and use the legacy as best as we possibly can.
"Looking at the bigger picture, I'm still not sure if we've seen the effects of the Olympic Games [when GB women reached the quarter-finals after beating Brazil at Wembley]. I'm sure lots of young players started playing post-2012, and I'm certainly hopeful a lot will start to play post-World Cup. So hopefully we'll get a very short-term legacy, which is bums on seats at domestic matches, the FA Cup final and England internationals, but also more people playing the game. It will be a few years before we see the long-lasting impact of that."
The need for more participants is clear. There are 26,676 women playing in England; in Germany 117,100. While there are also 62,442 girls (under-18) playing in England, that figure is again dwarfed by Germany's 141,280.
The trend is promising, but in the immediate term the talent pool is too shallow to meet the needs of a national league that has expanded to two divisions. While Kirby's transfer from Reading to Chelsea for a rumoured £60,000-£70,000 stole the headlines, most WSL deals in the mid-season transfer window involved recruiting foreign players. Is Sampson concerned that he may face the same problems Roy Hodgson has?
"We want to raise the quality in our league," says Sampson with his customary enthusiasm. "We want to make sure our players, on a daily basis in training, and a week-by-week basis in matches, are playing against the best possible opponents and teams, but we've got to strike the right balance. We've got to make sure our young players get every opportunity to play. Our Under-19s have just competed in the European Championship finals and looking at the starting XI there's not enough domestic experience. They are 18 and 19-year-olds and not getting the opportunity to play WSL matches. That's something that needs to be addressed." In the eight-team tournament England drew one and lost two of their three matches, finishing last in their group.
"From my point of view I clearly want more English players playing – but there's obviously a fine balance to strike in terms of how many foreign players are needed to make the league competitive, not only domestically but in Europe as well," Sampson adds. "It's been a long time since we've had an English team be really competitive in the Champions League [Arsenal, winners in 2007, are the last English finalists], and I still think we're a bit away from that. So that's something we've got to address."
Those words could easily have been uttered by Hodgson this summer, and the two men also have a similar problem at international level: how to build a tournament-challenging team during an easy qualification campaign?
Sampson's team do not start their Euro 2017 qualification until September – he has taken the break as a chance to head to Cyprus for a well-earned holiday – but they are expected to progress even more comfortably than Hodgson's side in Euro 2016 qualifying. Their opponents – Belgium, Bosnia & Herzegovina, Estonia and Serbia – have 10 (semi-)professional players between them.
"Whoever we play [in Euro qualifying] we're expected to beat them, so we demand a performance of the quality this team is used to producing," says Sampson. "We've built some great momentum in terms of media interest and supporters – we've got to keep growing now, and to do that we've got to make sure our performances are right. Secondly, we've got to make sure we play friendlies against the best teams in the world on a regular basis. Thirdly, we've got to make sure we make the most of the time.
"I'm clear with the vision I need with the team come 2017. We've got to work back from that, putting steps in place to make sure that come that tournament the team's in the best possible place to give themselves a chance of winning."
There has been speculation that Sampson, once an academy coach at Swansea City, and a non-league coach in Wales, would move back into the men's game, but he makes clear that he will be staying for Euro 2017, and would like to sign a two-year extension to take him to the 2019 World Cup in France. By then the women's game should be in an even better place.
Highs and a low Sampson's world cup
MY WORLD CUP HIGHS
"There were so many high points. To bounce back from the French defeat [in the opening game]; to come back against an excellent Norwegian team; to win the team's first quarter-final; and then bounce back emotionally from that Japan defeat [in the semi-final] and beat Germany [in the third-place play-off]. The quarter-final [v Canada] was huge for these players. They'd been knocked out in a lot of quarter-finals and that was a big barrier to get beyond. To do so in front of 55,000 cheering for the host nation, a top 10 team, was a big result for us."
MY WORLD CUP LOW
"Laura [Bassett]'s own goal was such a low moment, because you've got to remember where this team was – they'd been knocked out of the European Championship at the group stage, for the first time there was a huge media spotlight and they'd taken some real flak. When we first started nobody thought we could win the World Cup but by the Japan game there wasn't one person in our group who wasn't adamant we would win the tournament. So when that happened, in circumstances I've never seen, it was incredibly hard to take."
Register for free to continue reading
Registration is a free and easy way to support our truly independent journalism
By registering, you will also enjoy limited access to Premium articles, exclusive newsletters, commenting, and virtual events with our leading journalists
Already have an account? sign in
Join our new commenting forum
Join thought-provoking conversations, follow other Independent readers and see their replies