Football Association chief executive Martin Glenn apologises for comparing Star of David to Nazi swastika
Glenn has apologised for comments made about the Star of David when discussing political and religious symbols in football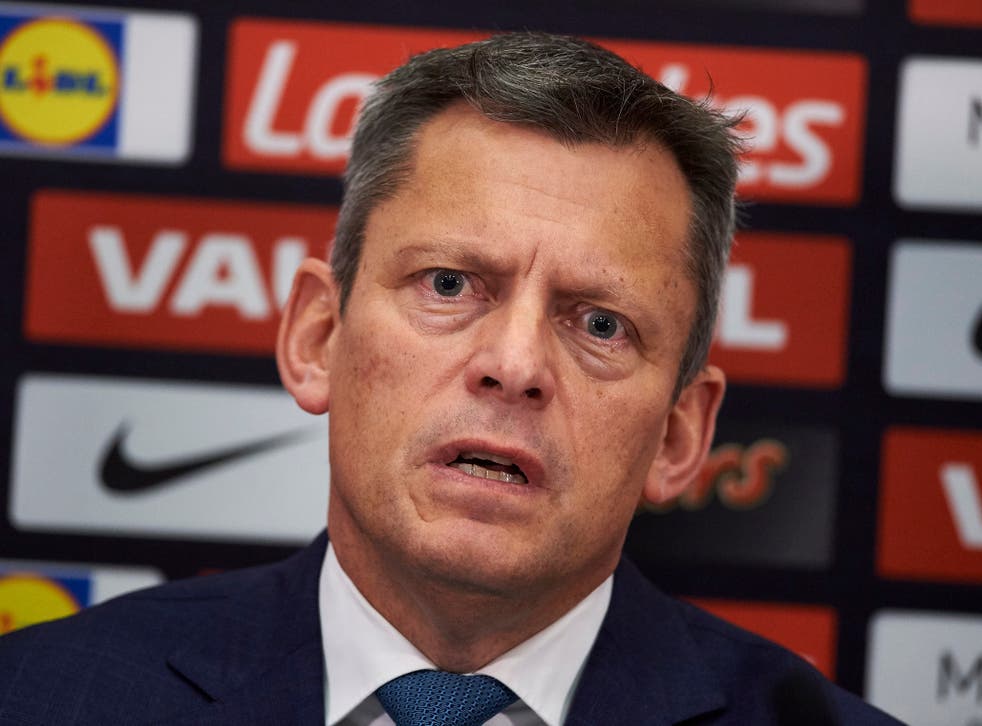 Football Association chief executive Martin Glenn has issued an apology after his "ill-judged" and "offensive" comments about the Star of David were roundly criticised.
When discussing Manchester City manager Pep Guardiola's commitment to wearing a yellow ribbon, Glenn appeared to equate the Star of David with the Nazi swastika.
He remarked that "we do not want" the Jewish Star of David, swastika, or ex-Zimbabwe leader Robert Mugabe on a football shirt.
Glenn was immediately criticised by the Jewish Leadership Council and issued an apology on Monday morning.
"I would like to apologise for any offence caused by the examples I gave when referring to political and religious symbols in football, specifically in reference to the Star of David, which is a hugely important symbol to Jewish people all over the world," he said in a statement.
"I will be speaking with the Jewish Leadership Council and to Kick It Out to personally apologise."
Glenn's apology was made after the Jewish Leadership Council criticised his "offensive" remark.
Jewish Leadership Council chief executive Simon Johnson said: "I have no problem with the FA clarifying Rule 4 and specifying that ALL religious symbols are prohibited on a kit if that is the case.
"But, in explaining that decision, the CEO of the FA's examples are ill judged and in poor taste.
"The Star of David is a Jewish religious symbol of immense importance to Jews worldwide.
"To put it in the same bracket as the swastika and Robert Mugabe is offensive and inappropriate.
"We will raise formally with The FA the Jewish community's deep disappointment with this statement."
Last month, the FA charged Guardiola over his decision to wear the yellow ribbon, claiming the Manchester City manager had breached their kit and advertising regulations.
Glenn defended the move, insisting comparisons cannot be made with sides choosing to display a poppy on their shirt to commemorate Armistice Day.
"We have rewritten Law 4 of the game so that things like a poppy are OK but things that are going to be highly divisive are not," Glenn said in a number of national newspapers.
"That could be strong religious symbols, it could be the Star of David, it could the hammer and sickle, it could be a swastika, anything like Robert Mugabe on your shirt - these are the things we don't want."
Join our new commenting forum
Join thought-provoking conversations, follow other Independent readers and see their replies