Neil Warnock: Robbie Rogers could have come out at Leeds and been accepted
Football, and society, have come on a lot since Justin Fashanu's time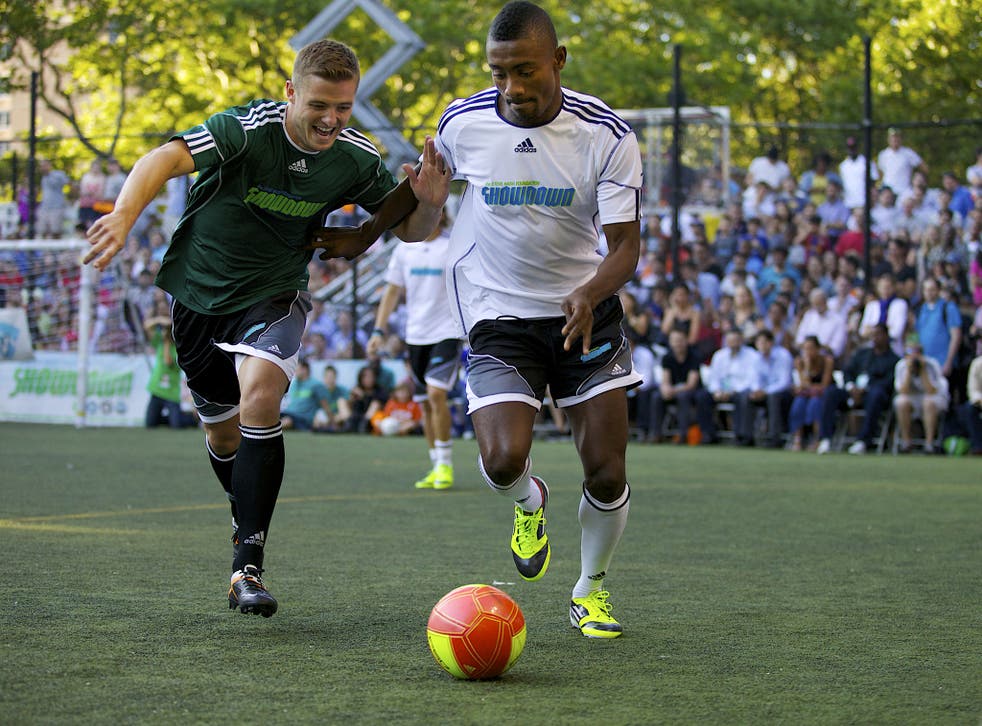 It was a shame to read that Robbie Rogers, the American who played for Leeds United until January, felt he had to retire before he could reveal he was gay. When Robbie came out last month I was caught completely by surprise. I didn't have a clue. My immediate reaction was to feel sorry for him having to keep it all bottled up.
I feel the same today. It must have been very difficult for him not being able to be true to himself, especially being so far from home. We are in uncharted territory but I hope, and believe, if he had come out while at Leeds he would not have found it as difficult as he feared. Football and society have changed dramatically since Justin Fashanu's time. In most places I don't think a gay player would have problems with either his team-mates or manager.
If he had he come to me and said he wanted to go public I would probably have suggested we get all the lads together and tell them as a group. Robbie is a nice lad, but he had injury problems when with us and a spell on loan to Stevenage, so in many respects he was a fringe member of the squad. That was why we agreed to let him go, to give him a chance to get fixed up elsewhere. So it might have been easier for him if I'd told everyone.
I think the lads would then have just got on with it. There would have been a bit of banter – you'd expect that in a dressing room – but I don't think it would have been malicious. We're past that now. If anything, people would have taken care to avoid the sort of comments that are sometimes made that might seem intolerant to an outsider, but are generally said without thinking. As for team selection, any manager worth his salt picks entirely on merit – they'd be daft not to.
The one area which I fear would be a problem is supporters. To judge from the vitriol you hear these days directed at players and managers, I think Robbie would have had to put up with quite a lot of abuse at some grounds. That is an aspect of our football which needs to be looked at. As for Robbie, I wish him all the best at whatever he does now.
Sturrock ill-treated
Though it is good to see Nigel Adkins back in a job, I don't see why Reading thought dismissing Brian McDermott was the answer and I'll be very, very surprised if they stay up. The way Brian and Nigel have been treated brought back some unhappy memories for me of my departure from QPR, but all three of our fates pale into insignificance when Paul Sturrock gets the sack at Southend.
When Paul took over, Southend had five players signed on; he was ringing up begging for players everywhere, yet he managed to turn the whole club around. He reached the play-offs last year and this season has taken Southend to their first Wembley final. It would also have been the first appearance there as a manager for Paul. His exit leaves a nasty taste in the mouth.
Still, I don't suppose it will bother Phil Brown, who will be walking out at Wembley with his team. Having been out of work for a while, he will have been itching to get back into management.
Halsey had a shocker
I'm not surprised Mark Halsey was dropped from the Premier League this weekend after missing that horrendous tackle by young Callum McManaman on Massadio Haïdara. While the linesman got the brunt of the blame for saying he had seen it, someone of Mark's experience really should have been in a much better position.
I don't blame Roberto Martinez and Dave Whelan for sticking up for their own player, and I don't think McManaman had any intention of doing serious injury, but it could have been a career-ending tackle.
Test match thrills
William and I watched the last day of the final Test from New Zealand but it got to bedtime, so I decided to record it to watch in the morning. We got up at half-seven to watch, fast-forwarding between balls. With all the alarms and escapes it was gripping viewing but it looked as if we were safe until suddenly there was Monty Panesar coming in with three overs left. Monty was trying his hardest but he doesn't exactly inspire confidence. By this time Sharon and Amy had joined us on the settee and when Monty dived into the crease 10 yards before he should have done he had us panicking and laughing at the same time. But Matt Prior was fantastic and when he blocked the last ball we all jumped up and hugged each other. It is funny how sport can get you like that, but wonderful to see the kids so patriotic.
I really would like to watch some more Test match cricket over the next few years. I know everybody likes the one-day action and the razzamatazz but it is not as rewarding as the five-day game.
The joy of snow
While enjoying a few days off in Cornwall during the international break, I rang my coach Ronnie Jepson. "We've six inches of snow, Gaffer," he said. I replied: " It's blue skies down here and good temperatures." That's the beauty of the West Country. But a good snowfall has its pluses. With school finished the family came back up to Leeds with me and William and I got straight to work on our snowman.
Fighting the cistern
We were just heading for bed on Thursday night when Amy shouted: "The toilet's flooding!" And it kept flooding. No one could find a stopcock, the first plumber we tried said we were too far away, finally my friend Derek found a local plumber. By then Will and I had been in wellingtons for half an hour, dipping saucepans into the toilet bowl and ferrying buckets to the garden. At least it was the downstairs toilet.
Sunderland sorrows
Poor Martin O'Neill losing Steven Fletcher, injured playing for Scotland, and Lee Cattermole for the season. It is a major blow, especially with the transfer window shut. To top it all, today they play Manchester United, who will be out to inflict as much pain as they can after the stick they got from Sunderland fans for losing the title on the last day of last season. And Rio Ferdinand will be fresh as a daisy after all his rehabilitation, via Qatar.
We had four away, including Rodolph Austin, who only got back Thursday from playing in Costa Rica with Jamaica. That was not exactly ideal as yesterday morning we were on the coach to Ipswich. More positively, Paul Green had the experience of marking Zlatan Ibrahimovic and came through it well: Zlatan got four against England but none against the Irish.
While we get home at 11pm after playing tomoroow, our Monday opponents, Derby, have their feet up, having played today. I'm sure they'll think that's an advantage but it doesn't always work out like that.
Join our new commenting forum
Join thought-provoking conversations, follow other Independent readers and see their replies