Northampton, for sale and facing a winding-up order, are in crisis
Life Beyond the Premier League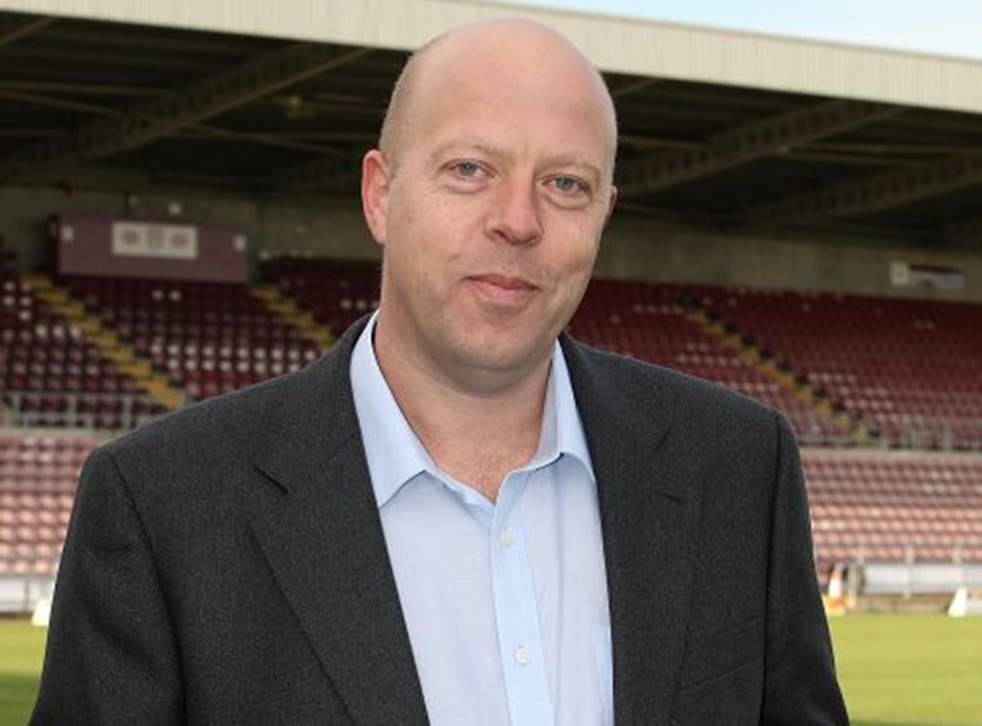 For Northampton Town this season is the 50th anniversary of a special year – the club's solitary campaign among English football's elite in the old First Division in 1965-66.
Half a century on, by contrast, the current campaign seems certain to be remembered for events off the field. Chris Wilder's side may be unbeaten in six league matches but the big story at Sixfields is taking place in the boardroom, where the chairman, David Cardoza, is attempting to sell the club amid a flurry of worrying headlines.
On Thursday the League Two club failed to meet a deadline for repaying a £10.25m loan to Northampton Council while simultaneously receiving a winding-up order from HMRC over an unpaid tax bill.
The loan, for a stalled stadium redevelopment project, lies at the heart of a saga that may well be resolved by a takeover but which, for now, raises some significant, unanswered questions.
Northampton received the loan in 2013 to redevelop the East Stand at Sixfields Stadium, lifting the capacity from 7,653 to 10,000 and providing new corporate facilities. Work began in March 2014 but halted seven months later, resuming only briefly in March this year for two more months. With Wilder's team playing their home games in front of a skeleton stand, Cardoza last month was given a 21-day deadline to repay the £10.25m in full, following the club's failure to meet two repayments totalling £39,000.
There have been calls from the borough council's opposition Labour group for an independent review of the loan but what is certain is that the stadium affair has done considerable damage to Cardoza's standing after 12 years as chairman.
The company initially charged with overseeing the construction, First Land Limited, went into administration. The 45-year-old and his father, Tony, then managed the work through their own company, County Development Northampton Limited (CDNL), but this is now the subject of a separate High Court petition for bankruptcy – a petition brought by the Buckingham Group, the building firm working on the stadium, which is scheduled to be heard next Thursday.
As for the prospective takeover, Cardoza announced in June a heads-of-terms agreement with an Indian group, but it withdrew its interest at the start of this week after the emergence of a second consortium of prospective buyers. It was this group that met council officials on Wednesday to discuss the deadline for the loan repayment.
And while the council stressed afterwards that it had received no firm proposals, Cardoza himself issued a statement promising that he was "close to a conclusion" that would ensure "a much brighter future for the club".
The former stockbroker, who declined an interview request from The Independent, added in the statement: "We are very close to reaching an agreement on the sale of the club to one of a number of interested parties and we believe we will have some definite news very soon. The potential purchasers are well aware of all the issues, including the HMRC discussions."
As for the members of the Northampton Town Supporters' Trust, they have had representation on the club's board since the club came out of a period in administration in the early 1990s, yet their most recent permanent representative, Andy Clarke, walked away last month and James Averill, a trust spokesman, said: "It is difficult to know what to believe any more. We get a series of statements coming and they all say things are going to be OK and then the next bad news arrives."
Join our new commenting forum
Join thought-provoking conversations, follow other Independent readers and see their replies