Outraged Vietnamese fan burns Manchester City tickets after being snubbed by Raheem Sterling, Samir Nasri and others
The enraged fan probably won't regret burning his tickets after Vietnam went on to lose the match 8-1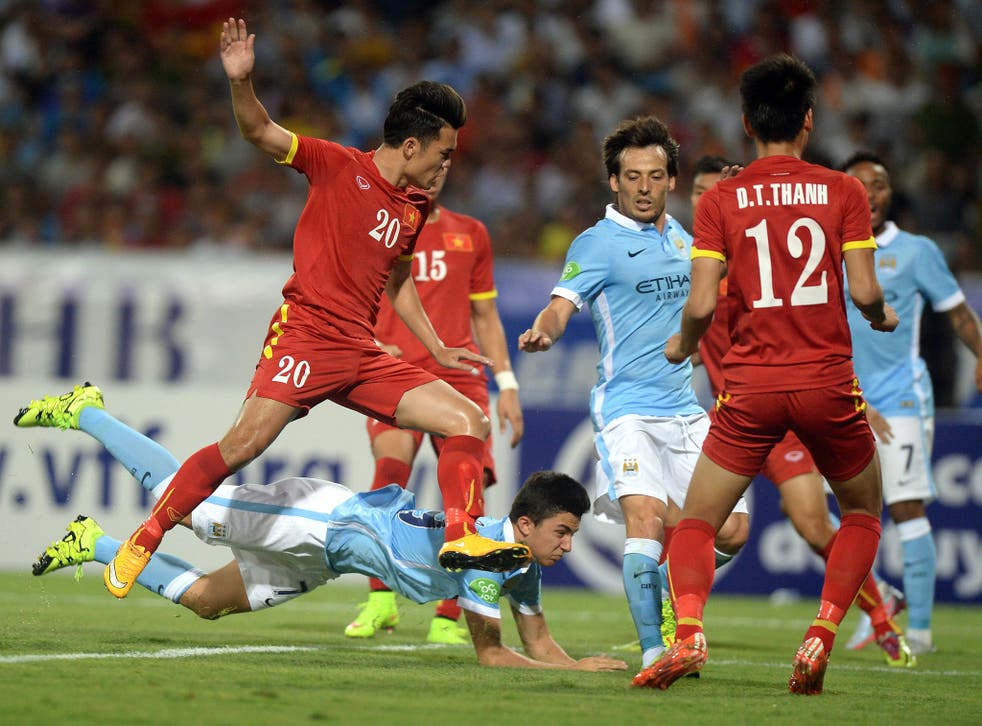 An outraged Vietnamese football fan burned 10 match tickets to watch Manchester City play his national team after being ignored by members of the City team.
The fan burned the tickets in protest against the perceived frosty reception he and other fans were shown as they waited to meet the players in their hotel.
Both incidents were filmed and have since gone viral in Vietnam.
In the first video, the fan can be seen asking the City players to declare their love for Vietnam while they walk through the hotel lobby.
Aleksander Kolarov attempts to appease the supporter with a simple thumbs-up while David Silva goes one step further and even manages a "I love Vietnam" at the fan's request.
Others weren't quite as responsive (if you can call it that). Samir Nasri refused to end his phone call while Raheem Sterling opted out of even trying to converse with the fan.
In his second video, the supporter explains why he was so upset by the City players' reception as he proceeds to set alight his £50 tickets (the equivalent of two weeks wages for some locals).
He says: "At the hotel, Sterling and the team had the opportunity to witness the passion of football fans in Vietnam. However, rather than respond to the kindness of supporters, stars coming from England proved quite chilly."
Vietnamese fans have expressed their contempt at City's behaviour pointing out that Arsenal were far more willing to meet the locals when they toured the region in 2013. One video shows the Arsenal team welcoming a fan on board their coach after he chased it for almost 15 minutes.
The Arsenal team can be heard chanting "sign him up" as the fan gives pursuit first on foot and then by moped.
Given their lacklustre efforts to embrace the passion of the locals, City may have hindered their attempts to tap into the lucrative South East Asian market after the videos went viral in the region. They highlight the manner in which some footballers continue to alienate their most passionate fans.
Though, the fan may take some comfort from his fire-lighting antics after his national home side eventually went on to suffer a crushing 8-1 defeat to City.
Join our new commenting forum
Join thought-provoking conversations, follow other Independent readers and see their replies