Outside the Box: Black NBA star calls Campbell's criticism of Poland 'racist'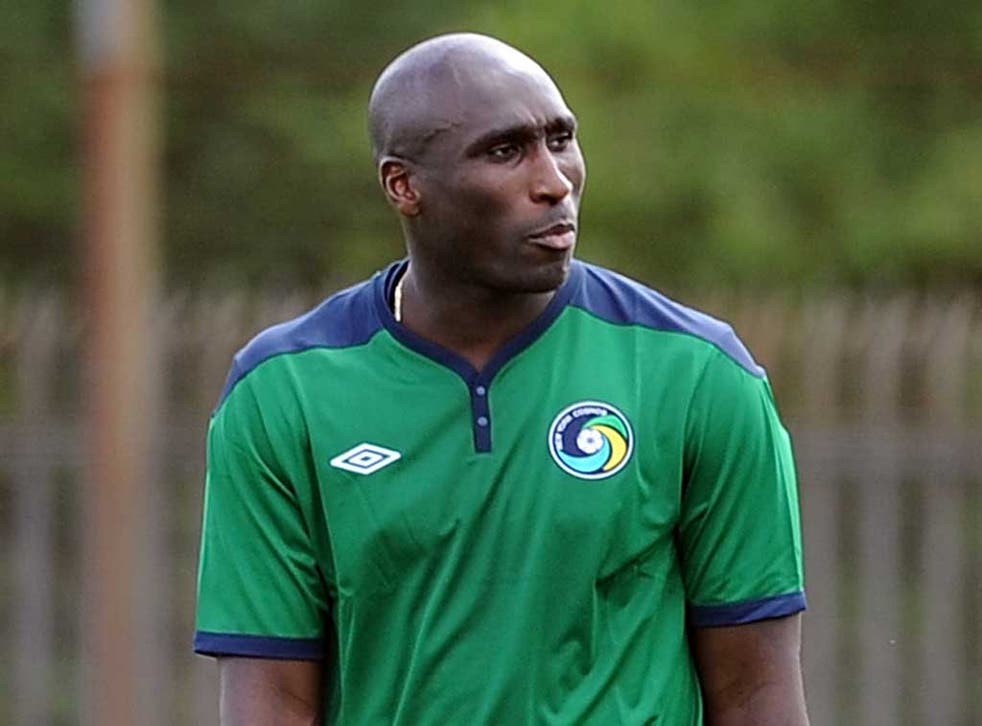 Polish sporting and government officials have been predictably outraged by Sol Campbell's appearance on Panorama last Monday, in which the ex-England defender warned black and Asian England fans against visiting Euro 2012 "unless you want to come home in a coffin".
But now a black sportsman who has lived in Poland for a decade has joined the outcry.
The former NBA basketball player Mike Ansley, who played for a number of Polish teams including Polonia Warsaw, said: "They were some racist things he [Campbell] said. How can you say those things about a country that welcomes everybody? Keep it real. This is a safe country. The bottom line is that I see you are a hater. There are racists all over the world but you come on national TV and singleout a country that has done nothing to you."
Speaking on 2takty.com, a basketball website, Ansley invited Campbell to see Poland for himself. "If you're the man you [say you] are, come and visit Poland," he said. "You'll have a great time. Fans love their teams. The police don't care where you come from, even if you're from outer space, although if you park your spaceship in a no parking zone they will give you a ticket. You got some of the nicest people on the planet. And definitely some of the sexiest women." Ansley's wife is Polish.
Rocky road to the high notes
Following on from last week's item about the overwhelming number of songs being released to capitalise on Ireland's appearance at Euro 2012, it is only fair to report the success of the official one, 'The Rocky Road To Poland' by members of the Dubliners and the Coronas, which shot straight to No 1 across the water and stayed there for three weeks. The only challenger was Jedward's 'Put The Green Cape On', which has now dropped down below their own Eurovision flop 'Waterline'.
Although the England squad have mercifully stayed out of the recording studio, a charity single recorded by Sky's Chris Kamara is released today with the Football Association's backing, having had an airing at Wembley before yesterday's friendly against Belgium. Entitled 'Sing 4 England', it draws heavily on the theme of 1996's 'Football's Coming Home' with lines such as "some say we're not good enough", and predictably features Kamara's trademark phrase "unbelievable".
All proceeds go to Marie Curie Cancer Care, so it deserves more luck than Marcus Day's unofficial ditty, which namechecks Peter Crouch and Joe Cole for "when England need a goal".
Saha, so good for prophecies
In line with the method of communication favoured by modern players, Belgium's Eden Hazard duly announced his transfer to Chelsea via Twitter; having in this case offered, like a puff of white smoke from the Vatican, a little tease a few hours earlier that a decision had finally been made.
In fact, Louis Saha would have known rather earlier that Stamford Bridge was his favoured destination, the Evertonian having broken the news well beforehand.
Saha, one of the more unpredictable tweeters, did of course spend the second half of the season at Tottenham but is not envisaging staying, to judge from a message after the Champions' League final, which completely ignored the unlucky implications for Spurs of a Chelsea victory: "Bravo Drogba," it read. "Bravo Chelsea. Brave Champion League. Bravo football. Just magic stuff." But not in London N17, Louis.
Roy's boys meet Beach Boys
Back to the music, and our top five songs – in reverse order – for Roy's boys this month. No 5: 'The Kids Are Alright' by The Who (Oxlade-Chamberlain, Jones and Welbeck can prove it). 4: 'Kick It In' by Simple Minds (anybody, please). 3: 'Waiting For A Star To Fall' by Boy Meets Girl (but Wayne can't play until the third game). 2: 'Terry' by Twinkle (about a reckless young man who is an accident waiting to happen). And 1: 'God Only Knows' by the Beach Boys (how Jordan Henderson's made it, that is).
More suggestions for all teams welcome.
Join our new commenting forum
Join thought-provoking conversations, follow other Independent readers and see their replies