Paedophiles are freely working in football, says lawyer for alleged abuse victims
Transparency in football is being impeded by clubs paying players off and securing confidentiality agreements
Ian Herbert
Chief Sports Writer
Monday 05 December 2016 23:41 Comments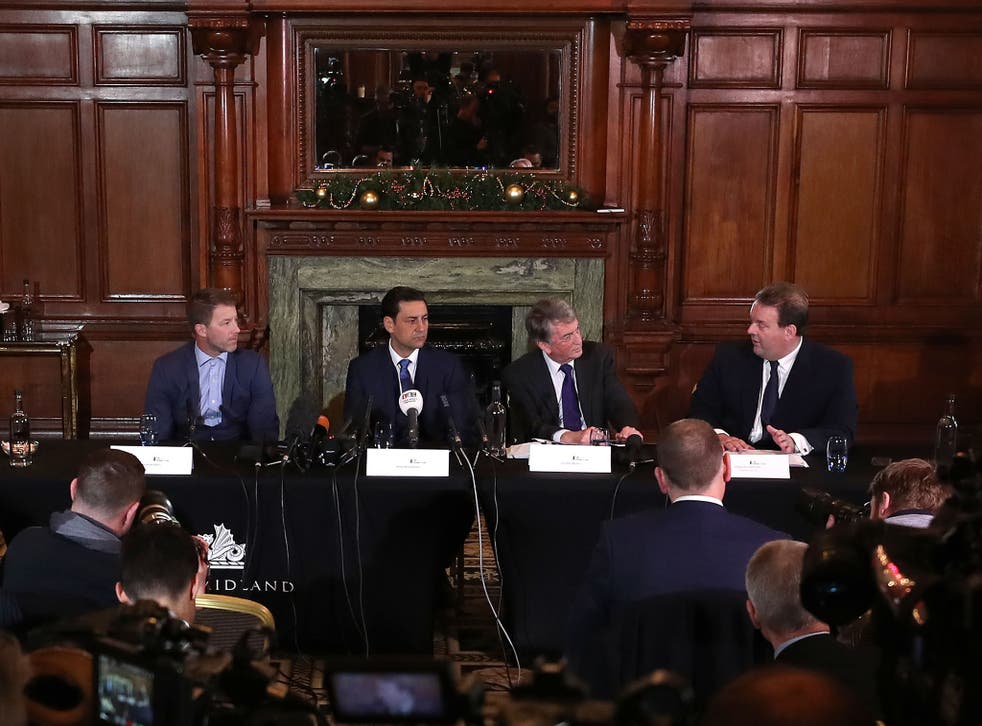 A lawyer representing alleged victims of sexual abuse in football has said that he believes a number of paedophiles are currently freely working in the sport, including at its top levels.
Ed Smethurst, the legal representative of several of the players who have recently detailed abuse, said that there were "specific allegations against specific individuals, many of whom have been rumoured to be involved for a very long period of time, some of whom still work in the senior echelons of football".
He said that a number of names were emerging repeatedly in his conversations with alleged victims and other names were surfacing that he hadn't "heard before". But the desire for anonymity among some alleged victims could limit the numbers able to report that to the police, he admitted.
"Some want to talk to someone about it but don't necessarily want the furore, they might not even want their parents or children to know," Mr Smethurst said. "They might think that there's nothing they can do about it, that it might be swept under the carpet."
The search for transparency is also being impeded by clubs paying players off and securing confidentiality agreements – with the lawyer also stating that he knows of at least four more instances, on top of Chelsea's £50,000 pay-out to their former player Gary Johnson.
"Attempts are being being made, settlements are being reached which are subject to confidentiality," said Mr Smethurst, who indicated he could not disclose if Premier League clubs were involved.
Of equal concern is the absence of measures to prevent convicted sex offenders getting back into sport, where the vulnerability of children resides in their desire to be successful players. On Sunday night, Fleet Town FC, which plays in the seventh tier of English football, dismissed Bob Higgins, who was accused of a string of child sex offences in connection with his time at Southampton, but later appointed first team coach with the Hampshire-based club. Fleet admitted that Mr Higgins had not been vetted for the role when he was appointed in 2012, though his "informal and unpaid" contract has now been terminated.
The disclosures were made at a press conference staged by two alleged victims of abuse – Andy Woodward and Steve Walters – to launch The Offside Trust, an independent group to provide emotional and financial support for players who have suffered from abuse.
Mr Walters, who has described being sexually abused while a player for Crewe Alexandra, revealed that he had received no apology or phone call from the club's current director of football Dario Gradi, who was manager of the club at the time of the alleged assault.
The Independent revealed on Friday that a former Chelsea youth team player who was allegedly abused by the club's chief scout Eddie Heath told our reporter that he received a visit from Mr Gradi, who attempted to 'smooth things over' after the boy's parents had reported the repeated molestation of their son. Mr Gradi became manager at Crewe in 1983 and has been with the Cheshire club ever since.
Mr Walters, 44, said of Mr Gradi: "He's not been in touch, he's got my number and I've got his but I've had nothing."
He advanced the claim that both Mr Gradi and club chairman John Bowler should resign in the light of abuse allegations at the club. "In any other job anywhere else in the country they would have lost their job," he said. "What makes Crewe exempt from all this? They were there at the time. Dario was the manager. It won't even have crossed their mind, not for a second."
Mr Smethurst said that the new organisation was being launched because players did not trust the football establishment. "A number of people have come forward who so far have said they don't have trust in the establishment, whatever that is," said Mr Smethurst. "We want to give victims reassurance that we will be truly independent and representative.
The Football Association has said it will launch an independent inquiry, though Mr Smethurst said it could not be genuinely independent when the governing body was making appointments to it and paying them for their work, including leading counsel Kate Gallafent QC
Asked if the inquiry as defined by the FA could be genuinely independent, Mr Smethhurst said: "In simple terms, no. Don't get me wrong, I'm sure she is a very eminent QC but is she really going to be able to get under the skin of something that has been endemic, something that people are very reluctant to talk about."
World's highest paid footballers

Show all 10
The FA insists its work will be rigorous. It has asked the Child Protection in Sport Unit to carry out an independent audit into the FA's current practices.
Register for free to continue reading
Registration is a free and easy way to support our truly independent journalism
By registering, you will also enjoy limited access to Premium articles, exclusive newsletters, commenting, and virtual events with our leading journalists
Already have an account? sign in
Join our new commenting forum
Join thought-provoking conversations, follow other Independent readers and see their replies