From patching up the England rugby team to Manchester City: Injury-time secrets of a club doctor
Sports physician Dr Phil Batty has patched up the England rugby team, Manchester City and Blackburn and tells Tim Rich how tiredness causes injuries, alcohol makes them worse and how much his field has changed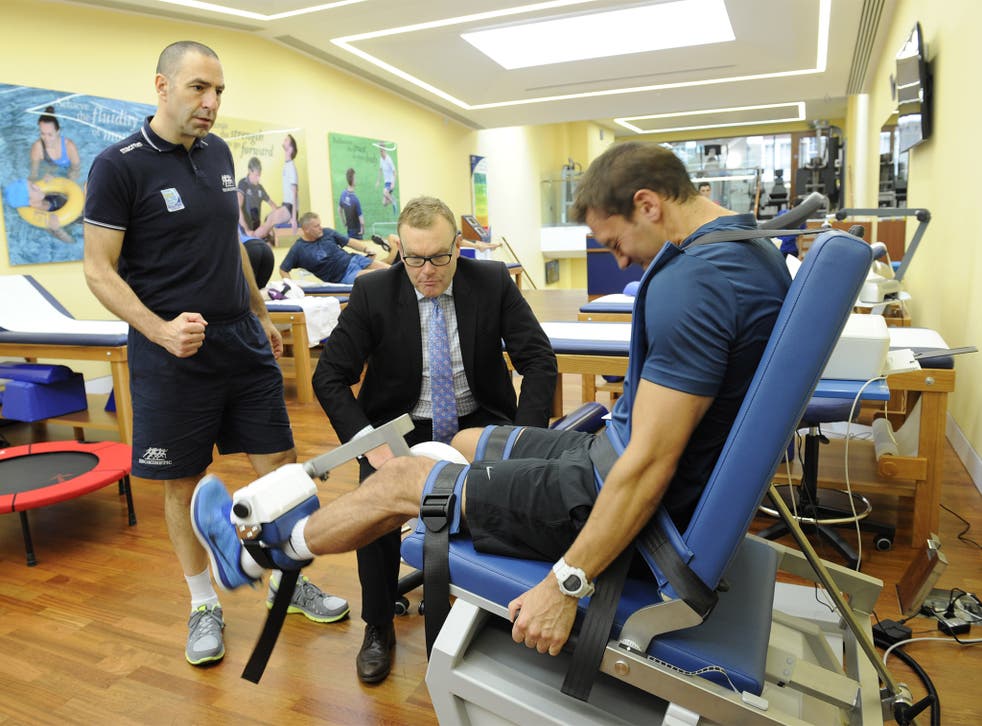 There is usually only one question a club doctor is ever asked: "When will he be fit?" It is a question Dr Phil Batty, who has been club doctor for England rugby union, Manchester City and Blackburn Rovers, is used to.
If you look at sport through a coach's eye, the men who play it, especially top-flight footballers, are assets whose value is slowly whittled away on the treatment table.
"Those aren't your knees, those are Liverpool's knees," Bill Shankly once famously remarked to Tommy Smith, a very strange statement for a self-proclaimed socialist manager to have made.
When Peter Thompson's knees, whose twists and turns on the wing had helped win Liverpool two championships, gave way, Shankly first refused to speak to him, then sent him to train with the youth team before selling him like an injured racehorse. Thompson broke down and wept.
"All managers have an obsession with player availability," said Dr Batty. "Clubs with higher player availability tend to do well. In 2011-12, Manchester City won the Premier League on goal difference and we had far fewer injured players than Manchester United.
"It is the same at international tournaments. Managers will look at a footballer who might be half-fit and take a gamble on them because as a manager you tend to get only one shot at a World Cup."
It does, however, tend to be England managers who roll the dice and gamble on an injured player. "You ask why England go into so many tournaments with injured players? It is because of tiredness," said Dr Batty. "When a footballer is tired, they don't move correctly, their technique drops off and they put unnecessary strain on their bodies."
Batty, who became the Senior Men's Team Doctor for England rugby after leaving Manchester City, quotes the work done by Jan Exstrand, one of Uefa's chief medical officers. The Swede's research shows that tiredness slows the nervous system, which means less control over the body when executing explosive actions – which means more risk of an injury.
Dr Batty left England rugby in October and is now Consultant Sports Physician at the Isokinetic Clinic which, outside English football's training base at St George's Park, is the only Fifa-approved medical centre in the country. It is housed in a large red-brick building in Harley Street, central London, that was once home to the Duke of Wellington.
Isokinetic is open to anyone who wants help recovering from injury and can pay for it – this is Harley Street – but its high-end candidates are footballers who want to avoid the stress of being continually asked: "When are you going to be fit?"
It is a question Alejandro Faurlin has been asked far too often. In each of the past three seasons at Queen's Park Rangers, the Argentine midfielder has torn his cruciate ligament, the kind of injury that used to be a career death sentence for footballers like Thompson. He is undergoing his rehabilitation in Harley Street away from the pressures of the club gymnasium. Luis Nani came to Isokinetic for the same reason before his move from Manchester United to Sporting Lisbon.
When Dr Batty first joined United in 1996, the club had distinctly limited facilities. "I covered the A and B teams and some midweek games if the club doctor was away in Europe," he said.
"The senior doctor worked Monday morning, Friday morning and at weekends if the team was playing at home. That is how much was invested in doctor time at the biggest club in the world."
Bryan Robson had left Old Trafford by then but the culture he had instilled in his 13 years at United remained. Provided you gave everything on the pitch, drinking sessions, usually at the Four Seasons hotel by Manchester Airport, usually sweated out the next day in training at the Cliff, were perfectly acceptable.
"As a generalism, what I tended to find was that English footballers would drink more than foreigners," said Dr Batty. "Not all. I worked with James Milner at Manchester City and he was a fantastic professional. He is teetotal, a great guy who decided at an early age that he did not want anything to compromise his football.
"It is not totally about avoiding alcohol. When I was at Manchester City we would have a glass of wine with our pre-match meal and Roberto Mancini preferred to have red wine served."
At Liverpool, former manager Gérard Houllier allowed red but not white wine, which Robbie Fowler thought "a stupid rule". When Sir Alex Ferguson brought Fabien Barthez to Manchester United, he was asked if he was concerned the goalkeeper was a smoker. Ferguson replied that Barthez was teetotal and the implication was that he preferred his players to choose cigarettes over alcohol.
Naturally, he would have preferred them to touch neither but at half-time at Old Trafford Barthez and Laurent Blanc would go to the toilets to light up. The hysteria that surrounded the Arsenal midfielder, Jack Wilshere, pictured smoking a cigarette on holiday, needs to be put into context.
"More players from abroad smoke, that's a fact," said Dr Batty. "When I was at Blackburn, Tugay was well known for it. Without condoning either, if you pick up a niggle, a bump or a minor strain in training, it is exacerbated hugely by alcohol. I can scan somebody via ultrasound who has pulled a muscle one day; they get fed up and go for a few beers. When I scan them again, everything is more swollen and there is far more fluid everywhere."
Rugby union players, even internationals, are, he said, far more likely to get away with drinking in public. With the exception of the incident involving Mike Tindall during the 2011 World Cup in New Zealand that attracted tabloid headlines because it involved dwarfs being thrown by an England international who was about to marry into the royal family, drunken rugby union players tend not to interest the news pages.
In February 2008, Tindall was accidentally kicked in the midriff by the Wales winger, Mike Jones. He thought he was winded but tests at Hammersmith Hospital revealed a punctured lung and a torn liver.
Rugby union injuries can be horrific, especially among young players. Dr Batty spends his weekends in Sedbergh in Cumbria, which boasts a public school where Will Carling was educated. One of the school's more recent pupils is James Gray, who suffered appalling injuries in a school match against Newcastle Royal Grammar, spent four months in hospital and six months out of school. He was 11 at the time and, though James intends to return to the sport, there are many who wonder if injuries like his are a price worth paying on the school playing fields.
"My son plays rugby and I have no qualms about him doing so," said Dr Batty. "But rugby is a collision sport and you cannot deny there has been an increase in injuries. It is an inclusive sport. If you are big and slow, you can be a forward. If you are small and quick, you can play as a back.
"It used to be that the forwards wouldn't be quick enough to catch the backs but now, with greater emphasis on fitness training, they are and then you can get serious collisions. That, in very simple terms, is what has happened to club rugby. But it is still safer than horse riding and the RFU has spent more time and money investigating rugby injuries than the FA have ever done with football."
Whether at Old Trafford, Eastlands or Twickenham, Dr Batty was always asked if his patients should play but his answers were sometimes surprising. On his wall is a statement from the World Health Organisation stating that a doctor must consider the future emotional and social well-being of his patient when making his decision.
"You are right to say that the knock-on effect of not playing has to be considered. The duty is to the player not the club," said Dr Batty. "But, equally, I would have to consider what would happen if they played and they were rubbish. That might affect their mental and social health. Were they mentally strong enough to withstand failure? You get asked a lot of questions as a doctor but there is never an easy answer."
For more information, on injury rehabilitation, please go to www.isokinetic.com
Join our new commenting forum
Join thought-provoking conversations, follow other Independent readers and see their replies