Paul Scholes column: Does David De Gea really want to leave Manchester United to fight it out for the No 1 spot at Real Madrid?
EXCLUSIVE COLUMN: The former Manchester United midfielder says United should move for Petr Cech if De Gea does depart. Plus, he picks his relegation favourite between Newcastle and Hull and looks at Raheem Sterling switching from Anfield to Old Trafford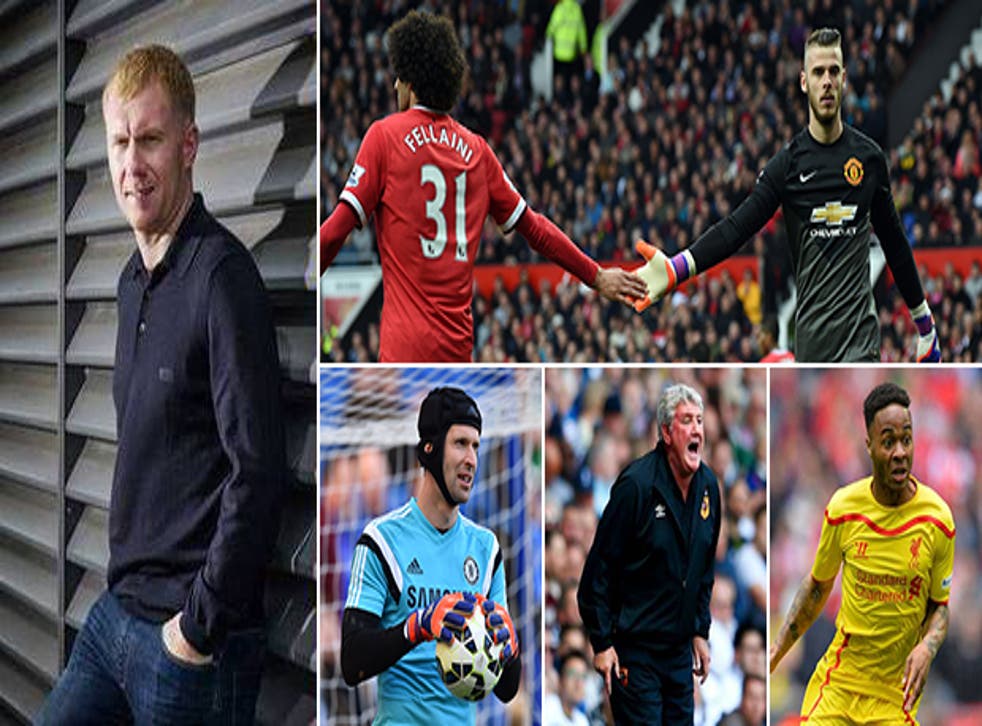 David De Gea has been one of those fine Manchester United players who has come of age in one of the most high-pressure positions on the pitch, and now he has established himself as the Premier League's best goalkeeper, the club could well lose him.
De Gea was 20 when he came to Old Trafford, and at the time I was concerned about his suitability to play in goal for United. He looked a little weak, his confidence took some hits early on and it took him a while to get to the stage where he felt comfortable playing for United. The problem is, now he is the finished article, it looks like United will lose him.
That is the issue with signing young players from other big European football nations – at some point they will want to go home. It won't surprise you to hear me say that I don't regard any club as a move upwards after Manchester United, but if you were looking for a par, I would grant you Real Madrid and Barcelona.
It looks like Madrid fancy De Gea, and that he would like the move, too. What a signing he would be, aged only 24. He could be their goalkeeper for the next 10 years, although I would offer a few words of caution about that switch.
It looks to me that Iker Casillas is not yet ready to step down as the No 1 at Madrid, and you could hardly imagine a more successful, well-established goalkeeper than the man who has won everything for club and country. At United, David is the undisputed No 1. He is loved by the supporters and valued by his team-mates. It might not be quite so smooth at Madrid.
When Madrid first came calling for Cristiano Ronaldo in 2008, although I know they were interested before then, Sir Alex Ferguson managed to squeeze another year out of Cristiano. The question for United is whether they do the same again. It is a difficult call, because it looks like De Gea will leave eventually and also because there is a potential replacement on the market this summer who looks ideal for the next few years at least.
If De Gea does go, United should sign Petr Cech. I remember the effect Edwin van der Sar had on the club when he arrived in 2005. United had struggled since Peter Schmeichel to find a really commanding goalkeeper. Fabien Barthez was the closest we got. Edwin came ready-made. He was a Champions League winner, he had four years' Premier League experience with Fulham, and in the end our manager got six extremely successful years out of him.
Edwin was almost 35 when he joined United. Cech has only just turned 33. He could potentially play another six years for United. There would be no concern about having to give him time to play his way into the position or the demands that the Premier League makes of a goalkeeper new to the country. United won't want to lose De Gea but there is a solution in the offing.
The best goalkeeper I played with at United was Schmeichel. He was a phenomenon in training, never mind on match days. He just never wanted to concede and he would do everything to stop you scoring. As a striker, as I originally was, and then an attacking midfielder, it has always been my aim in life to embarrass goalkeepers; to dominate them, to force them into mistakes. I don't know why anyone would want to be a goalkeeper. It is a hard position to do well.
That means the good ones, you must hang on to. It would be a shame if De Gea was to leave United, because he has the potential to be one of the all-time greats at the club.
I'm sticking my neck out: Hull to win and Newcastle to drop
As a young footballer at United, Steve Bruce was one of the senior pros I really admired. Steve was captain by the time I broke into the first team and we played one season together, 1995-96, before he moved on. I always felt he would look after the young players, especially if you found yourself in trouble on the pitch. He was also well known for the fearsome bollockings he gave out if he didn't think you were pulling your weight.
His managerial career has been good, too. Not many last that long in the game. And now he finds himself with one match to save Hull City from relegation. Even if they beat Manchester United, they will go down if Newcastle win against West Ham. I have this instinct that Hull are going to survive. So there you go, I'm sticking my neck out. Hull to beat United and stay up; Newcastle to lose to West Ham and go down.
It's been a bad run for Hull, capped by that defeat at home to Burnley. I imagine it's been a tough week for Steve. He will try to take the pressure off the players this week by treating this game as any other, and preparing as thoroughly as they can without talking about the consequences of relegation. There are lots of friends of Steve at Manchester United but the club will want to sign off the season with a win. He is going to have to do it the hard way.
For an average golfer like me Rory is astonishing to watch
I got a real insight into how golf is supposed to be played alongside Rory McIlroy at the Pro-Am at Wentworth this week. I have to say, I was blown away by Rory's game. It is difficult to put your finger on what makes him so good. He is not a big guy but the power he generates is phenomenal. He exudes calmness at all times and, technically, he just seems flawless. Timing is at the centre of it. Every aspect of his technique seems to blend together perfectly.
There was one hole where his caddie J P Fitzgerald told him that there were two bunkers down the right with about 20 yards between them. J P handed him a five-wood and said to Rory he had enough space to go over the first and stop short of the second. One swish of the club later and Rory had put the ball just where J P told him to. For a very average golfer like me, it was quite astonishing to watch.
The relationship between Rory and J P is obviously key to it all. They are all extremely laid-back. His father was there, so too his sports scientist, his nutritionist. Being the world's No 1 golfer is not a small operation but in Rory's case it works very well. I was also playing with Niall Horan, from One Direction, who was more my standard. I had to explain to Phil Neville that it was Niall, and not Phil, whom all the teenage girls were queuing up to get pictures with.
It's getting harder to survive in the Premier League each year
Well done to Dick Advocaat for keeping Sunderland in the Premier League. I have to admit I thought that would be a job too far for him, but they have managed to go unbeaten in five games. It will be telling whether he wants to stay next season. Sunderland have finished in the bottom half of the table for all but one of their eight seasons in the Premier League since promotion in 2007, and the signs are that it is getting harder to survive every year. They do not seem to be getting any better.
Moving between Liverpool and United still an issue
I wasn't surprised to see Liverpool knock back United's inquiry, as reported, about Raheem Sterling.
I can recall Gabriel Heinze trying to go the other way and being told it just wasn't going to happen. As for Sterling, I don't think it would be as serious a move as United signing a born-and-bred Liverpudlian like Steven Gerrard, but clearly selling to one another is not something the two clubs like to do.
My view on Sterling has not changed. He is a good player but Liverpool looks like the best place to develop his talent. There is still a lot of room for improvement.
Join our new commenting forum
Join thought-provoking conversations, follow other Independent readers and see their replies