Paul Scholes column: Fans need to intimidate opponents - Manchester City supporters aren't doing that
In his exclusive column for The Independent, Scholes explains his comments on the lack of atmosphere at the Etihad, why Danny Welbeck wants to do more than just score goals and why Wayne Rooney shouldn't be so nice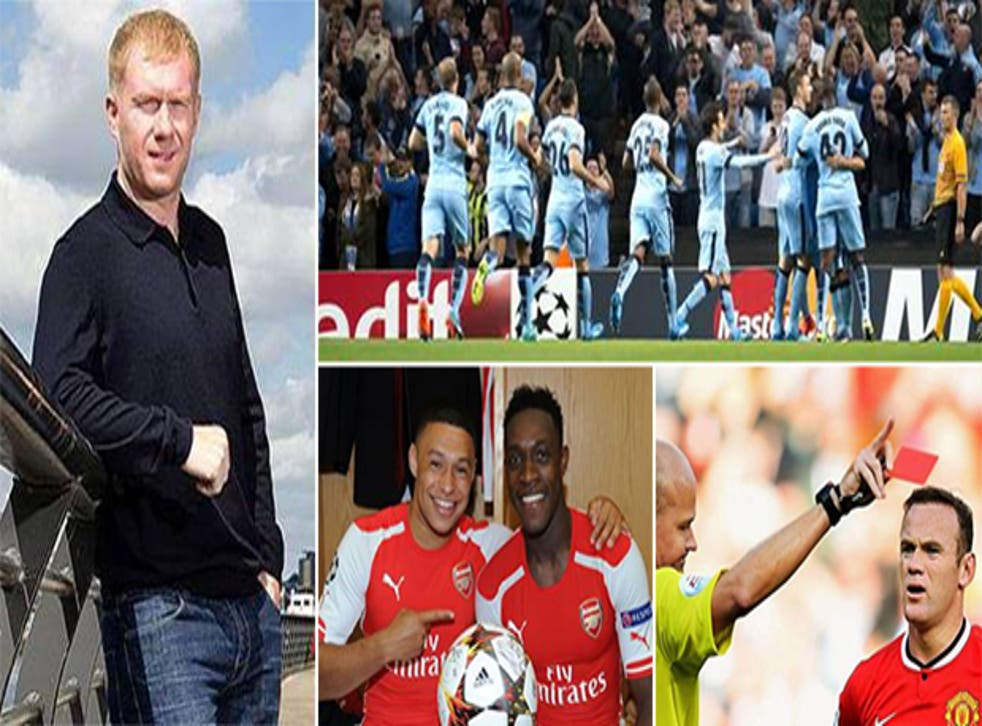 The first thing that struck me when I got to the Etihad Stadium on Tuesday night was whether the home support had even realised what an important game it was for their team against Roma.
I know a lot has been made of what I said on Tuesday and my criticism of Manchester City fans has been seen as harsh, but I have made the point before about how important their role is on big European nights like this, and it's a point I felt was relevant again when I was sat in the ITV studio that evening. City's team is capable of anything. They have the quality of players to win the Champions League, although they did not play well against Roma. One of the problems that they have is a lack of atmosphere on European nights when the crowd should play a big part.
The Champions League is a competition in which you have to win your home games. It is true that some of those lower-profile group matches I played in at Manchester United were in front of a more subdued Old Trafford, but that was never the case when the team needed to win. It is the same at Anfield, and it was like that at Elland Road too when Leeds United were in the competition 14 years ago. The supporters came through for them.
On Tuesday it got closer and closer to kick-off and I waited for the stadium to come alive. It never happened. There were empty seats, some 8,000 below capacity – and I accept that watching football is an expensive business. But I found it hard to understand why even those who were there did not seem to grasp the reality that City had to beat Roma.
Manchester City 1 Roma 1 player ratings

Show all 11
The relationship between a team and a home crowd is crucial. The performance lifts the crowd, but in turn the players need that encouragement from the support to get them going. I was no different as a player. Appealing to the crowd for more noise, or exuberant goal celebrations were not my thing. But just because I did not show that emotion did not mean I was not responding to the atmosphere.
We went to San Siro in 2007 for a semi-final second leg against Milan, losing 3-0 on the night and 5-3 on aggregate. I will always remember Rino Gattuso at the start of the game running out and exhorting the home crowd to make more noise. He burst out on to the pitch like one of those NFL players who run through a paper banner when they come out of the tunnel. The atmosphere went up a few notches and he responded by having a great game, particularly in the way he handled Cristiano Ronaldo.
The atmosphere at places like Bayern Munich, Barcelona and Real Madrid was always the same. When United arrived they tried to make it as intimidating as possible and one of the features of the game we would discuss beforehand was trying to keep the ball in the early stages to quieten the home crowd.
At home, your support have to make it intimidating. On Tuesday night it was as if the home fans weren't really bothered. I have wondered in the past if the City fans are still admiring the famous names who are now playing at their ground, rather than trying to make it a difficult place to visit.
I think City have big problems in Group E. Roma are a good team, as good as Bayern Munich this season. The old Uefa seeding system has given City a hard group but I can remember the 1998-99 season when United had Barcelona and Bayern Munich in our group. You just have to find a way to progress.
Like a lot of European teams, Roma operate best by controlling the midfield and that is what they did on Tuesday. By using two strikers, City played into their hands. It is obvious that in Europe, Yaya Touré cannot play in the two in front of the defence. Roberto Mancini played him further up the pitch. Sergio Aguero plays better with someone alongside him but that can create a four v two situation in the middle of midfield.
At times it was impossible for Touré and Fernandinho when Francesco Totti dropped back into midfield to add to the numbers. It was like City had never watched Roma before. Opposing teams should know what they do. When United teams played against Totti, albeit a few years ago now, we knew that Roma tried to get the ball to their captain early and play off him. We knew if you dealt with Totti then you went a long way to stopping Roma from playing.
Sometimes in Europe you have to sacrifice a part of your team. Perhaps, for instance, you have to play with just one up to increase the numbers in midfield. When Frank Lampard came on he made a difference. He was clever enough to add to the numbers in City's midfield but he also got forward.
James Milner had an impact too when he came on. When I was still playing it seemed that when City came to Old Trafford, Milner would play. Mancini knew what he would get from him. Sometimes I think Milner suffers because he does not have a big European reputation and that means he gets left out. But he can defend and get forward. City need to find a way of winning their home games in Europe. It is a fundamental part of being successful in the Champions League.
Danny wants to do more than just score goals
Playing with Danny Welbeck, I always knew that he would work himself into the ground for the team. He was the kind of player you want on your side. He gave everything.
Perhaps if he had been less willing to do all that running and pressing he would have scored more goals in his career, which was why I was pleased for him for the hat-trick he scored against Galatasaray. Danny has always been capable of that. His movement and his finishing on Wednesday night were brilliant.
The question has always been whether he can do that on a regular basis. For Danny, being a striker has always been about much more than just scoring goals. He works very hard at linking the play. His mentality is not that a striker's job begins and ends with scoring goals.
In that way he is different from Andy Cole and Ruud van Nistelrooy, two more of the great strikers I played with at Manchester United. Those two were obsessed with scoring goals and judged themselves, perhaps harshly, on how many they scored. I don't think Danny is like that. He believes the role is bigger than that. He will put a shift in. He wins the ball back. He is the kind of player you have to play alongside to appreciate what he brings. And his pace is something else. In fact, he is probably quicker than Coley or Ruud were in their heyday.
Don't be so nice, Wayne
I don't think Wayne Rooney's tackle on Stewart Downing was the kind that hurts an opposing player. From what I could see of it, Wayne tried to trip him and ended up catching him higher up the leg than he had intended. It was the position on the pitch that puzzled me. It was not as if Downing was in on goal.
If anything, Wayne's the kind of player who's better when he's on the edge. In recent years I think he's been too nice to opponents. You see him helping players up after challenges. He's better when he's nastier. That was the way he was when he came on to the scene 12 years ago. He was the player who was aggressive and did not try to hide the fact that he hated losing.
As for myself, I did not spend too much time giving opponents a hand up after I had fouled them – well, only if I thought it might change the referee's mind about a card.
On a separate note, I do find it bizarre how much shaking of hands and embracing goes on before games now. You should shake hands after a game, not before. Players, and fans, feed off the big rivalries, like Roy Keane and Patrick Vieira. I see some players greeting opponents before the game like long lost friends. I got the impression when I played that a lot of it was for show and they didn't really know one another. These days, people seem too keen to be nice to the opposition.
Join our new commenting forum
Join thought-provoking conversations, follow other Independent readers and see their replies