Paul Scholes column: I was impressed with England's energy against Switzerland – but I would play Jack Wilshere further forward
In his exclusive column for The Independent, the former Manchester United and England midfielder gives his take on England's Euro 2016 qualifying victory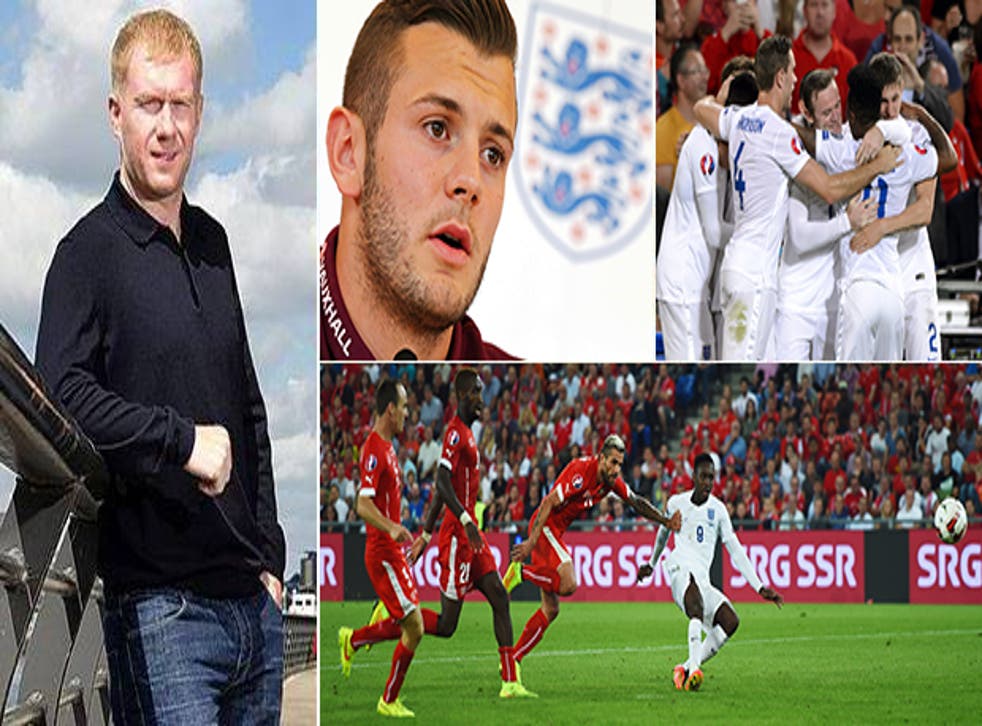 The first thing that struck me about England on Monday night was the energy in the team. There were players all over that pitch who are strong athletes capable of running all night and putting pressure on Switzerland.
Roy Hodgson picked a team with the ability to stretch the opposition. Fabian Delph has that quality in his game and although he was a bit rash in the opening stages of the match I thought he did quite well on his debut. Jordan Henderson can run, so too Raheem Sterling. As for Danny Welbeck, he has always had the ability to get from one penalty box to the next in the time it takes some to reach the halfway line.
I was pleased for Danny that he got two goals after eight days in which his career has changed in a big way. I have said before that, as a Manchester United fan, I am sorry to see Danny go to Arsenal. He will be a good signing for them. He gives every team he plays for something different, and never more so than on the counter-attack when he covers that pitch from end-to-end at an incredible speed.
The best Danny Welbeck memes

Show all 8
The pace of Welbeck and Sterling, allied with the quality of Wayne Rooney, made England look dangerous against Switzerland. Having played in St Jakob-Park for United against Basel in the Champions League in 2002, I was struck by how subdued it felt on Monday night. When I played there, the place was bouncing. Especially when they scored in the first minute.
I was pleasantly surprised by the way England played but then we have been here before. In the four tournament qualification campaigns that I played in it was the same for England. We were accomplished in qualifying and then, at the tournament itself, something was just missing.
Before the game, given injuries and the kind of mood the team was in, I feared for England. As it unfolded a few things became clear. First of all, that an England team should expect to beat this Switzerland side, regardless of the difference in their current Fifa rankings. Looking through the Swiss side, Johan Djourou, for example, is not a player who was successful in the Premier League. Valon Behrami came and went at West Ham. Only Xherdan Shaqiri really stood out as a player of top quality.
I still have my concerns about the diamond formation in midfield and most of all about Jack Wilshere's role in it. Don't get me wrong, Jack has great ability and at some point I hope that he will be in a position to score goals and to create them. But I just do not believe that playing in front of the back four, on his own, suits him.
Wilshere is an attacking midfielder, as I was for most of my career. He is not a defensive midfielder and I feel at the moment he is stuck between the two roles. He is being asked to control the play from a deep position, which does not play to his strengths.
As an attacking midfielder at United, I was lucky to play alongside some of the best defensively-minded midfielders in the game: Nicky Butt, Roy Keane and Michael Carrick. What they gave me was the confidence to get forward, to take risks and score goals safe in the knowledge that they would provide the cover.
It was not just me at United who benefited from that kind of partnership. For much of his career at Chelsea, Frank Lampard was given the same protection by the likes of Claude Makélélé.
In my case I had the trust in my team-mates in midfield that if we lost the ball they were capable of covering. On top of that I played in front of great centre-halves like Jaap Stam, Rio Ferdinand and Nemanja Vidic, who had the ability to take the ball off strikers with ease. It was another layer of protection that you need as an attacking midfielder.
I feel that Wilshere does not have that freedom. He is caught between being an attacking midfielder and one with defensive responsibilities. At Arsenal he does not have the security of a top-level defensive midfielder alongside him. It is the same with England.
The problem in assessing this England side is that, once again, we will not know their true potential until we get to France in the summer of 2016. The qualification group is the most straightforward I have known. There will be friendlies against decent countries, but they are just friendlies. It is a completely different prospect to competitive games in tournament football.
As ever, England do not get beaten that often outside of tournaments. In 1998, the first of my two World Cup finals, we lost on penalties to Argentina in the last 16. Four years later in Japan in 2002 we reached a quarter-final. That time I really felt that the heat was against us in Shizuoka. In some instances, it can be the small margins. Then you have to step back and look at the bigger picture.
When you reach a tournament you are, by the very nature of elite football, up against the best players in the world. It is at this point that you are really tested and England – including the England teams that I have been part of – have come up short in that regard. It really is often as simple as that. People try out lots of theories when it comes to England's failings in international tournaments. You're up against the best, and in that company we have come up short.
It has not all been bad. There were times with England when I came off the pitch and felt like I had been part of something special. I cared deeply about how I played for England. I retired relatively early from international football because I felt that was the best decision for my career at the time, but I have never stopped watching the team and, like any other Englishman, I always hope that they win.
The rest of this qualification group should be an easy ride for Roy and his players. There will be the usual ups and downs in the friendlies along the way. But we will only truly see if this England side really has the capacity to be different from its predecessors when they reach France.
Join our new commenting forum
Join thought-provoking conversations, follow other Independent readers and see their replies