Paul Scholes column: Yaya Toure's lack of defensive work is a big problem for Manchester City – he just doesn't look interested
EXCLUSIVE: The amount of time I saw opponents get in behind him in the game in Munich was quite remarkable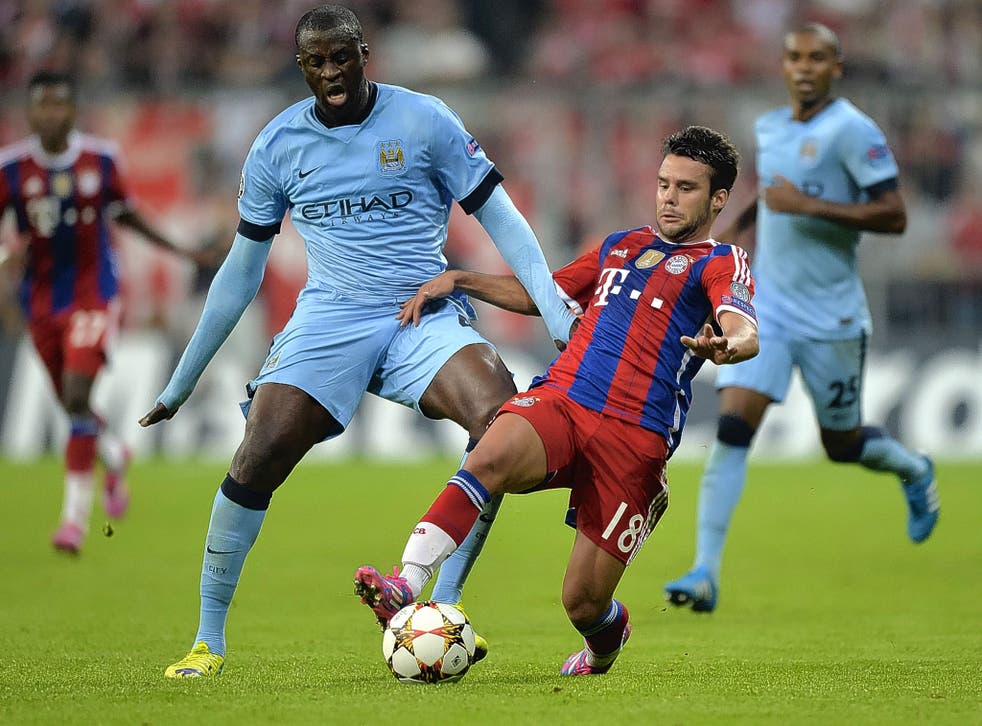 Watching Manchester City against Bayern Munich on Wednesday night, I felt that it was the same old story in the Champions League for Manuel Pellegrini's team. Yaya Touré's lack of defensive work in midfield has become a major problem for them.
The amount of time I saw opponents get in behind him in the game in Munich was quite remarkable. He just did not look interested. Alongside him, Fernandinho is having to do the work of two players defensively and against Bayern that was always going to cause City problems.
If they have any chance of breaking through the last 16 in the Champions League this season then City need to play two holding midfielders who are prepared to work back, rather than just one. In that case, Pellegrini would be looking at either leaving out Touré or moving him further forward. He would have to play Fernando or James Milner alongside Fernandinho.
When United won the Champions League in 1999 we played 4-4-2 and often I would find myself left out in favour of two in centre midfield from Roy Keane, Nicky Butt or Ronny Johnsen. Playing away in Europe, the manager knew he needed those two defensively minded players. The priority was the result. Playing attractive, attacking football was best done at home.
City could have been three or four goals down within the first half an hour had it not been for their keeper Joe Hart. They cannot afford any passengers in Europe.
Touré just seems to amble about. He might get away with that in the Premier League but there is no hiding place against the best teams in Europe.
Let's give kids more 3G pitches
I visited two newly laid 3G pitches in Salford this week, both funded by the Premier League, the Football Association and Sport England. They are great to play football on, and cost a minimal amount for kids to use. I only wish I'd had one to play on when I was growing up.
I went to both pitches on behalf of the Manchester United Foundation and I was impressed by how much it meant to the boys and girls there that they could have that connection with a professional club. The idea is to lay the pitches – another 150 are planned in the next three years – in areas where children do not have these kind of facilities.
The statistic that really hit me was that we have only 639 in England, while Germany has 5,000. It tells you a lot about the difference in facilities in the two countries.
I know how hard it is to find a decent playing surface in the winter months. My oldest son's team can go for six weeks without having a game, with pitches waterlogged and unplayable.
It was the same when I was a kid. We played all the time but we were always trying to find a decent surface that didn't have puddles all over it, or broken bottles. The quality of the 3G playing surface is a major factor in encouraging a child to play the game. The more they feel comfortable, safe and able to develop their skills quickly, the more likely they are to keep coming back to football.
As a father, and as someone who loves playing football, I feel very passionately about making sure we give children the best possible chance to play the game. The 3G surfaces are something else, and the lights mean the girls and boys can play until 10pm. I might even be tempted to get my boots back on.
Join our new commenting forum
Join thought-provoking conversations, follow other Independent readers and see their replies