The Rafael Benitez Column: My team to watch this season are Manchester City, their Spanish signings are so exciting
Pellegrini has experience, he likes to improve players and he has good English, which is crucial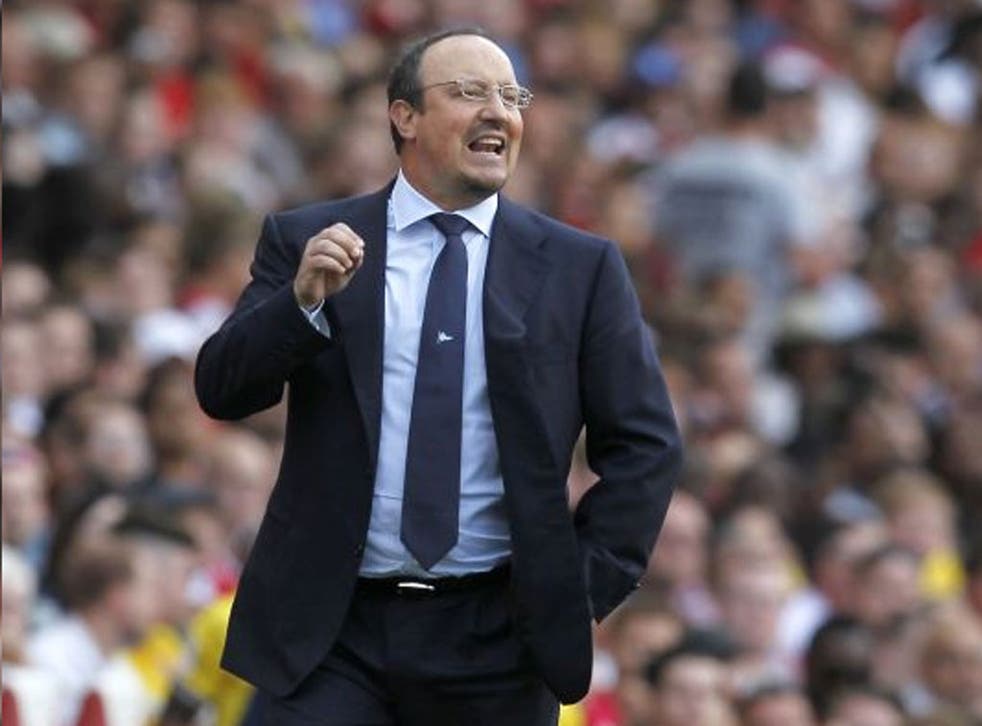 It's good to be back sharing ideas with you in The Independent, where I found many people wanted to read and talk about tactics and players when we were discussing the European Championship last year. A lot of people say that English football is only about the passion, not the small details of the game. That's not how I found it with the readers here.
I think you will know that I have started a new challenge, managing Napoli, a club with very great ambitions in Serie A. But the Premier League is always in my heart and we will focus a lot on that in the months ahead. The demands on me in a challenging league mean I will write every other week but I hope we can cover a lot of good ground, talking about English, Italian, Spanish football and more. Let me know your views. It will be good to answer questions from time to time, like we did after the Euros.
You will forgive me when I say it is a Spanish aspect that interests me most about this Premier League season. There has been such a lot of attention on Manchester United and Chelsea that no one seems to have been talking about the two Spanish signings at Manchester City – Jesus Navas and Alvaro Negredo – who, with a tough former adversary of mine, Manuel Pellegrini, make Manchester City a very interesting squad.
They are perhaps the squad that has been overlooked, which is not a thing we have been able to say much about Manchester City in recent years when everyone has been talking, talking, sometimes criticising. I don't think many people know the full story of Navas, who is 27 and has been in Spain for a long while, always at Sevilla. He has needed to be protected and has not always found it easy to be away from that special city. Everyone knew that he was settled there and didn't want to move away but bit by bit he has grown and learnt to be away from home, partly by being away with the Spanish side at international level.
Now he is ready and Manuel will be the one who benefits. Look out for a player who is pacey, very dangerous on the right and puts in good crosses – great mobility; a very dynamic player. Negredo is a different type of player: a great finisher, great left foot and good in the air. He will score goals.
So, although City slipped up in their game at Cardiff, this means nothing. Pellegrini has experience, likes to improve players and has good English, which, by the way, is crucial at the start for a manager going into the Premier League. When you have good players you don't need to talk too much but the English is important because when you try to express an emotion or explain an exercise you need the right words – and when you pronounce the words in the wrong way you lose something. Not a problem for Pellegrini.
We must also mention Roberto Soldado, who has signed for Tottenham from my old club Valencia: another finisher to watch. When you lose a really top-class player like Gareth Bale after big money has been offered, it is really difficult because you just can't replace him – you need more than one to come in. The people you bring in need time to settle down and you buy two or three players because you hope that if one of them doesn't settle down at least the others will.
At Napoli we have experienced the same problem as Tottenham, with Edinson Cavani – like Bale, another player whom a team was built around – going to Paris Saint-Germain, but we really think we have solved that problem by signing Gonzalo Higuain from Real Madrid. The essential aspect with him, like a lot of players, is that he needs to feel he is very important for the team. This is an essential psychological component for some players and at Real Madrid it was difficult for him to feel that way.
The essential thing when you sell a player in a way that brings a huge windfall, like Tottenham and Bale, is to use that money to buy the players that you actually need. The fans will ask for a big name to replace the one they are losing, but it is an easy trap to buy players you don't really need and who are not worth the money. Yes, it can feel like the money is burning a hole in your pocket. But people know you have the money and replacement players can suddenly carry a price which is not realistic.
So, as the new Premier League season starts, look at Manchester United and Chelsea – of course. And look at Southampton as the team who could be dark horses to push into the top 10, with Pablo Osvaldo as another great striker with great movement, who will fare very well if he can settle down.
But look very hard at City. Little by little the Spaniards, with their obvious technical component, have become more open-minded about how to improve in England. Pellegrini's side are about to learn more about that.
Good to have Pepe the great motivator
I was delighted to get Pepe Reina, whom I signed for Liverpool back in 2005, into Napoli on a year's loan from my old club and it is already more than the goalkeeping that he is delivering for me.
People don't realise what a great motivator Pepe is behind the scenes; encouraging others and pointing out how we can do things better in training. I saw that again in our session today, where he was already expressing himself in Italian. He is a great influence on team matters.
Here's our chance to be film stars
I learnt a long time ago that you can never be sure what football will throw your way. You may know that my chairman at Napoli, Aurelio de Laurentiis, is a film producer. He wants the players to appear in a Christmas comedy film. So, after training, we have been heading out to Castel Volturno, north-west of Naples, for filming sessions in the afternoons. I never knew I had so many film stars in my squad!
One of the scenes starts with the actors doing their job and there in the background are Pepe, my captain Paolo Cannavaro and Marek Hamsik. I don't think we'll be appearing for more than about five minutes in the film but it's fun and it's gone down well. You need the laughs.
The teams in Serie A are all very well organised with a big emphasis on tactics, and last weekend's opening 3-0 win over Bologna was only one step on a very long road.
As I write, I don't know whether I'll have to say anything in the film. The cameras roll in about half an hour! That's not really my strong point, despite the few times I went on stage in Liverpool, where the audiences were too kind! I'll let you know more next time!
Join our new commenting forum
Join thought-provoking conversations, follow other Independent readers and see their replies