Rafael Benitez: You ask the questions
Whether it is Cristiano Ronaldo's non-penalty, Iniesta versus Pirlo or England's tactics under Roy Hodgson, our man Rafa has the answers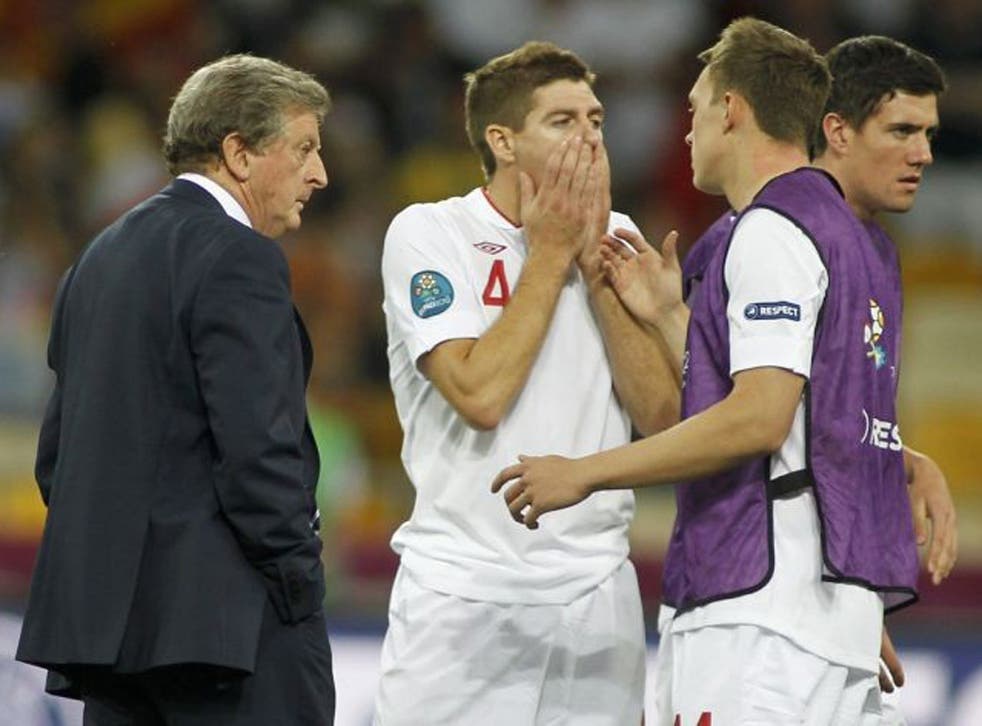 Q You wrote a lot during the tournament about adopting part of the Spanish coaching philosophy and that we have the talent. Could England aspire to play like Spain? John Grafton, Market Drayton, Shropshire
A England can take the best bits from Spain but there are some practical reasons why they shouldn't think that copying my country's style of play is the answer. It might sound like an unusual thing to say but the difference in the weather between England and Spain is one reason why this country can't copy that one. It is no coincidence that Spanish club sides who most resemble England's – Real Sociedad and Athletic Bilbao – are those from the north of my country, where they're used to the weather we're getting now. The pitches cut up and it's better to play the long ball. It's why Howard Kendall worked at Bilbao and Sammy Lee at Osasuna.
Remember, in the central and southern areas of Spain it's too hot to be always running and that makes players want to keep the ball and pass it; to "take the paint off the ball" as an opposing coach once said to me about the Castilla team I was coaching in the mid-1990s which was passing, passing so much. Other countries seem to forget that some lower Spanish league teams don't even have much grass to train on because it is too expensive to keep it wet and lush in the hot times.
That's how it was for me when I was playing for Linares, in the Jaen province deep in Andalucia in the 1980s. We trained in sand much of the time and it was 42 degrees when I first came on as a substitute against Ceuta. I ran so much that the manager had the idea of me "holding the baton" in midfield for my next game, against Cordoba. I thought I was going to collapse at half-time. That's one of the lesser-known reasons behind the passing culture which is nothing new in Spain. So you'll understand me when I say that there are some things England shouldn't totally copy.
Q Surely the best penalty taker should always be the first one? Cristiano Ronaldo not taking an early penalty for Portugal was surely a mistake when he, the fifth taker, ended up not taking one? Zebedee, Ipswich
A No, I'm sorry but I can't agree with that. I don't think leaving Ronaldo until last was a mistake, even though he ended up not taking a kick. In the shoot-out, the first penalty taker has to be good to send you on your way – and the last taker has to be particularly good as well, in case it is stuck at a 4-4 draw.
In our 2005 Champions League final with Liverpool against AC Milan, Didi Hamann was our first man because we had the confidence in him and we had Stevie Gerrard prepared for the fifth – though we didn't need him in the end. The players always like to practise penalties at the end of training and you see then which ones are good. At Liverpool, Xabi Alonso liked that bit at the end of training and so did Pepe Reina, Lucas Leiva, Stevie – and Dirk Kuyt was good and so was Harry Kewell. When we beat Chelsea 4-1 on penalties in the 2007 Champions League semi-final, we took Javier Mascherano off near the end to get Robbie Fowler on - though he didn't take a kick in the end.
Q Can England really prepare for shootouts? Is there anything we are missing in that respect? Jan Burnaby, Brighton
A You can never do too much preparation. You should have seen the notes I took when I was a 13-year-old playing in the Real Madrid youth team. Seriously though, we have worked on our database going back 20 years, which allows us to know where each player puts his penalties and how successful he is. I remember when we conceded a penalty early in our Champions League qualifier at Standard Liège in 2008. We knew (thanks to Xavi Valero the goalkeeping coach) that Dante Bonfim took them left and low, so we could say to Pepe "don't jump, just dive or the ball will go under your body". That's exactly how it happened. Pepe saved it, we drew 0-0 and that got us our place in the tournament.
The chances are that a player who is not used to taking a penalty will put it in the place he is always used to putting it, under the pressure of a big tournament shoot-out. When it came to the shoot-out in Istanbul, Jerzy Dudek had all the possible penalty-takers memorised by their number on our database system so Xavi was signalling by hand which 'number' each Milan penalty-taker was, so he knew where to go.
Q England's best spell in the whole tournament was the first 30 minutes against Italy. What did they do differently in that spell and how can it be translated to 90 minutes? Steve Richards, Oxford
A In that game, England sat very deep and the balance between attack and defence became pushed towards defence. To "translate" that 30 minutes requires the creation of a philosophy in the team based on passing and confidence. It starts with the way football is coached and how young players are developed.
Q At the start of Euro 2012 you said that England would be best served by playing a 4-2-3-1 formation. Given Roy Hodgson's steadfast commitment to 4-4-2, what footballing philosophy would you implement for England? Phil Dobbs, Stamford, Lincolnshire
A It is not the system that matters. It is the style. The system is just an image you draw on the pitch. The most important thing is the movement. Start with 4-4-2 and get your wide players forward and it becomes a 4-2-3-1. A 4-4-2 is very fluid with Wayne Rooney as one of those '2.'
Q If you could recommend two books on coaching football, what would they be? Blago Blagoev, Canada.
A I don't know if they are even still in print but the one writer I always admired was the Hungarian tactician Arpad Csandi, who wrote a number of books including one great big one which I turned to a lot! Also, Dante Panzeri's Futbol Dinamica de lo Impesando which was not a football tactics book, but one about an entire approach to the game. Panseri was an Argentine and some of that country's managers, including Cesar Luis Menotti, looked to him
Q Surely the Premier League needs a quota system, ensuring that a certain number of English players are in every starting XI? Surely a minimum of four English players would improve the existing situation, where we have insufficent international players to choose from? Paul, Manchester
A I agree that the lack of proper Premier League experience among the 18 to 21-year-old young English players is a major problem – and one which we have looked at several times in my column during the Euros. But I don't think a quota system is possible because the fans will not accept it. If they are paying a lot of money to watch games, they expect to see the best players. The game has been pushing to get more English players into the squads.
There was the system we had in our Liverpool time, which said there must be 3 home grown and 3 "British" players in the European squads. At the time, we did not have young players in our Academy who we could play in Europe, so that was a reason why we went for Gareth Barry, who we didn't sign, and Glen Johnson, who we did. Now it is 4 and 4. In my playing days in Spain, a maximum of three foreign players were allowed but after the South American players had arrived, clubs just played their best players.
Q Why was Andres Iniesta named player of the tournament and not Andrea Pirlo?. Iniesta wasn't that impressive to me throughout the whole tournament. Steve, Ipswich
A Sorry, but I do think that Iniesta was more decisive in the tournament. Pirlo had a very good tournament, of course, but when Iniesta got on the ball he was changing the pace of the game. In the most difficult games, he was making the difference. He mattered when it counted. Iniesta was the big player in the final; he made all the difference.
Q If you were managing a team facing Barcelona next week, what would your formation and tactics be to win the game? Denis Low, Singapore
A It depends on your team. If you have a team that is close to the same level as them, you need a tactical game plan. If you do not have that team, then you wait and defend. You will lose or, at most, you will draw if you play that waiting game. I like to attack with a high line of defenders, so that means you have to press Barcelona hard to stop them passing the ball through you.
When our Liverpool team beat Barcelona in our Champions League knock-out tie in 2007 we pressed them very high at home and did not allow them to play from the back. I remember John Arne Riise did not give them anything. When Manchester United played them at Wembley in the Champions League final two seasons ago, they started very well and pressed them hard. But with the quality of players Barcelona now have, they found it very hard to sustain the pressing to that degree. Sergio Busquets found space and Barcelona found a way through.
Q Michel Platini plans to increase the number of countries in the next European Championship to 24. Is that such a good idea? Christopher Jones, Wallasey, Merseyside
A No it is not. I am against big tournaments because players spend too much time with the international team and that's not fair on their clubs. There is a risk of injury and sometimes in a one-month tournament those players are doing nothing. You should make the tournament as short as you can. That is why the Euros are such a good compact competition.
Q Do you think that England will be able to handle the Spanish Olympic squad without parking the bus? Andy Kennedy, Dull, Scotland
A The new generations coming down through the Spanish ranks are very good but I don't think that the GB team have to have fear. It will be a new thing for them to play in the GB team. It will be interesting to see Ryan Giggs and Craig Bellamy playing with some of the young English players. Maybe they can do well and even better than Spain, with the inspiration of playing on home soil. It's football. I really think anything can happen and there is no need to worry about the bus!
'Champions League Dreams' by Rafael Benitez, is published in September by Headline Books.Rafael's website, rafabenitez.com, provides more football analysis
Join our new commenting forum
Join thought-provoking conversations, follow other Independent readers and see their replies