Revealed: The world's strangest club... Anzhi Makhachkala
Liverpool's opponents tonight are bankrolled by a secretive billionaire, pay their collection of star names up to £350K a week – but have to travel 1,200 miles for a home game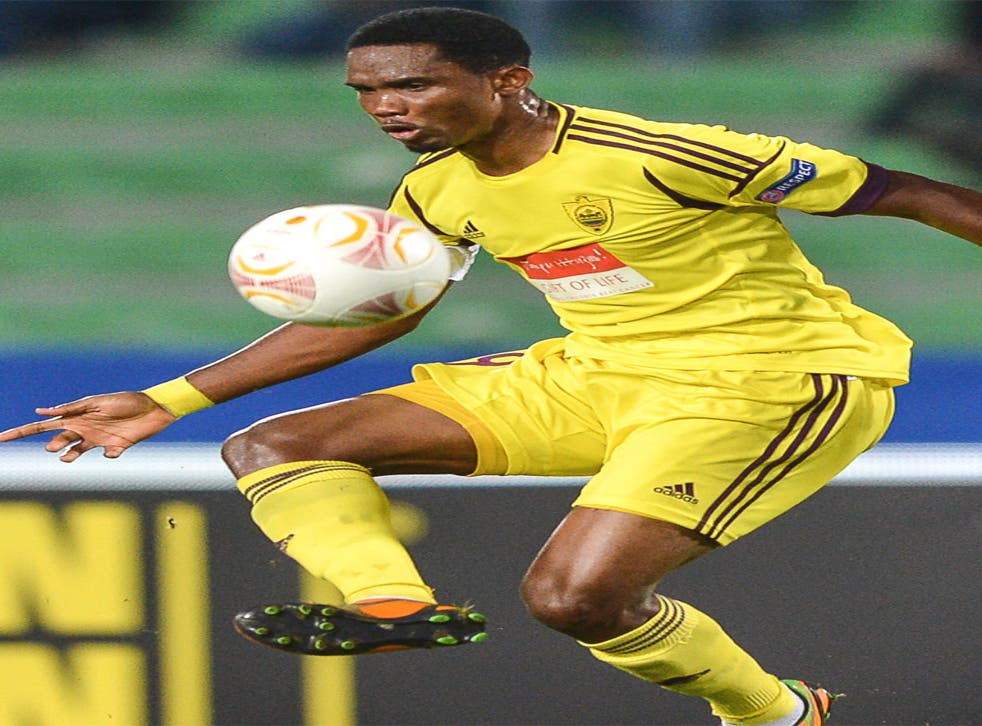 For the men who arrived at John Lennon Airport in Liverpool, the question was obvious. What first attracted you to Dagestan, with its corruption, ethnic violence and multimillion-dollar contracts?
Anzhi Makhachkala might fairly claim to be the strangest football club in the world. Their players live 1,200 miles from where they play; they visit the city their team is supposed to promote only on match days and under suffocating security. They compete for the championship of a country that a large section of Dagestan's population want to leave. They are among the highest-paid sportsmen on the planet.
One of Lennon's most famous lines is "imagine no possessions". Samuel Eto'o, Anzhi's marquee signing, would have to try very, very hard to do that. He earns £350,000 a week and his penthouse in Moscow boasts a three-metre wide television screen.
Although the salaries paid by Suleyman Kerimov, a secretive billionaire who lost a reported $14bn in the financial crash that brought down Lehman Brothers and Bear Stearns, are enormous, nobody at Anzhi talks about money.
When Lassana Diarra signed from Real Madrid, he claimed it was because he wanted to be near Eto'o – "my big brother". Roberto Carlos, who was paid £5m a year, talked of "a great adventure". Eto'o wanted to be "a unifying force" in a nation plagued by internecine strife, 13 ethnic groups and 30 languages. You yearn for the honesty of the Yorkshire fast bowler Paul Jarvis, who said his reason for joining Mike Gatting's ill-fated rebel tour of South Africa in 1990 was "to pay off my mortgage in one go".
For his 38th birthday Kerimov gave Roberto Carlos a Bugatti Veyron which he shipped straight back to Brazil. The irony of parking a car worth £800,000 in the ravaged streets of Makhachkala, where the average wage is £156 a month, would have been too much.
Not that the Bugatti would have gone anywhere near Dagestan. Anzhi's squad train and live in Kratovo, a village on the outskirts of Moscow, where Sergei Prokofiev, who composed Peter and the Wolf, had his dacha. Their home games in the Europa League will be staged in Moscow's Lokomotiv Stadium, an implausible trip for their fans, even in a Bugatti Veyron.
After his spells with Chelsea and the Russia national side, Guus Hiddink can fairly claim to be the oligarch's manager of choice. After failing to qualify first Russia and then Turkey for the last two major international tournaments, it seemed the Hiddink brand was on the wane. This morning, though, as Anzhi prepare to face Liverpool at Anfield in the Europa League, this hitherto unknown club is top of the Russian league. The views from the Moscow penthouse the Dutchman acquired when working for Roman Abramovich must be grand.
Behind them in third is another club from the bloodstained Caucasus, Terek Grozny, run by the Cechen warlord, Ramzan Kadyrov. Kerimov is a very different kind of oligarch, though, using cool intelligence rather than Kalashnikovs to make his point.
The Financial Times' Moscow correspondent, Catherine Belton, one of very few to have been given access, found the 46-year-old who often dresses in jeans and a sweater "charming and sometimes modest", wearing thin, skin-coloured fingerless gloves, the result of suffering grievous burns six years ago after losing control of his black Ferrari Enzo on a snow-covered Promenade des Anglais in Nice.
The south of France was a natural habitat for a man described as a "Russian Gatsby". Like F Scott Fitzgerald's creation, he had risen from nowhere: 20 years ago he was an economist for a firm making transistors for televisions. By the 2008 crash, thanks to a number of deals mostly involving oil and mining, he was said to be worth $17.5bn. He would throw parties Scott Fitzgerald would applaud. Beyoncé entertained his guests at Cap d'Antibes. Amy Winehouse was once flown to Moscow to sing at an event costing £6m.
Yet his accident seems to have triggered a desire to rebuild Dagestan and tie it to the Russian motherland. Anzhi is part of this and some claim that the funds for their new stadium and academies are funnelled from the Kremlin.
Anzhi's shabby home until their new 45,000-seater arena opens will soon be history. Liverpool and all the other great clubs of Europe will never visit it, but it has certainly been a theatre of dreams – strange dreams.
Join our new commenting forum
Join thought-provoking conversations, follow other Independent readers and see their replies