Richard Scudamore sympathises with fans over Premier League ticket prices
Manchester City failed to sell Arsenal allocation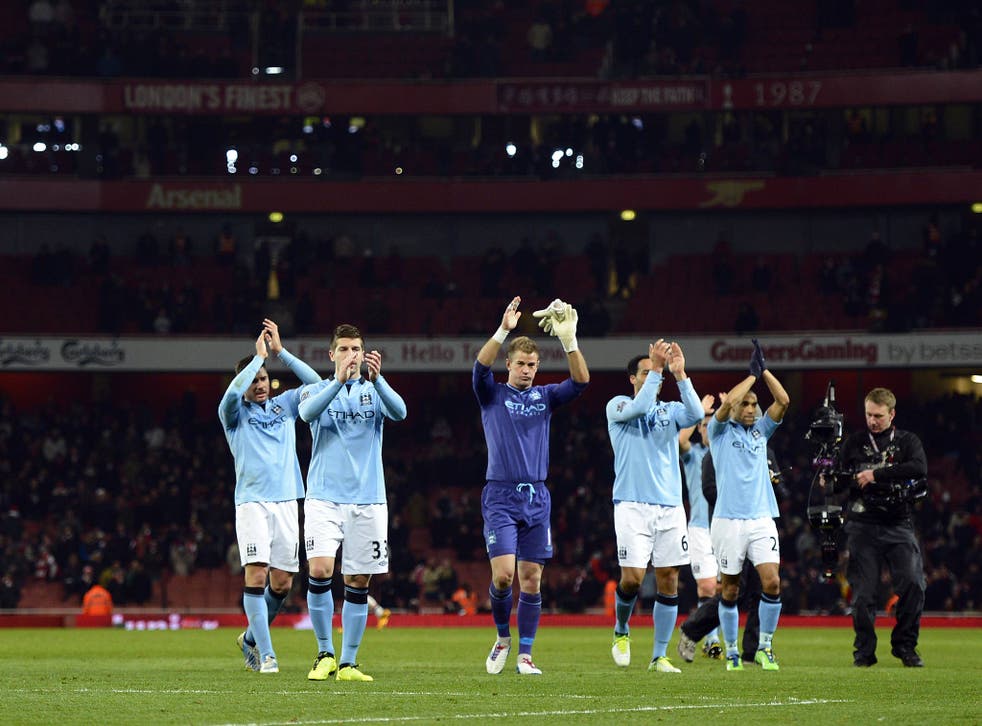 Manchester City players were prompted by an assistant referee to show their appreciation to fans who forked out hefty sums to watch the victory at Arsenal.
With tickets priced at £62, City returned 912 unsold tickets for the match at the Emirates Stadium.
The pricing issue has been the subject of much debate in the last week, with Arsenal having previously been brought under scrutiny by their own fans.
During yesterday's game, which City won 2-0, sections of the away supporters held up signs including one which read "Don't price us out of our game or lose more fans".
Following the win, sealed with first-half goals from James Milner and Edin Dzeko, television footage showed assistant referee John Brooks tell City players, including England duo Joe Hart and Joleon Lescott: "They've paid 62 quid over there, go and see them."
The players responded positively by saluting the travelling fans, and earlier in the day Premier League chief executive Richard Scudamore had sympathised with City fans for not taking up their full ticket allocation.
Scudamore told BBC Radio Five Live's 'Sportsweek' programme: "I think they are sending Arsenal Football Club a very clear message.
"I think that is a clear message Arsenal Football Club have to deal with.
"There is category pricing at Arsenal. Arsenal, when categorising games and setting prices next season, will have to take that into account.
"Arsenal clearly, along with every other club, want a full stadium and we at the Premier League would like every club to take up their away allocation.
"It is easy to latch onto the Arsenal example. They have clearly made a judgement and I think the Man City fans, in fairness, have done what they should do if they think it is too much and not turned up.
"It does make people think again and that is actually what the market should do."
Scudamore was asked whether, in the light of record TV revenue, ticket prices should be lowered at all clubs.
He claimed that was a complex issue, but the overriding aims of clubs should be to ensure their stadia are full with away fans in attendance.
"Absolutely top of our aims and objectives is to put on a show and keep attendances full," Scudamore said.
"The clubs absolutely know where the Premier League stands on this. We want full stadia.
"Over the last 15 years we have managed to achieve 90% occupancy. This year occupancy is up at 95% and could well reach an all-time high this season.
"That hasn't come about just by going on increasing and increasing ticket prices.
"Clubs across the board are generally working very hard to keep ticket prices at the point where people will still keep coming through the gates.
"The most important things are - A, we keep grounds full and B, we have rules about making away allocations available to away fans.
"As a top priority we must keep away fans attending. Clearly it is for individual clubs to get that right."
PA
Join our new commenting forum
Join thought-provoking conversations, follow other Independent readers and see their replies