Roddy Doyle on Roy Keane: We love people's flaws, don't we?
In an interview with the celebrated author, he tells tells Ian Herbert why he took on the job of ghostwriting fellow Irishman's amazing autobiography, the joy he gained from it, the chemistry that built up between them and how much he learnt about life, football and the man behind the mask
Ian Herbert
Saturday 11 October 2014 10:24 Comments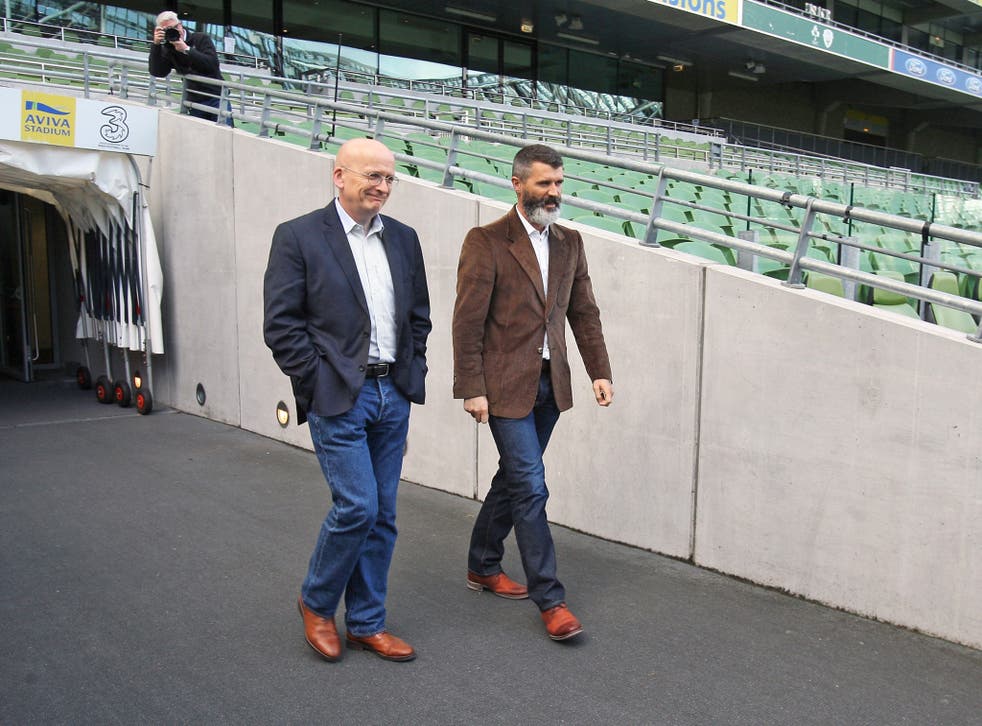 Roddy Doyle's new book was never going to be entitled Roy Keane Ha Ha Ha but the bear pit he entered by taking the project on is obvious from its very first pages. The opening scenes of The Second Half describe the repercussions for Keane after Eamon Dunphy, the ghostwriter of his first autobiography, implied in its pages that the player had deliberately sought to injure Alf-Inge Haaland in a game against Manchester City in 2001. Keane/Dunphy wrote of the moment Keane prepared for that tackle: "The ball was there (I think)." Keane/Doyle write of the consequences: "Two words in brackets cost me about four hundred grand."
Keane and Dunphy have become estranged long since, though the split reached screaming pitch this week. "Keane is bullshitting," Dunphy wrote in the Irish Daily Star. That was because Keane/Doyle now say of Dunphy's testimony to an FA Commission, convened after the first autobiography's discussion of Haaland: "He just wanted to get it over with and get out of there. He was rushing for his flight back to London. I looked at him and thought, 'I'm definitely fucked now.'"
Keane wanted this autobiography to be different. He paused and unravelled the hint of a smile this week when explaining that he "didn't want to go down the standard sportswriters route" in selecting a new ghostwriter and he clearly seems to feel that he is not carrying the baggage of the football bubble into this literary relationship.
Why one of Ireland's most successful novelists should have jumped at the email which dropped from Orion publishers' Alan Sampson one Friday last November and agreed to become an amanuensis is the more beguiling question. Clearly, because the prospect of bearing witness to the extraordinary testimony of an extraordinary sportsman does not change just because you have collected the Man Booker Prize – though Doyle doesn't put it quite that way.
"I didn't go giddy about the email at all," he says. "I just thought, 'Hmmm, that's interesting.' A lot of these proposals never come to anything, anyway. I love football but it's not my world. I watch it on telly more than I go, because of family circumstances and stuff like that."
It does not take much imagination to see that this is something of an Irish dream team with pretty formidable earning potential, too. "There's an irony that my name is on the cover because I'm completely and utterly absent from the book, which I really like," Doyle tells The Independent, from a vast, deserted function room at Dublin's Aviva Stadium, where the volume has just been launched.
But the header on each page of the book reads "Roy Keane and Roddy Doyle" and the promotional material for the book tour they are embarking on together depicts the two of them leaning languidly against an interior wall. This is a double act, with Keane acting the unconventional straight man. Doyle has not entirely vanished into the shadows.
It is a beguiling collision of worlds, though: Doyle – a Dublin man of letters; originator of The Commitments and author of 10 novels; 20 if you include the children's fiction – and Keane, a Cork epitome of football's sound and fury. For the footballer, it felt like a way to find a different vocabulary for his story, from someone without any preconceived notions. For the writer, it felt like a new challenge in dramatisation.
The most controversial sports autobiographies

Show all 10
When their initial one-hour meeting proved successful, Doyle asked himself, "Am I up to it?", and if the artistic accomplishment he was striving for can be defined then it is a theatrical monologue. "I always felt I was kind of an amplifier for him," Doyle says of Keane. "I'm a storyteller, you know, and a lover of fiction and drama, so we wallow, we love people's flaws, don't we? The problem with a lot of depictions of Roy – the cartoon version – is it's all flaw and actually the book allows a fuller version of the man: the version I was immediately aware of when I met him."
The chemistry between them remains to be seen. They spend most of Thursday afternoon's book launch skirting around opposite ends of the function room and Doyle was not asked on to the press conference top table for a book launch which was distinctly Keane's show. But they do seem to cohere. In the course of an intense colloboration, which Doyle felt was "a bit like being under water" and during which Doyle's mother asked her son why he was developing a Cork accent, the writer asked his subject if he remembered the lyric "anger is an energy" from the Public Image Ltd song "Rise." "I had been thinking of it myself," Doyle says. "And I thought it is such a positive way to think about anger. And he loved the song. He started talking about the anger and the role he played, as an actor almost, and how he could control the anger and eventually it might have been when we were going over it a second time, the difference between anger and rage..."
Keane's ability to articulate that difference is clearly a part of the appeal for Doyle. "He was like a lecturer, a philosopher, at times," Doyle says. "Talking about the difference between anger and rage; injuring somebody and hurting somebody." It was Dunphy's inability to distinguish between the latter of those two which Keane cites as the cause of all the Haaland trouble.
Perhaps Dunphy, whose career as a Millwall player formed the basis of Only a Game?, the sublime autobiography he required no ghost to write, approached the Keane project with too much accumulated knowledge of football. Doyle's own information bank on the game is minimal and to the question of whether his position outside of the sports journalism bubble helped, he replies: "I felt so.
"I thought 'it's a life full of incidents and big dramatic moments but [what about] the day-to-day stuff?' Doyle says. "I was asking him, 'What's your Saturday like?' and it was about driving to clubs. He started volunteering the fact that he never paid much attention to where he was going, as a footballer, but now as someone visiting Villa or maybe Everton – or Celtic, he loved the driving. He was talking about 'recovery' and I said 'what's recovery?' He said 'doing nothing' and I thought that was brilliant, that a vital part of the job was doing nothing. That seeming contradiction about doing nothing being part of the job. I really enjoyed that and I think he enjoyed doing that."
Keane admits that bringing some of his humanity out was not easy. "I probably didn't want to go into it too much but give credit to Roddy... Where's Roddy?" he says, looking around for Doyle's help to explain the emotional side of the book. He is publicly less comfortable when a football target doesn't form the basis of conversation.
"There were some days I'd be meeting Roddy and I wouldn't be in the mood," he continues. "You're probably not surprised to hear that! Roddy had a way about him, he's likeable, quite laid-back, it was like a therapy session!"
There were clearly places Keane did not want those sessions to go. There is no mention in The Second Half of Keane's visits to Alcoholics Anonymous, for example. This is by no means an exhaustive memoir. But Doyle has produced something less obsessed with the point scoring which ensued during Thursday's encounter with journalists. The finished testimony is of a far richer fabric than the other big autobiographical product of this week – Kevin Pietersen's KP: The Autobiography – a page-turner which never escaped the bickering. "The last thing you would want is a book that is a reaction to what's said," Doyle says, reflecting of the Pietersen book that he knows "nothing" about cricket. "It could have been like that if we had gone for a book that was just a reaction to Ferguson's book the previous year. That would have been on the defensive, on the defensive, on the defensive, pretty crumby. So it's its own world really..."
Keane's contribution has included making additions to Doyle's reading list. His suggestion that his ghost might try The Numbers Game, Chris Anderson and David Sally's crunching of statistics about the game, deconstructs some of the notions about the man. "I was: 'Jaysus, I never thought I'd read anything about statistics,'" Doyle says. "Roy thought it was brilliant. He says that when you hear a commentator or manager say: 'I'm really disappointed they gave that goal away from a set-piece' it's nonsense because statistics tell you if something is going to happen it's from a corner or a free-kick."
A year's abstinence from the world of fiction writing – "I'm blissfully ignorant about the Booker List and so on," Doyle says – has seen him work through a library of football books. He is not the first to have found Arthur Hopcraft's The Football Man one of the sport's most absorbing books, but has also read the Gary Neville and Ferguson autobiographies; Niall Quinn's own (because of its testimony to Keane's Sunderland seasons and Saipan saga); The Nowhere Men, by The Independent on Sunday's Michael Calvin; and Jonathan Wilson's Inverting the Pyramid.
Doyle learns after this conversation has ended that Keane has left the building and won't be back here for his next interview for quite a time. "He's gone? Bollocks! At least I can go for a pint in the knowledge that he's not here talking shite!" he says.
You never say "never" in the world of football but this relationship does not seem destined to explode in The Irish Daily Star.
Register for free to continue reading
Registration is a free and easy way to support our truly independent journalism
By registering, you will also enjoy limited access to Premium articles, exclusive newsletters, commenting, and virtual events with our leading journalists
Already have an account? sign in
Join our new commenting forum
Join thought-provoking conversations, follow other Independent readers and see their replies