Sam Wallace: Hart would be right to query Avram's real goal
Grant will always believe that he was one penalty kick from greatness in Moscow last year
Thursday 08 October 2009 00:00 BST
Comments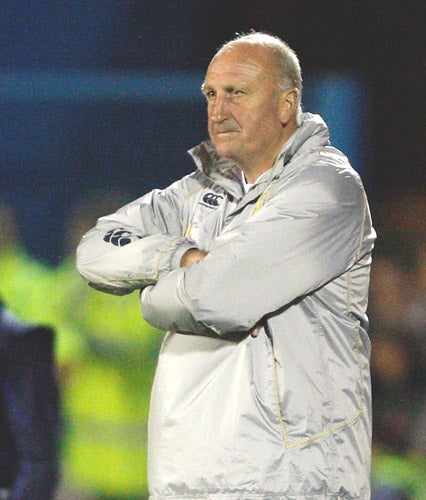 When Avram Grant was dismissed as the manager of Chelsea in May last year, he was offered the job of director of football on a higher salary by Roman Abramovich. He turned it down on the basis that what he really aspired to be was a manager.
Today Paul Hart would be entitled to ask Grant the question: what has changed? Grant wants to be a manager and it is hard to believe that he will not get his wish at Fratton Park at some point this season. He has taken this new role because, so far, he has been unable to parlay his eight months at Chelsea into a manager's job anywhere else in the world.
In the weeks and months that followed his departure from Chelsea, there was a marked drop-off in the standing of the jobs Grant's name was linked with – starting with Tottenham in October and descending from there via a few less-celebrated vacancies to the day he almost became coach of the Bulgaria national team.
Grant will always believe that he was one penalty kick from greatness in Moscow last year. Some of us prefer to see it a different way. Grant got the Chelsea job by ingratiating himself with Abramovich rather than proving himself as a manager and Chelsea's progress to the Champions League final was a result of the players' effort rather than the manager's ability.
While Jose Mourinho was not beyond reproach himself, he was undone in part at Chelsea by a man who had nothing like his track record as a manager and on that basis did not deserve the job. Appointed the club's director of football in the summer of 2007, it took some front for Grant to sit in the Chelsea dugout behind Mourinho as the pressure grew on the Portuguese in the early part of the season.
But front is one commodity that has never been in short supply when it comes to Grant. Hart should be asking himself whether a man who was prepared to step into the shoes of Mourinho would really think twice about elbowing out of the way a Portsmouth manager who has won only one of his last eight league games.
Grant's ability to talk his way into big jobs with wealthy football club owners is not restricted to Abramovich or Portsmouth's new owner Ali al-Faraj. In 1996, he persuaded Maccabi Tel Aviv's owner, Loni Herzikowitz, to reappoint him manager despite the fact that then manager Dror Kashtan had just won a league and cup double.
There is no evidence that Grant could actually do the director of football job he is being asked to do. But then while Grant may not be the greatest coach he does have some powerful friends. Abramovich had his uses but few have done more for Grant's career than the agent Pini Zahavi, who is understood to be behind this latest appointment.
The press conference at which Chelsea announced the appointment of Grant remains one of the greatest afternoons of farce in recent football history. The club had to explain why they had appointed a man unknown outside his native Israel and nowhere near the list of elite coaches Chelsea would typically have been expected to consider.
Now Portsmouth have appointed Grant to a role for which he has shown little signs of suitability and another decent, hard-working manager is looking over his shoulder. The only surprise is that is has taken Grant so long to make a comeback.
Join our commenting forum
Join thought-provoking conversations, follow other Independent readers and see their replies