Sam Wallace: Sir Alex Ferguson looks to be haunting David Moyes at Old Trafford – so why does he do it?
United legend has a strange idea of retirement if it involves travelling to Sunderland on a January night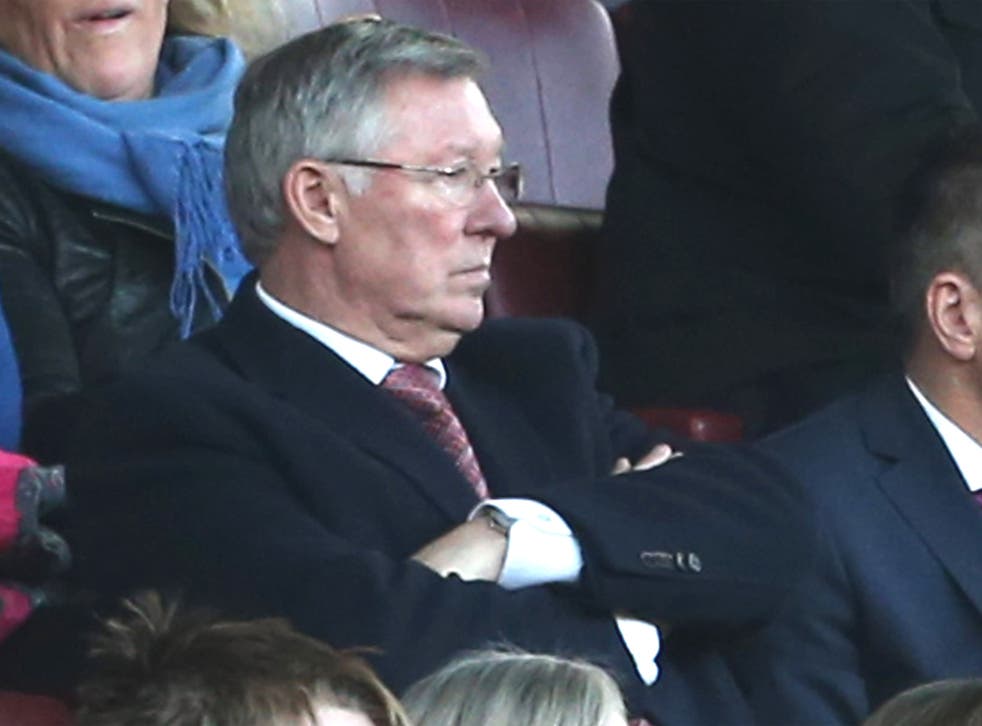 It was almost an hour after the end of the game on Tuesday night when the door in the corner of the Sunderland press room opened and Sir Alex Ferguson walked in, preoccupied with buttoning his coat and following the official leading him out of the stadium. When the old boy clocked where he was, his face set to stony non-engagement and he was quickly across the room and out.
The journey home to Cheshire, if he was heading back immediately, will have topped two hours and the weather was cold enough for his travelling companion Sir Bobby Charlton to be wearing his big winter hat. For a multimillionaire retiree who has spent his life working relentlessly, one would have assumed Ferguson would be more tempted by the Caribbean in January than Tuesday evenings at the Stadium of Light.
It posed that old question: why is Ferguson now turning up for United away games as well as those at Old Trafford? And if he cannot see that his presence is diminishing David Moyes as the new man wrestles with a nightmarish run of results and form, then is it about time that someone told him?
No one would doubt that Ferguson is among that group of individuals who have done more for United in their 136-year history than any other. He has the right to be at every United game for the rest of his life. But having the right to be there, and it being the right thing to do, are two very separate things. Especially for a manager who knows better than anyone how these things play out.
After every goal conceded by Moyes' team, every setback, and then in the aftermath of every defeat, the cameras pan to Ferguson and his poker face. It may not be fair and it is not the Scot directing the television coverage, but it is the way it has always been. Ferguson knows that all football matches follow a narrative – and that narrative is about more than what takes place on the pitch.
Of course, being United manager in 2014 encompasses many more challenges, above and beyond being constantly compared with one's virtually ever-present, ultra-successful predecessor, that Moyes must overcome. But Ferguson attending games? For all the hurdles United currently face, it is one the club can do something about.
Why does it make a difference? To divine that, Ferguson only needs to look back at what made him successful. He always grasped the power of the way he was perceived. It was why he insisted on trying to win his public battles with players, rival managers, the game's authorities, the newspapers and, latterly in his career, the 24-hour rolling news cycle. He did not win them all, but he won enough to build and preserve the reputation that served him so well. The reputation was a crucial tool in marshalling his players, signing big names and then in engaging with the wider game that he sought to dominate. However much he may support Moyes in private, Ferguson's presence at games – especially those as relatively innocuous as a Capital One Cup semi-final first leg on a Tuesday night in January – is damaging the way in which the new United manager is perceived.
In short, the results have been bad enough for Moyes without him looking like the apprentice, trapped in an eternal, hellish assessment by the 72-year-old behind him. A 72-year-old who said last May that he had finally reached the point where he no longer needed football yet, seven months on, just does not seem able to walk away.
Yes, when Ferguson took over a United team in a bad way back in November 1986, Sir Matt Busby was still attending games. But Busby had quit the manager's seat for the second time 15 years earlier. Ferguson was not being compared with Busby in those days. He was being compared with Ron Atkinson, whose record, not to mention whose aura, were nothing like that of Busby.
And while Ferguson has not made the well-chronicled errors that Busby did when he handed over to poor old Wilf McGuinness in 1969 – keeping an office at Old Trafford, continuing to meet with players – that alone does not mean Ferguson does not have the power to damage Moyes. History does not have to repeat itself in every detail for United to botch another managerial handover.
If Moyes' team were top of the league and the summer had brought to the club the likes of Cesc Fabregas, Robert Lewandowski and Leighton Baines it would matter little. But the situation is what it is and now Ferguson looms over Moyes, creating the kind of distraction that Ferguson himself would have swept away without thinking twice, were he still in charge of the club.
What happened to the Ferguson who once said that in retirement he was going to learn Italian, travel more and take piano lessons? Instead he finds himself compulsively retracing his old steps, following United obsessively. And, in doing so, casting a long shadow over a successor who just cannot catch a break.
Join our new commenting forum
Join thought-provoking conversations, follow other Independent readers and see their replies