Sam Wallace: Why are reputations on the line for £600 in world's richest league?
Talking football: Assistant referees should down flags for a weekend, then the League would see how much it needs them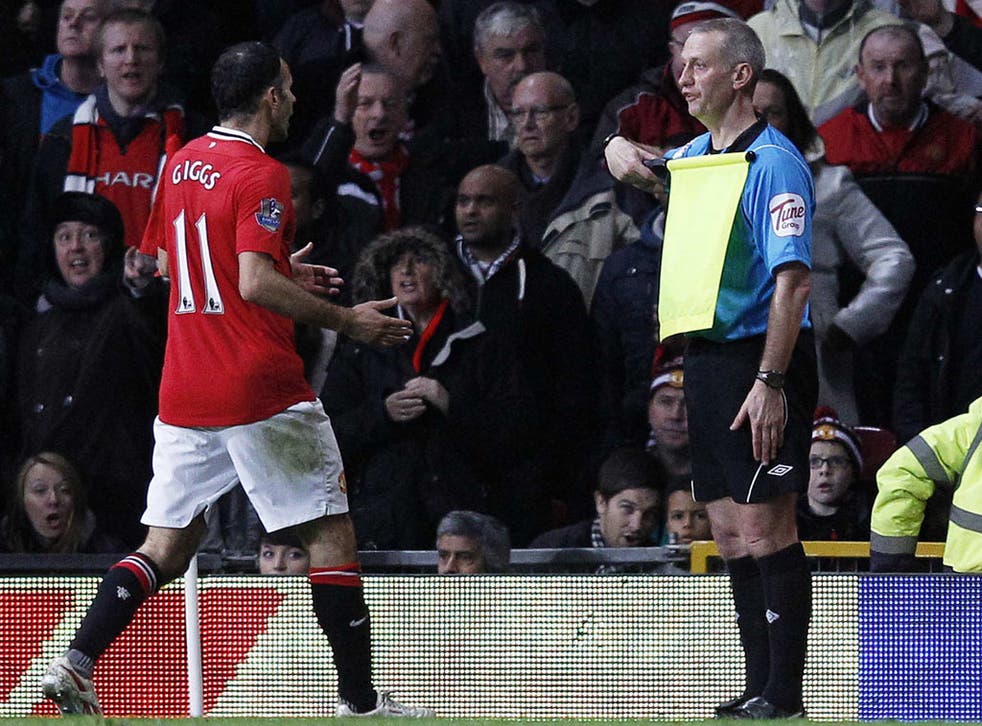 When John Flynn wakes up this morning, the memory of that moment he flagged referee Mike Jones over at Old Trafford on Saturday to tell him, erroneously, that he thought Rio Ferdinand had fouled Hatem Ben Arfa will be hard to shift. But he will not have the option of keeping the curtains shut and staying in bed: he has to go to work.
Assistant referees are effectively the only part-timers in elite English football and as Sir Alex Ferguson tore into Flynn and Jones on Saturday for giving Newcastle United a penalty they did not warrant, even he mentioned it. "The problem is that referees are full-time and the linesmen are not," Ferguson said. "Whether he ever gets a game again, the assistant referee, is not for me to decide but it was an absolutely shocking decision."
Here's another shocking decision: that in 2011, in a league that generates more money than any other in the world, where some players are paid in excess of £200,000 a week, where some are paid that to train with the reserves, assistant referees are part-time.
In Spain, assistant referees earn a salary of €50,000-€65,000 (£43,000-£56,000) for 20 games a season. In the Premier League they earn £600 per game. And as Flynn is probably about to find out, the group of assistant referees are not guaranteed to be assigned a game every week so they have no option but to continue with their day job.
These men and women are being asked to make decisions that have huge consequences. They face the kind of public scrutiny that many junior Cabinet ministers will never have to experience. Their decisions are pored over in HD and super slow-mo. Get it wrong and, as on Saturday, they face the kind of prime-time excoriation that few people in British public life ever have to experience.
Yes, it was a rotten decision by Flynn. Yes, it was made worse by the fact that he talked Jones out of making the right decision, giving a corner, in order to award Newcastle the penalty. But that phrase beloved of modern coaches, "the no-excuses environment" in which nothing in terms of preparation is left to chance, does not exist for the under-paid, under-appreciated assistant referees of this country.
Assistant referees like Flynn and Sian Massey do not run the line to get rich. They do it because, like the rest of us, they love the game and – in their case – they have achieved a level of excellence in their specialism. But if we expect them to work in a professional game, then they need to be treated as professionals.
A full-time salary is the least they deserve. The 18 select group Premier League referees are all paid a working wage. It enables them to prepare for matches, to rest and to do their research. Most importantly it means that when Friday comes they are not driving home tired from a week's work and praying their judgement is not skewed.
Flynn is an RAF flight sergeant. It sounds demanding but at least he has employers who, one imagines, can see the benefits that his second job has in terms of reflected glory for their organisation (although unfortunately not this week). Others will not be so lucky. They have to use up holiday allowances and beg for unpaid leave. Those that are good enough to be promoted to Uefa competition will find it a double-edged sword.
Earning around £600 for 90 minutes work sounds like a lot of money (unless you happen to be Tevez). Given the demands of being an assistant referee upon a normal working career that hardly represents a commitment from the football authorities.
This is English football in 2011: multi-millionaire footballers and managers berating the man who earns £600 a week and has no public forum in which to defend himself. Come the end of the week when the referees and assistants' list is announced for next week's fixtures there will no doubt be much self-righteous approval when Flynn, and possibly even Jones, are dropped.
As a trade union man himself, Ferguson will recognise the unfairness of the situation. In fact, it was telling that even in the midst of his post-match recriminations he still acknowledged it. It would not happen in his world. There is more chance of him accepting a Conservative peerage than a member of the United staff not being afforded the right conditions and wage to do their job.
This is a debate about fairness. It is also one about how seriously English football – the clubs in the Premier League and Football League, and the Football Association – values a group of people who shoulder a huge amount of responsibility on a match-day but are not given the same chance to prepare as the professionals.
The Premier League told me yesterday that their match delegates judge 92 per cent of decisions made by assistants as correct. That is a credit to the individuals involved but it does not justify keeping them part-time. The League also said assistant referees are afforded the same coaching and analysis opportunities as match referees. Which sounds like even more time off work.
The old argument is that the likes of Flynn are not forced to take the job, with the added sneer that these are people who are only in it for the thrill of bossing around famous footballers. Maybe the assistant referee fraternity should take the detractors at their word and down flags for a weekend. Then we would see how much the richest League in the world needs its poorest-paid participants.
Far too soon for answers, so remember a great career
So recently after the event, and with so little information as to why he took his own life, it is far too soon to draw conclusions on the sad death of Gary Speed. He had a great football career. Having emerged with that Championship-winning Leeds United team of 1992 he was, like Ryan Giggs, part of that new generation of 90s footballers who seemed more modern, more cool, than their older counterparts.
Famous managers signed him, including Kenny Dalglish. That his first two jobs in management were Sheffield United and then the Wales national team showed that his standing in the game was significant. But none of that takes us any closer to why he took his own life. In fact, yesterday's sad news demonstrates how little the public achievements of the players we scrutinise so closely counts in relation to their private lives.
Truth hurts – but we need a lot more of it
Reading the extracts from the leaked RFU reports into England rugby team's World Cup debacle I found myself appalled but also exhilarated. This was English rugby's worst day, the whole RFU machine had failed, the coaches were ineffective and the players were at each other's throats. But at least they were coming clean with their true feelings (albeit in the belief it would stay private).
It was the kind of honesty that prevents similar mistakes being repeated and, goodness knows, the England football team could do with a dose of it. Too often over the last decade they have staggered on with the same old problems. The truth comes out in the end but it is too late. Gary Neville's recent autobiography is a treasure trove of stories about the failings – and occasional successes – of the FA's England programme. It is a pity they were not highlighted at the time.
Join our new commenting forum
Join thought-provoking conversations, follow other Independent readers and see their replies