Simon Hart: Gareth Ainsworth does things his way with Wycombe Wanderers
Life Beyond the Premier League: His first steps in management call to mind a certain Jose Mourinho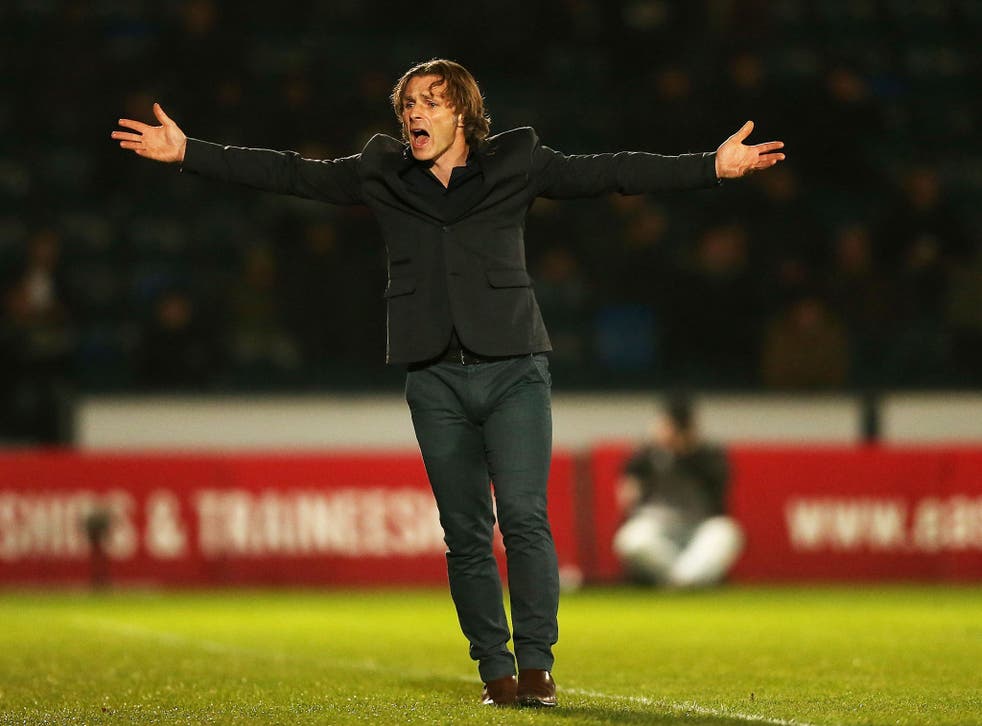 A group of players in their wellies in a field in France is not your typical picture of footballers on tour but at Wycombe Wanderers they like to do things differently.
The League Two leaders' coach trip to the Somme battlefields in October included a stop in Longueval, where Gareth Ainsworth, Wycombe's manager, had himself helped unveil the Footballers' Battalion Memorial back in 2010. As he tells The Independent, he was heartened by his players' response: "They all thought we were going to La Manga or Dubai when I asked for their passports but they really did me proud and the club proud."
That trip was just one of the monthly "development days" which Ainsworth and Wycombe's new chairman, Andrew Howard, have introduced with the aim of broadening minds at Adams Park. "[There are] kids who think they've made it because they've got a nice car in League Two and we're trying to give them a bit of reality," explains Ainsworth, who more recently took them to the chairman's ice-cream factory.
Howard is owner of Beechdean Dairy Farmhouse – and also a British GT3 driving champion – and his vision and support since taking over the running of the club in June have helped Ainsworth turn around Wycombe's fortunes after last May's scrape with relegation to the Conference, when only a final-day win at Torquay saved them.
Ainsworth, who made more than 100 appearances for each of Preston, Lincoln and Queen's Park Rangers in a career spanning all four divisions, became Wycombe player-manager in November 2012, yet says he "needed last year to make me the manager I am this year. I learnt about people I could rely on."
The release of 10 players from a fractured squad was one important step, and so too the change in his own approach. "Gaz the manager, the ex-team-mate" has become "Gaffer". "That was the first thing I addressed – the discipline," the 41-year-old says. "I keep my distance now but have got three or four boys in the dressing room who run it for me," he adds of a group comprising the long-serving Matt Bloomfield, Steven Craig and Ainsworth's two key summer signings, captain Paul Hayes and Peter Murphy. The latter pair are also leading scorers in a team whose willingness to "take risks away from home" – something he sought Roberto Martinez's advice on – has yielded the most away wins (seven) in English football this season.
Ainsworth has also taken on board the words of his old friend Neal Ardley, the AFC Wimbledon manager whom he will face in the FA Cup on Sunday. Ardley helped destroy his clothes on Ainsworth's first day at Wimbledon in 1998 – "My trousers got burnt but John Hartson signed after me and his whole suit went up in flames so I was lucky!" – but their phone conversation on the morning of the Torquay game has stuck in his head. "He just reassured me of what I was thinking – to take the emotion out of the occasion. It's one thing I've learnt from that day."
Ainsworth's first steps in management call to mind a certain Jose Mourinho. As a QPR player, he was studying physiotherapy when he began helping translate the instructions of Luigi De Canio, the club's Italian manager. "He didn't speak English and I speak Spanish because my wife is South American so I was the translator and sort of fell into it. At the end of that season he said, 'Get on your coaching courses because you will make a great coach'."
In a tumultuous 2008-09 campaign Ainsworth ended up taking caretaker charge after the sackings of both Iain Dowie and Paulo Sousa. Working for Rangers' then owner, Flavio Briatore, was a baptism of fire. "He would pay money for players and say, 'Why aren't they playing?' He was never picking the team as was reported but I would get more phone calls than I would be comfortable with."
Life at Wycombe has its own challenges. "We have a staff of five. I've got 23 players and three are goalkeepers. There is no youth team, no reserve team, one scout, one kitman and that's about it." There is a wish to reinstate the youth set-up, disbanded by the supporters' trust which owns Wycombe to cut costs, but in the meantime Ainsworth remains a registered player just in case. "The staff here think at some stage I will probably be used. I still play Sunday league [for his village team] just to keep fit."
Even without him on the pitch, though, Wycombe are finally displaying the virtues he once embodied as a winger who overcame rejection by boyhood team Blackburn and would run through brick walls for the cause. "I managed to get as high as I could with sheer grit, hard work and determination. It is crazy how some are willing to work harder than others and it's difficult to understand but it doesn't happen at Wycombe Wanderers any more."
Join our new commenting forum
Join thought-provoking conversations, follow other Independent readers and see their replies