Terry McFlynn retains Sydney FC captaincy ahead of Alessandro Del Piero
Nick Mulvenney
Tuesday 18 September 2012 11:24 Comments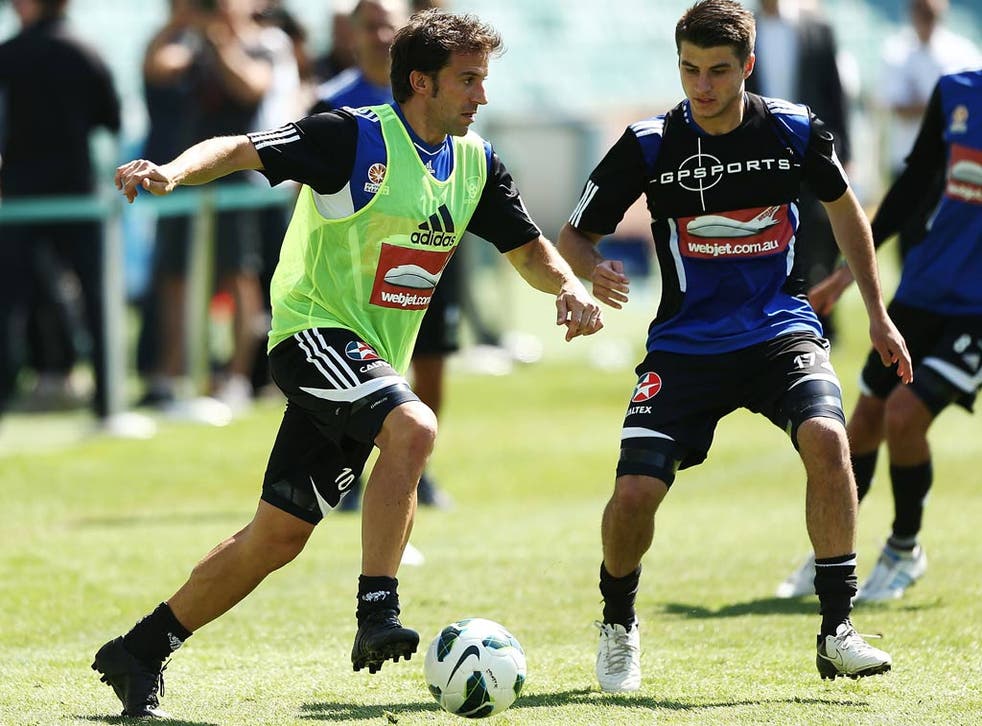 Italy great Alessandro Del Piero will not captain Sydney FC this season but will be expected to play a leadership role within the A-League club, manager Ian Crook said today.
The former Juventus skipper, welcomed with chants of "c'e solo un capitano" or "there's only one captain" at Sydney airport at the weekend, took to a sun-bathed Sydney Football Stadium on Tuesday for his first training session.
"It was supposed to be a short and sharp one but everybody is trying to impress, I suppose," Englishman Crook told reporters at pitchside.
"He's obviously got some great touches. He's still struggling a bit with the jet lag but in a week to 10 days, he'll be over that.
"He's a fantastic fellow. Today, he wasn't going to do a lot but, as you saw, he stayed to the end of the session."
The 37-year-old Del Piero has signed a two-year contract worth A$4 million after being released at the end of his 19th season with Juventus and is expected to transform the fortunes of the sport in Australia.
Crook said World Cup winner Del Piero would be expected to share the knowledge born of playing at the top level of football for nearly two decades but that midfielder Terry McFlynn would retain the captaincy.
"The captaincy will stay the same, he'll come into our leadership group ... but certainly things won't change with the actual armband," he said.
"We'll sit down with him tomorrow and explain how we can work with him, as one of the squad. He's one of 22 in our squad, obviously a special member, but he's one of 22.
"If we're going to succeed, we're going to succeed as a group."
McFlynn, whose career before he moved to Australia was mostly played in the lower reaches of the English game with Woking, Margate and Morecombe, said he had no doubt that Del Piero, who won 91 caps for Italy, would fit in.
"When you walked in the dressing room this morning there was and a smile on everyone's faces and a buzz about the place," the Irishman said.
"He's a world class footballer, he's played at the level he has for a sustained period so it's more about fitting in around him if anything."
McFlynn had offered to relinquish the captaincy if that had been in the interest of the club after hearing that Del Piero would be coming to Australia.
"I'm honoured that the manager has decided to keep me as captain of this football club," he added. "I had a quick word with Alessandro this morning. My focus has always been on the success of Sydney FC."
The eighth season of the league begins in early October with Del Piero likely to make his debut against Wellington Phoenix in New Zealand on October 6.
Reuters
Register for free to continue reading
Registration is a free and easy way to support our truly independent journalism
By registering, you will also enjoy limited access to Premium articles, exclusive newsletters, commenting, and virtual events with our leading journalists
Already have an account? sign in
Join our new commenting forum
Join thought-provoking conversations, follow other Independent readers and see their replies