Jose Mourinho to Manchester United: Trouble ahead if United opt for Mourinho, but can they afford not to?
Football Matters: Jose Mourinho ran up a whopping crimesheet during his second spell with Chelsea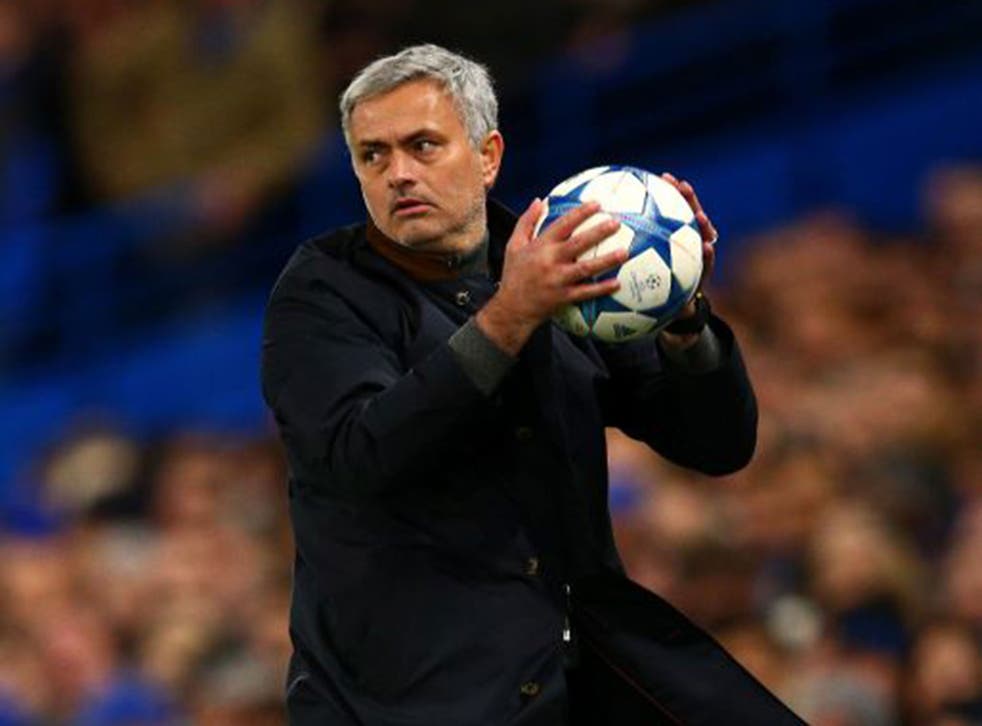 It may prove to be no less fleeting than the Christmas Truce, but Jose Mourinho's absence from English football will not be mourned by those charged with policing it.
Those within the Football Association's disciplinary unit, for instance, will be able to enjoy some downtime over the festive period without worrying about an intrusive text message relaying news of another rant about the referee by the former Chelsea manager or a phone call about an off-the-ball incident involving one of his players.
Without Mourinho prowling a Premier League technical area for the foreseeable future, the FA's Respect campaign, designed to educate and prevent unacceptable behaviour in football, may also receive a shot in the arm if only because attention may switch to those who actually adhere to the rules and regulations rather than those who screw them up and throw them into the bin.
How long Mourinho spends in exile remains to be seen, with the 52-year-old's new-found availability leading to inevitable links with Manchester United who, barring a dramatic upturn in form over the next two games, are likely to be looking for a replacement for manager Louis van Gaal.
But whether United choose to pursue Mourinho or decide to turn away from the Portuguese may ultimately come down to the reputation he has forged as a malevolent force on the touchline.
Back in the autumn of 2012, when United were cruising to Sir Alex Ferguson's final Premier League title, the prospect of the Scot being replaced by Mourinho was put to Sir Bobby Charlton, in his capacity as club director, but also as the man who embodies Old Trafford's proud traditions. Charlton, having been reminded of Mourinho poking the Barcelona assistant coach Tito Vilanova in the eye during a heated touchline exchange while he was Real Madrid manager, did not hide his disdain for the self-styled Special One.
"A United manager wouldn't do that," Charlton said. "Mourinho is a really good coach, but that's as far as I would go really. He pontificates too much for my liking."
5 games that cost Mourinho his job
When Ferguson retired the following spring, United chose David Moyes, rather than Mourinho, to take over. Time has altered the narrative, but back then, the message from Old Trafford was that Moyes not only possessed the credentials, but also the character, to do the job and that Mourinho was never the right fit.
If that was truly the case, Mourinho's last two and a half seasons at Chelsea have done little to disprove Charlton's viewpoint, although they have at least bagged a couple of trophies for the Stamford Bridge cabinet as compensation for all of the off-field issues that have accompanied Mourinho and his particular brand of management.
At times, the slightly built, stylish son of Setubal has resembled Gyp Rosetti, one of the more villainous characters of Boardwalk Empire, returning to Chelsea with his loyal henchmen – coaches Rui Faria and Silvino Louro – and raising Hell before being driven out of town and coming to a grisly end at the hands of those who had grown tired of his appetite for confrontation.
Faria and Louro both had their brushes with the authorities during Mourinho's second spell as Chelsea manager, with Faria receiving a four-game stadium ban – reduced from six on appeal – and £30,000 fine for using abusive and/or insulting words towards fourth official Phil Dowd and refusing to leave the technical area during a game against Sunderland in April 2014. Louro was charged with improper conduct, but escaped punishment, following an incident in the defeat at West Ham in October.
That game infamously resulted in Mourinho receiving a one-game stadium ban and £40,000 fine for verbally abusing referee Jon Moss in the officials' dressing room at half-time. But that incident was only the tip of the iceberg for Mourinho and the FA, with his charge sheet over the past two years as follows:
In March 2014, he was fined £8,000 and warned as to his future conduct for entering the field of play and approaching the referee in a game against Aston Villa. A month later, Mourinho was fined £10,000 for post-match media comments about the match officials.
In December 2014, there was a £25,000 fine for more post-match comments, this time his suggestion of a "conspiracy" after a game at Southampton.
Fast forward to October this year and Mourinho was fined £50,000 and given a suspended one-match stadium ban for post-match comments after the home defeat against Southampton.
Mourinho escaped sanction following his clash with Chelsea doctor Eva Carneiro in August, with the FA finding he had no case to answer, but that issue could yet be subject to legal proceedings.
During 2015, Chelsea as a club have been fined on three occasions – £30,000, £40,000 and then £50,000 – for failing to control their players against Everton, Arsenal and West Ham respectively, while Diego Costa (twice) and Ramires have served suspensions as a result of retrospective action for incidents unseen by the match officials.
Jose Mourinho's season in quotes

Show all 10
For a club determined to project the image of the well-run, progressive outfit that it is, Mourinho's Wild West style of management has been good for Chelsea only in a silverware sense, but without the success, the snarling and petulance is less easy to stomach.
It is not a new phenomenon, though. The dark arts have never been far from the surface when Mourinho has enjoyed success, with Martin O'Neill insisting only last week that he has still not forgiven the then-Porto manager for the gamesmanship and time-wasting employed by the Portuguese club during their Uefa Cup final triumph against Celtic in 2003.
If they sack Van Gaal, United may be forced to confront the Mourinho question and ask whether he really is worth it.
But when Ferguson left, United were champions and they could afford to be choosy. Two-and-a-half years on, the landscape is different and desperation is creeping in at Old Trafford, so Sir Bobby may have to accept the unacceptable and hope that Mourinho's troublesome days are behind him. It will be a forlorn hope.
Despite sitting top of Serie A Mancini is the forgotten man
It takes a long time for a manager to rebuild his reputation when his departure from a club is accompanied by accusations of having "lost the dressing room" and few have dropped off the Premier League radar quite so dramatically as Roberto Mancini.
Sacked just a year after guiding Manchester City to the title in 2012 after one row too many with his players, Mancini now sits atop Serie A with Internazionale, but he has not even come close to being touted for the big jobs at Liverpool and Chelsea this season, despite being determined to manage in England once again.
Bolton's plight a warning to small clubs 'living the dream'
Bolton Wanderers were once regarded as having drawn the blueprint for clubs aiming to punch above their weight in the Premier League, but while Leicester City and Watford are doing exactly that, the trendsetters are now staring into the abyss at the foot of the Championship.
In debt to the tune of £173m and facing a winding-up petition next month, Bolton last week experienced the ignominy of showing Lancashire neighbours Preston North End around their Euxton training ground to discuss its possible sale. Bolton's fate should be a warning to all those clubs currently "living the dream" in the top flight.
Join our new commenting forum
Join thought-provoking conversations, follow other Independent readers and see their replies