This time it's John Terry who refuses to shake hands as Chelsea captain snubs FA chairman David Bernstein at Champions League trophy handover
Chelsea captain in public rebuke of FA chairman during handover of trophy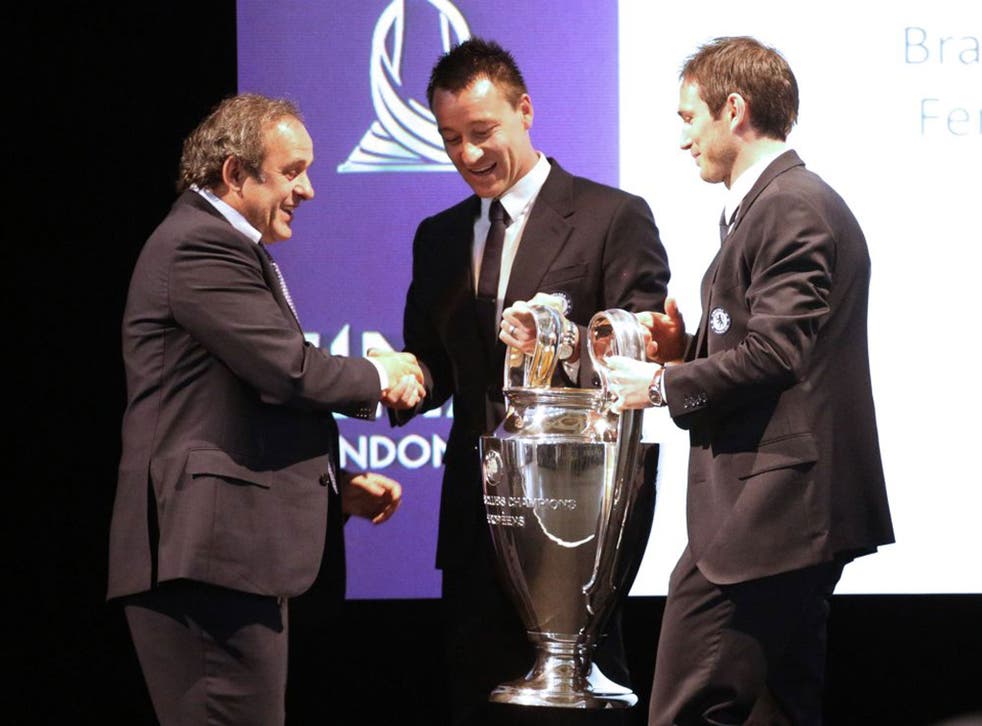 John Terry refused to shake hands with David Bernstein, chairman of the Football Association, at a high-profile event in London to mark Chelsea handing over the Champions League trophy the club won last season.
It was Bernstein who took the decision to strip Terry of the England captaincy in the build-up to the Chelsea captain's trial on charges of racially abusing Anton Ferdinand. Terry was found not guilty but a separate FA hearing, conducted by an independent panel which saw him fined and banned for four games.
Terry was one of a number of Chelsea players who attended a formal ceremony in the historic surrounds of Banqueting House in Westminster – the venue for Charles I's execution – along with Michel Platini, Hugh Robertson, the Sports Minister, and other FA and Uefa officials to begin the countdown to the Champions League final, hosted at Wembley next month. Bernstein shook hands with Frank Lampard and other Chelsea players as he arrived but Terry kept his hands by his side. Questioned after the ceremony, Terry admitted he had deliberately sought to avoid shaking hands with Bernstein.
"Listen it's a difficult one for me," Terry said in an interview with Sky Sports. "Obviously he was the one who spoke about me in the court case and said things I don't want to talk on air [sic]. It's probably a subject that we should maybe just avoid."
Bernstein claimed not to have noticed Terry's refusal. He said: "I think we should talk about more positive things than that sort of nonsense."
Asked how he would describe his relationship with Terry, Bernstein said it was "a little distant".
"I'm not really terribly concerned to be absolutely honest," he said. "I've got other things to think in my last few months [as chairman], I've got other priorities."
Throughout the drawn-out process of Terry's trial and later FA hearing, conducted by an independent disciplinary tribunal, Bernstein went out of his way to attempt to keep the governing body at arm's length from the process. The chairman, who steps down in July, played no personal part in either the court case nor the FA hearing. This is not the first time the refusal to shake hands has arisen in connection with the saga. Anton Ferdinand refused to shake hands with Terry or Ashley Cole before a Premier League game last year. In a different saga altogether before that, Wayne Bridge memorably snubbed the hand of Terry.
Bernstein and the FA's general secretary, Alex Horne, were also forced to defend the FA's decision for this year's Cup final to kick off at 5.15pm, despite the travel problems that would pose Wigan and Manchester City fans in getting home afterwards.
"There will be a number of millions more watching [on television] at 5.15 than 3pm and that is an important factor," said Bernstein. Horne said: " We think the time is right and reasonable for travelling supporters."
Join our new commenting forum
Join thought-provoking conversations, follow other Independent readers and see their replies