Tommy Docherty interview: The Doc who put Manchester United down...
...but then rebuilt them with thrilling, attacking football. Tommy Docherty tells Ian Herbert about relegation, struggling in the shadow of managers past and 'being sacked for falling in love'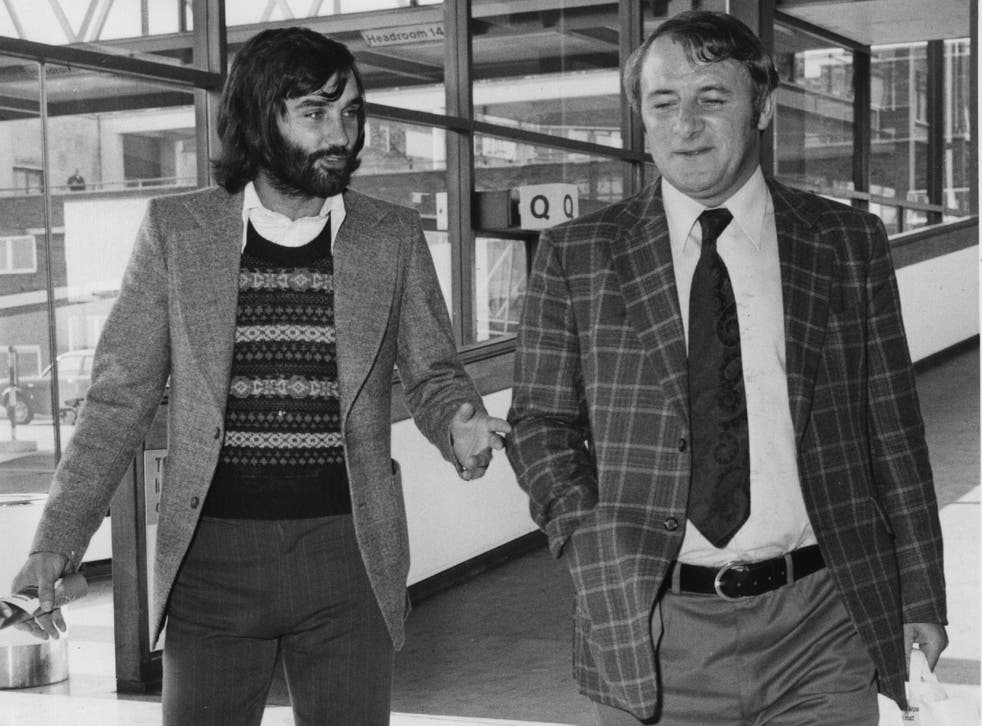 "Ah, the alleged relegation back-heel," says Tommy Docherty. It's precisely 40 years since Denis Law made the most legendary six-yard box intervention in a Manchester derby and the manager who was on the receiving end still keeps hearing that it sent United down to the Second Division.
It didn't, of course. They would have been relegated for the first time in 37 years, in any case, because Birmingham beat Norwich, though even now Docherty tells himself he should have known there would be consequences, when he defied Sir Matt Busby and insisted that Law should be given a £5,000 tax-free pay-off and sent on his way to Manchester City, on a free transfer. "That's the amazing thing about football. Ex-players come back to haunt you," says Docherty, aged 86 now but with memories as vivid as ever, as he talks over the din of the workmen who are getting to grips with his new home at Marple, looking out to the Pennines on Cheshire's Derbyshire border.
The other kind of haunting that Docherty experienced at that time has never been lost from his mind, either. He encountered the ghost of United's 1968 European glory and the spectral presence of the Scottish manager who had helped them achieve it, when he was offered the chance to manage the great club in 1972. If David Moyes and Louis van Gaal have felt the weight of Sir Alex Ferguson's presence in the past 18 month, then they might consider how it was for Docherty, rebuilding the team and moving on George Best, Bobby Charlton and Law, with Sir Matt Busby very much in the building. Docherty was plain "Tom" to Charlton and others in the old guard and if they weren't happy with him "they would go straight upstairs to see Sir Matt," he relates. When he would ask where Willy Morgan had got to, the answer would come back: "With Sir Matt at a club in town."
And amid that battle for control came the shame of relegation, those four decades ago. "One minute I had got the United job and I was standing in the centre of the pitch, looking around and humming the lyric 'You were meant for Me,'" Docherty says, remembering the Singing in the Rain number as if it were yesterday. "The next minute I knew I would always be known as the man who took United into the Second Division."
Some of the younger players were convinced that would, indeed, be that. "It's a miracle that he wasn't sacked," the late Brian Greenhoff reflected of Docherty, whom he loved, in his memoir. But Busby called Docherty for a meeting, handed him a case of champagne and told him to get on with the job he'd started. "I was disappointed of course," Docherty says. "Not with the champagne. With the relegation. I felt we could have done better than that."
His reputation as a purveyor of one-liners and opinions over the years has obscured the more subtle story of how remarkable his accomplishment was in 1974, at the heart of a United establishment in which he had seemed to be an outsider.
"Didn't that make you…?"
"Insecure?" Docherty replies, finishing my question. "Yes. You can't let it overwhelm you."
Docherty did manage to banish the kind of paranoia Sir Alex Ferguson felt in his early Old Trafford days and secured immediate promotion back to the First Division with a thrilling new brand of football. The full size of the accomplishment will be remembered in a new book on that season, entitled simply 74/75, by the United historian and writer Wayne Barton, which will be published next year.
The book takes us back to Docherty's prolific 4-2-4 system, which was born out of a combination of Steve Coppell and Gordon Hill's arrival at the club and Docherty's own desire to play the two-touch football he'd been brought up with in the Preston North End side, alongside Tom Finney.
To hear Docherty's account now of what unfolded that winter as United took the Second Division by storm is to be reminded of the extraordinary element of chance in football. Coppell and Hill – the two wide men in the 4-2-4 – were signed purely on the recommendation of the late, great Jimmy Murphy, Busby's assistant who was still around to help Docherty. Murphy would preface his telephone calls to Docherty with the words: "Tom, it's Spud" – that being his nickname. "Tom, it's Spud," he said one evening in 1973 after watching Coppell perform in one of Tranmere Rovers' Friday night matches. "Buy Coppell, Tom. Buy Coppell or you'll lose him." And Docherty did. "I'd never seen either of them," he says.
What a team they played in. "There wasn't a hard or aggressive player among them but they were just technically very, very good," Docherty recalls. "They used their speed and energy to their advantage." In his introduction to the book, Docherty describes his players as "flies around a sugar bowl when the other team had the ball. We'd hurry them into mistakes. Home and away, we played the same way." The testimonies of Greenhoff, Sammy McIlroy – who recovered from the psychological and physical damage he sustained in a bad car crash before the 1974-75 season – and Gordon Hill draw comparisons between that United side and the recent Barcelona. Granted, it was only the Second Division. But ask any United fan who watched them that season how dizzying the experience was.
For all United's majesty late in 1974, winning seven and drawing two of their first nine matches, Docherty, or "The Doc", suffered anxiety that the early promise of the 4-2-4 in the relegation season would not be fulfilled in the second tier. "It was the longest pre-season ever," he relates. "We just wanted to get about it and see that we could be above that level."
His programme notes from the first home game of that season, against Millwall, offer no promises about United going straight back up. "I would dearly like to answer that with an unqualified yes, but soccer has a nasty habit of wrecking bold predictions," he wrote. United won 4-0. "We knew," he says now. "We quickly knew. We were beating everyone. We had hiccups but we started too well to be undone by too many doubts."
The return to the top flight again was part of a narrative which saw United reach the 1976 and 1977 FA Cup finals, before his own elopement with the wife of the then United physiotherapist prompted United to sack him. He married Mary and they are still together more than 30 years later. The way the relationship was characterised seems to have hurt him more than anything. He has fallen out of love with United. "I'm the only manager to be sacked for falling in love," he says, watching Mary organising outside their new home.
Some of the very many old Docherty jokes could be told when United were back at the top. "There are three types of Oxo cube," goes one. "Light brown for chicken stock. Dark brown for beef. And light blue for laughing stock." But he wasn't laughing when Law put the ball in with his heel that day. "I knew what it meant. I saw it in every person you passed," he reflects. "It was as bad as relegation."
Law was 'inconsolable' - the goal that still hurts
Although, as Tommy Docherty confirms, Denis Law's back-heel goal in 1974 did not send United down, "The King" thought it had and left the field at the end of that derby heartbroken.
After 11 years at Manchester United he had joined City the previous summer. "I was inconsolable," he says. "I played with all those guys. They were pals. I didn't want them down. It was the last thing in the world I wanted. It didn't feel good."
And although Law broke two British transfer records and won the Ballon d'Or, he admits he will always be known for "that goal". "It's always there," he says, "and that's a shame."
DOCHERTY DETAILS - player and manager CV
Born 24 April, 1928, Glasgow
Playing career
1947-49 Celtic
1949-58 Preston
1958-61 Arsenal
1961-62 Chelsea
25 caps for Scotland, 1 goal
Managerial career
1961-67 Chelsea
1967-68 Rotherham
1968, '79-80 QPR
1968-70 Aston Villa
1970-71 Porto
1971-72 Scotland
1972-77 Man United
1977-79 Derby
1981, '83 Sydney Olympic
1981 Preston
1982-83 South Melbourne
1984-85 Wolves
1987-88 Altrincham
Honours
As player: 1 Glasgow Cup (1949), 1 Second Division (1950-51)
As manager: 1 League Cup (1964-65), 1 Second Division (1964-65), 1 FA Cup (1977)
Join our new commenting forum
Join thought-provoking conversations, follow other Independent readers and see their replies