The tragedy of a young talent who could not handle failure
Reece Staples' death in custody at 19 gives a sorry lesson to football on the care of those who fall by the wayside, writes Ian Herbert
The tragedy of a young talent who could not handle failure

Show all 6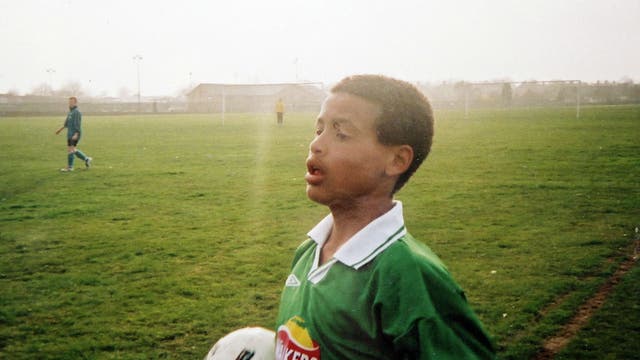 His life ended in unimaginable terror, though for a time it radiated only brilliance.
"The next big thing," is how a Nottingham Evening Post banner headline once described the young Reece Staples, above an assessment which warned the city not to expect him to hang around outside the big time.
The story of what happened next, when the promise and the floodlights dimmed, is a salutary one for a sport which builds young men up and, more often than not, spits them out.
Without fanfare, an inquest at Nottingham county hall into 19-year-old Staples' death has revealed his struggle to find a foothold in the game after his release by Nottingham Forest, midway through the 2008-09 season, and his fall under the influence of a girlfriend, Kylee Hodgson, who it is said organised a trip for them to Costa Rica to smuggle cocaine into Britain by swallowing it. Hodgson felt too ill to swallow any packets herself but Staples took in 19, one of which burst en route back to Nottingham. Reeling under the effects of an intake 10 times the potentially fatal dose , he was arrested in June 2009 by Nottinghamshire police officers, whom he told he had "swallowed some coke" and feared he was "going to die." They did not believe him. His last conscious moments, hours later, were on a police cell floor – convulsed and terrified.
His name may trigger recognition in football because when he was displaying wonderful bursts of pace and a languid, effortless touch at Under-11 level for Notts County – reminding the club's youth development officer Trevor Powell of Ryan Giggs – everyone wanted to know him. There was a trial at Blackburn Rovers, a club he did not really take to, but a far more promising visit to Arsenal, where Liam Brady, the club's head of youth development, sat down in a room with the then 14-year-old's mother, Clair Dunne, and told her that if he was to take up a place in the academy then she would have to move to north London.
"We thought about it," Dunne told The Independent this week, never far from tears as she contended with the "what-ifs" of her son's death in the inquest family room. "But none of us were sure it was the right step. He would have had to fight for his place every week against so many players."
Everyone would have moved heaven and earth if his two-week trial at Manchester United's Carrington academy had yielded an offer. "He played table tennis with Cristiano Ronaldo and he was thrilled that Rio Ferdinand and Wes Brown high-fived him," his mother said. "He really thought they would take him on."
Forest were the ones who gained. The club made him one of their highest earners at his age range to bring him from Notts County, who evidently put up a substantial fight. "We paid a lot of money to Notts County to bring him in," said Forest's academy director, Nick Marshall. "He was a left-winger, quick, an Aaron Lennon type of winger."
The year or two which followed were Reece's halcyon days. There was the FA Youth Cup performance against Reading, scoring the winning penalty after a 2-2 draw, and a display against Manchester City which was a sobering occasion for Micah Richards.
It was after Reece, at 17, had been awarded a two-year scholarship that things began to unravel. He was always a player who relied on pace and instinct – "an off-the-cuff player who had an ability to go past people," as Marshall puts it – rather than one blessed with a deep game intelligence, and that role cuts no slack to a teenager. "You can't give what Reece had to people, but as you get older it gets much harder to keep advancing through the age groups," Marshall said. "As an Under-18 you are playing against boys of your own age and younger than you. Then suddenly you might be playing someone five years older than you. Reece's pace in comparison with the opposition was starting to reduce. Other people started to catch him up a bit and he started to struggle. With the game that he had, that was a big problem."
An incident which occurred after Staples had moved out of the club's hostel and back home came at the worst possible time. He returned from a Christmas break with damage to his leg and told the club he had been walking back from a New Year's Eve party when he was attacked and stabbed. The injury put him out for a six-month period at a critical time for his own development. "You don't know how an injury like that is going to affect his running mechanics or his pace," Marshall said.
His mother sensed his internal struggle. "He was only being picked every other game and that was frustrating him," she said. "You'd pick him up afterwards and he'd say, 'I'm fine'; but I think he found it hard to say, 'I'm struggling a bit', because he had only done so well. It's that thing about when you do well in sport – you seem to be put on a pedestal. He'd been back to his Catholic primary school to do a talk with the kids. He won a Young Black Achievers award. After all that attention, he found it very hard to fail."
A trial at Yeovil Town was in the offing when his life reached its devastating end, though that was more in hope than expectation for a player whose last competitive action had come at non-league Carlton Town, where he had tried to keep his eye in, but injured his back. The drinks in the bus on the way home from games apparently reminded him of how far he had fallen.
His death has posed some searching questions of a police system which, the Independent Police Complaints Commission found this week, failed Staples. We know about him because he happened to be a footballer. Others, like Jake Hardy and Alex Kelly, remain known only to their families: 21 people died in custody last year. But the lesson is for football clubs to do more to prepare young players for failure, his mother believes.
"There is something they can put in place," she said. "Most of these boys are vulnerable. Nottingham Forest looked after him very well and they were a safety valve, but then he was released."
The safety net is stronger at some clubs than others. The parents of boys who enter the Under-14 age group at Manchester City have the security of knowing their sons will be privately educated at the local St Bede's College and emerge at the same educational level as any other aspiring 16-year-old. Forest also work on "life skills" with their young players and have two of current scholars at Stanford University. But there are no guarantees in life.
Forest's education officer Jim King – who, by a sad coincidence, was laid to rest on Thursday – tried to contact Staples to resume the education programme Forest had started with him. Hodgson, jailed for cocaine importation last year, appears to have answered the phone. "His girlfriend told us in very firm terms not to keep attempting contact," Marshall said.
The onus is not only on clubs. "We all know that in football only the chosen few reach the peak and it's our duty to prepare those who will fall off," said Manchester City's academy manager, Mark Allen. "But the scholar must want to prepare as well."
Nottinghamshire Police have described their failures in the case as "unfortunate" and "regrettable" and drawn up new guidelines. But Reece Staples' life less ordinary is one for football to contemplate too.
Join our new commenting forum
Join thought-provoking conversations, follow other Independent readers and see their replies