Uefa 'rewrites the rules' to allow Manchester City to dodge FFP sanctions
Other clubs bemused as governing body seems to bow to fear of legal action and relaxes rules on home-grown players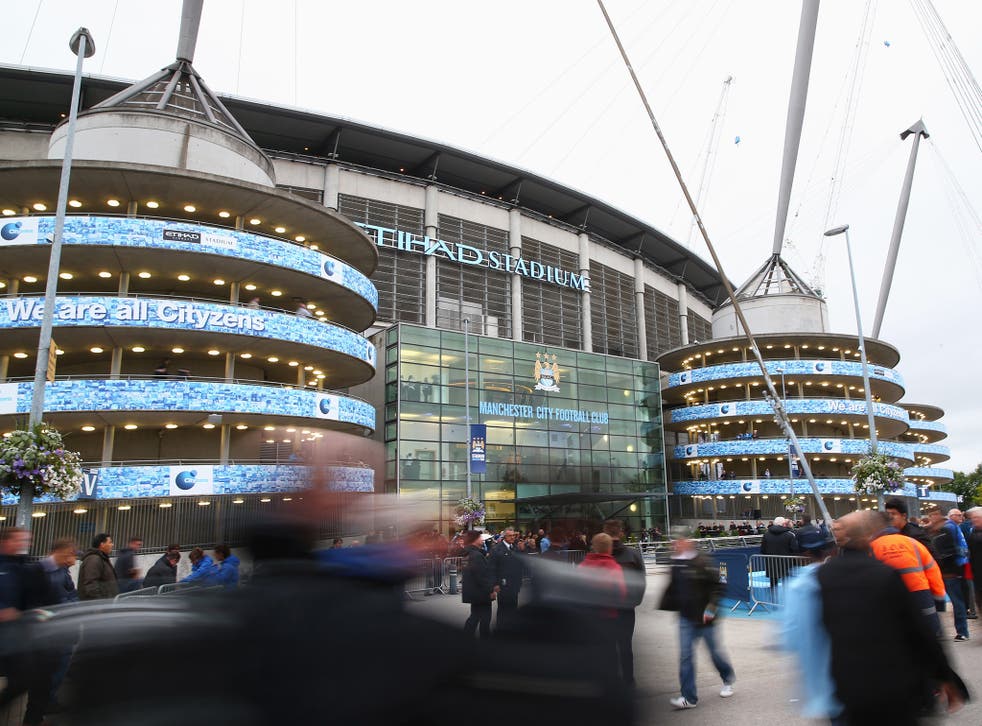 The threat of legal action against Uefa has enabled Manchester City to field only one club-trained player in their Champions League squad which goes into action against Bayern Munich next week – three fewer than Arsenal, Chelsea and Liverpool – despite having failed the governing body's Financial Fair Play rules.
To the bemusement of other English clubs, who must include four players they have developed themselves in their European squads, the only club-trained player in City's squad is Dedryck Boyata – a Belgian signed as a teenager and developed by the club.
The Independent understands that the player union Fifpro has been involved in the slackening of restrictions on City, possibly pressing Uefa to allow City fewer home-grown players by indicating that the governing body could be guilty of creating a restriction of movement for players with a more stringent regime. That could result in a complex legal action.
City were initially ordered by Uefa to reduce their Champions League squad from 25 to 21 players, as punishment for breaching FFP rules. As those rules were introduced to encourage self-sufficiency, it was thought that would mean City complying with the same strictures as other clubs. That would mean 13 overseas players could be fielded, with four "club-trained" and four "association-trained" players like all the rest.
But Uefa then quietly agreed that City could reduce their non-overseas quota to five, to compensate them for reduced squad numbers. It was the publication of City's squad list at the weekend which revealed that the governing body has allowed them to include only one developed at City's own academy among that five. Four of the quota of five non-foreigners are from the easier to find "association-trained" category. They are Joe Hart, James Milner, Gaël Clichy and Frank Lampard.
"Uefa have effectively rewritten their home grown player rule," said Daniel Geey, the football law specialist at the firm Field Fisher Waterhouse, who has advised clients and written extensively on FFP. "There is nothing in Uefa or FFP regulations about the home-grown rule changing."
Fifpro could not be contacted, though Uefa did confirm that the watering down of the most damaging part of City's FFP punishment followed consultation with "concerned stakeholders". Other clubs are reluctant to speak out publicly, but there is a feeling within the game that Uefa has allowed City off the hook. Many inside football believe that Uefa should have reduced City's domestic quota in proportion with the overall squad reduction: from eight out of 25 to six out of the reduced number of 21. "Five out of 21 was not a proportionate reduction," Geey said.
In a statement released to The Independent last night, Uefa said: "As additional information was needed regarding the implementation of this specific sanction in the settlement agreement, there was a subsequent consultation with concerned stakeholders which allowed Uefa to clarify the quantity of home-grown players required for the 2014-15 club competition season."
City said on Wednesday night that they had complied fully with Uefa's rules governing the composition of their squad.
Join our new commenting forum
Join thought-provoking conversations, follow other Independent readers and see their replies