We all live in a Robbie Fowler house… Can Liverpudlians learn about property from the footballer turned buy-to-let mogul?
For £997, a three day session at the footballer's Property Academy can 'teach you how to make money'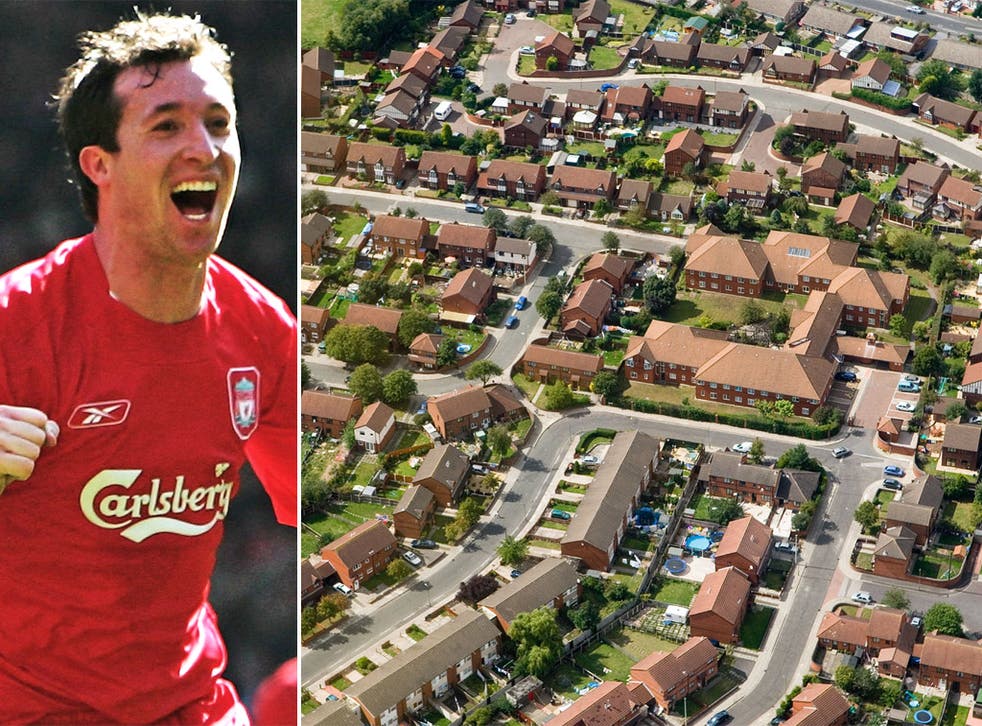 A university education will cost £45,000 these days, and it doesn't teach you how to make money," explains Liam Gilmore, in the windowless basement of a London hotel a long way from any dreaming spires. "The three day session at the Robbie Fowler Property Academy is £997, and it does."
Around 40 people have arrived for the first, free, introductory session of an academy supposedly set up by the former Liverpool and England striker, who as the old terrace chant, "We all live in a Robbie Fowler house," testifies, is now almost as famous for his success in the property market as on the pitch.
A photograph of Mr Gilmore, "Business owner, Trainer, Speaker, Investor", with Fowler appears to be the sum total of the great man's contribution. We are not long into the session before the inevitable sales pitch for the £997 extended session begins, bearing all the classic hallmarks of the self-help industry.
"Has anyone read Rich Dad. Poor Dad?" (Robert Kiyosaki's book is the classic in its field), Gilmore asks. Most of the attendees have. Almost none put their hands up when asked if they own their own property. Soon we are breathing in and out together as a group. Then there is the call to "action" as the word 'OPPORTUNITY' emblazons itself in big green letters on a screen on the back wall. "I was a talker, a thinker, I was sat where you are now five years ago," explains Mr Gilmore, a chap in his early thirties who grew tired of "climbing the corporate ladder, tired of the northern line." Now property investing is just one of the strings to his bow. Soon there are pictures of him at the Grand Canyon, Angkor Wat and overlooking the harbour at Rio de Janeiro.
The recession, he explains, to a room full of diverse people of all ages, but all free on a Tuesday afternoon is, of course, an "opportunity." "What are successful people doing at the moment? Buying. What's Robbie Fowler doing at the moment? He's buying."
Some of it seems to make sense. The old life plan of getting an education, getting a job, getting a house and retiring happily doesn't work anymore. Job security is gone. Pensions being squeezed. People aren't retiring happily, they're clinging on for survival. There are frightening statistics about the indebtedness of the over 65s. You must be "100 per cent responsible for your personal destiny", and that involves doing things differently.
"PROBLEM - I don't have any money," explains Mr Gilmore, with the aid of some powerpoint slides. "The SOLUTION? Become financially literate."
And with a little bit of help from Liverpool's beloved striker, that will only cost you a grand. Haven't got it? Don't worry. Put it on your credit card. That is what smart people do. "Who can say one thing they've put on their credit card in the last twelve months has been an asset, not a liability? Entrepreneurs put their money into assets, not liabilities. Not cars or televisions. Property. Stocks. Education." The three educative days at the Robbie Fowler Academy is apparently an asset. "The knowledge stays in your family and can be passed down the generations. DVDs and books to accompany the course are £497. A 30 minute "strategy phone call" is £250.
The Academy will provide scripts you can follow when ringing up banks that will open lines of credit, and get your rate of interest reduced. Mr Gilmore "agrees with tax. I agree with schools and hospitals," but not inheritance tax, which the Fowler Academy will teach you how to dodge.
A short introduction into the world of property development reveals the tactics are nothing new. Buy a house, put the deposit on a credit card. Sell it. Remortgage it. "More millionaires are created in a recession that at any other time. Fact. Take advantage of the opportunity you find yourself in." But the opportunity in a recession, it is made abundantly clear, is because people are "desperate to sell."
Desperation is there to be capitalised on, is the message made clear to the room, many of whom are about to spend a thousand pounds on three more days of this.
Patrick Nkereuwem, a Nigerian who has been living here for twenty years and owns a couple of properties, is the first to sign up. "I don't think you get anywhere in life with a salaried job," he claims, £997 lighter. "I want to learn about access to lenders. How to get tax breaks."
The course promises "lots of one-on-one time" for everyone. By signing up today, in the room, Mr Nkereuwem gets to bring a friend for free.
Malaika, is a former student who took the course two years ago. She bought five properties in her first year. Today she is processing card payments and stuffing bags full of free gifts.
Liverpool fans still refer to Fowler as 'God', the scouse striker who scored more than a hundred goals for the club in the 19990s and early 2000s. He earned 26 caps for England, and is still the Premier League's fourth highest scorer. But injuries cost him his place in both the Liverpool and England teams to the then breakthrough young player Michael Owen, and he moved on to Leeds United and Manchester City before brief stints with teams in Australia and Thailand.
"When I first started I didn't know much about the property world but I had some good advice from people who did," Fowler said of his decision to start the academy, which is in fact run by Tigrent Learning, a company that runs similar courses in "building wealth" and teaching people to trade.
"It was by putting that advice into practice that made my business go from strength to strength. It doesn't matter what state the market's in, there is always money to be made as long as you get the right education."
His property empire has been recently estimated at more than £31m. He began by buying whole rows of cheap terraced housing in Oldham, before moving into the luxury market, and has certainly fared far better than other footballers whose property investments have sent them bankrupt.
Footballers: What they did next
Gavin Peacock
The former Chelsea and Newcastle midfielder quit his job as a BBC pundit in 2008 and emigrated to Canada to begin a three-year Masters course in Divinity at Ambrose Seminary. He also studied for a BA in Theology at a Cambridge college.
Martin Chester
was released after one season in the Crystal Palace first team squad in the 1990s, and is now a geologist, advising oil exploration companies. When he rang the the player's union, the Professional Footballers Association, and asked for help towards the cost of a masters degree, he said they told him, 'No one's ever asked us anything like this before. We call Trevor Brooking the professor because he has one O Level." But they paid in the end.
Ramon Vega
Tottenham Hotspur's Swiss centre half Ramon Vega quit the game and in 2006 founded the Matterhorn Capital Rosalp, a Swiss real estate company developing luxury hotels. The first facilities were in the ski resort Verbier, Switzerland.
David White
David White was a star player for Manchester City in the early Nineties, winning one England cap before moving to Leeds United. Since retiring from injury he's become a director at his family's waste management firm, White Recycling
Neil Webb
Neil Webb played for England in at the 19990 World Cup, but is now working as a postman. The former Manchester United midfielder had his boots cleaned by David Beckham, and was earning £5,000 a week. "I know people might think it's a bit strange, but I've no skills other than football," Mr Webb said a few years ago.
Join our new commenting forum
Join thought-provoking conversations, follow other Independent readers and see their replies