AC Milan reach deal to sign Manchester City striker Mario Balotelli
Italian expected to move before close of the January transfer window
Simon Rice
,
Ian Herbert
Tuesday 29 January 2013 17:29 Comments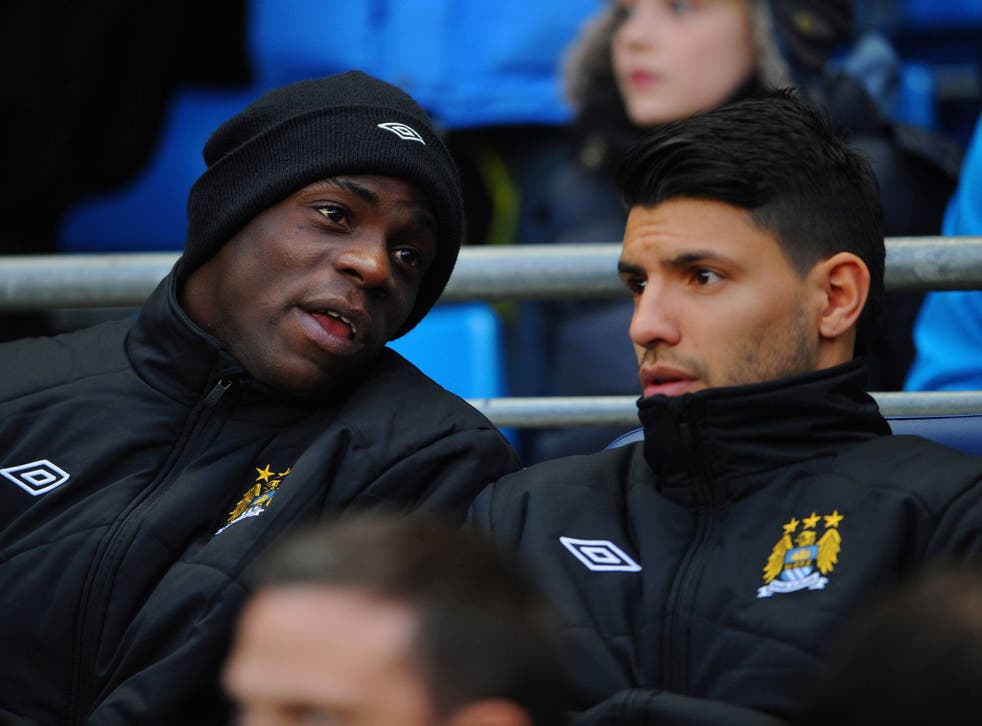 A deal has been agreed that will see Mario Balotelli join AC Milan before the close of the transfer window on Thursday.
Widespread reports suggest the Serie A side have agreed to pay £20m for the Manchester City striker, with some of the fee being made up of bonuses.
AC Milan themselves claim Balotelli has signed a four-and-a-half year deal subject to a medical.
"Transfer agreement for Balotelli signed with Manchester City. Medicals tomorrow in Milan, then personal terms until 2017," Milan director Umberto Gandini said on Twitter.
However, sources at City say no deal has yet been signed, although expect one to be before the close of the window.
Caution remains over the deal being completed, however it appears as if the Italian's eventful spell in the Premier League is coming to an end.
Juventus were also competing for the 22-year-old's signature with both they and AC Milan holding talks with Manchester City over the last 48 hours.
City, who had not been actively seeking to sell the striker, had been holding out for a fee which met their valuation having turned down a £17m offer earlier this week.
It's unclear if Balotelli will be in City's squad to play QPR tonight, although it's understood he had been planning to travel to the game before today's developments.
Balotelli's agent, Mino Raiola, did not rule out the prospect of a move taking place within the next 72 hours. He told The Independent last night: "Until now [the position] has not changed. He is not going there [to Milan]." Raiola declined to discuss the issue further and referred inquiries to City, though in previous conversations he has categorically ruled out a move for the his employer.
With Mancini reluctant to be reduced to three recognised strikers – Carlos Tevez, Sergio Aguero and Edin Dzeko – City had been demanding a premium price for the player, though a bid close to the £24m they laid out for him in August 2010 was understood to be tempting.
The only individual who has any hold over Balotelli is his mother, Sylvia, who lives in Brescia, an hour to the east of Milan. Few at City deny that her continuous presence would make his chances of succeeding at Milan far greater than in Manchester.
Milan's own resolve to make the transfer happen may have been stiffened by the decision of Didier Drogba to reject a move to San Siro in favour of Galatasaray.
Balotelli's absence among the party of Manchester City players who gathered at Stockport station for the journey south yesterday set the rumour mill off but was not a cause for suspicion. But with stories rife about the future of the player, meaning was read into City coach Brian Kidd asking the striker for an autograph after training and Samir Nasri stopping to talk to Balotelli through the window of his camouflaged Bentley as he left City's Carrington training complex. The player's Alderley Edge home went on the rental market last week.
City are less than impressed with the public way in which Milan have conducted themselves over Balotelli, which all appeared to be part of a strategy to secure a last-minute deal. The Milan vice-president Adriano Galliani has said that "at today's price it's 99.5 per cent certain that he is not coming" – having initially declared the deal dead.
A member of City's starting line-up in the 2011 FA Cup final, when they ended a 35-year wait for a trophy, Balotelli also provided the crucial injury-time pass that set up Sergio Aguero for the dramatic Premier League title-winning goal at the Etihad Stadium in May.
But that momentous afternoon came just five weeks after manager Roberto Mancini had said Balotelli would never play for City again after the striker was sent off at Arsenal, having been lucky to avoid a red card earlier in the same game for a dreadful challenge on Alex Song.
Such lapses in professionalism have scarred Balotelli's time with the Blues.
There have been numerous training ground bust-ups; only recently he had to be separated from his manager after he lunged in on Scott Sinclair, whilst his petulant on-pitch behaviour led to City imposing a fine which he threatened to challenge at a Premier League tribunal until finally backing down in December.
Through most of the controversy, Mancini has stood by a player he has paid special attention to since they were together at Inter Milan.
And, until this season, Balotelli's contribution on the pitch has been enough to keep Mancini and the City supporters on his side.
However, after returning from Euro 2012 with his reputation enhanced by a series of impressive performances for Italy, most notably the semi-final win against Germany when he scored twice, he has made neglible impact on the Blues' title defence.
He has made just two substitute appearances since a dire performance against Manchester United at the beginning of December, when he was handed a surprise start, but did little of note before being substituted in the second-half.
Though Mancini and assistant David Platt have repeatedly stressed since then that Balotelli is going nowhere, rumours of a move to Italy have gained strength.
And now all that is required are the final touches to be put to the transfer of a player many will ultimately feel has been more trouble than he is worth.
Register for free to continue reading
Registration is a free and easy way to support our truly independent journalism
By registering, you will also enjoy limited access to Premium articles, exclusive newsletters, commenting, and virtual events with our leading journalists
Already have an account? sign in
Join our new commenting forum
Join thought-provoking conversations, follow other Independent readers and see their replies