Adam Johnson: 'I was getting up to no good'
The midfielder tells Martin Hardy, he was being sucked in by 'the streets' not long ago but his family saved him and now he has World Cup ambitions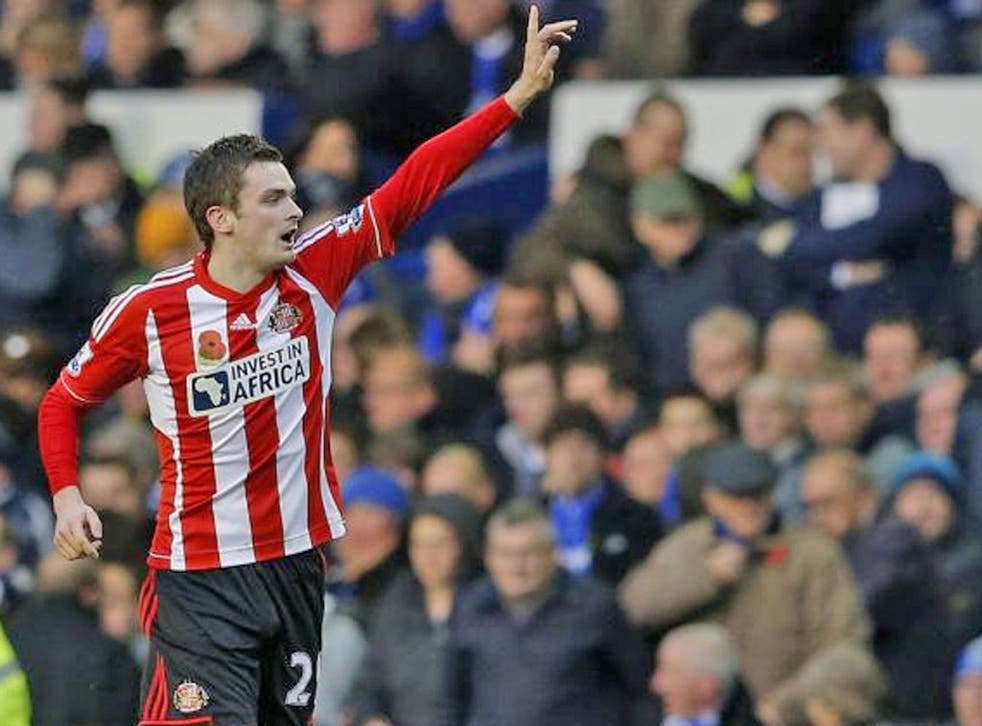 Adam Johnson is struggling with the defensive side of table football while John O'Shea plays pool using a cue with no tip. "Have you scored yet?" asks O'Shea. "I doubt it," replies Johnson. "I'm in goal."
Around them are 10 boys from the Hermitage Academy, a secondary school in Chester-le-Street.
One is on the phone to his friend.
"I am, I'm here with John O'Shea," he repeats into his mobile.
"John, will you tell my friend I'm sitting with you please?"
"Yeah, no problem," replies O'Shea.
He takes the phone.
"Hello, how are you doing? What's that? Are you speaking to John O'Shea? No. I'm not John O'Shea. I sound Irish do I? No, I'm not Irish. I'm just really good at accents. Your friend said I play for Sunderland? I think he was winding you up. No, I don't play for Sunderland. I'm just a bloke at the Cestria Centre of Light.
"Would you like to speak to your friend again? Okay, see you later."
The room is filled with schoolboys laughing from the pits of their stomachs. That alone is significant.
The centre is a grand title for what used to be a small unit in a largely rundown shopping centre. The area had a dispersal order served on it to curb anti-social behaviour. Sunderland AFC's Foundation of Light took over the shop almost five years ago (in partnership with Cestria Community Housing) as it branched out from its five classrooms at the club's stadium, in an effort to reach directly into the community. More than 1,000 out-of- work people have enlisted for projects designed to get them back into jobs. The centre is reckoned to have stopped more than £350,000 worth of criminal damage in the local area.
It opens late twice a week, to give local children somewhere to go.
Johnson has reason more than most to appreciate what is on offer. He grew up in Grants Houses, a small village next to Easington. At the Caterpillar site in Peterlee, another Foundation of Light centre has opened (there are four). It is where his dad used to work.
"There's nothing much to do apart from get up to mischief for a lot of kids," says Johnson. "Everyone will have experienced it and did it themselves. It's not a massive thing, many teenagers will go down the wrong route.
"I would go out with my friends on a night, I never thought to myself anything other than football, but the nights I wasn't at training, I would still be out with my mates. You go out when you are young, have a kick around on the streets with friends.
"All of the areas in and around Sunderland where I'm from are similar. It's hard not to get sucked into that sort of life. It was football but once you had left school it was hitting the streets. I was lucky, I had a good family and friends and I led myself away from that side of things.
"It wasn't too long ago that I was one of them. I was getting up to no good and that. In big cities there might be more for kids to do, but not where I was from, in these places. For me boredom was a big issue. These centres are first class for kids. From my point of view I can relate to them. When it is the dark nights, you can't play football, so you tend to go out on the streets with your mates. I don't blame kids for that, that's what happens. It's part of growing up. These centres all help lower the numbers on the streets in the dark and it is understandable that the numbers for alcohol-related incidents or violence are reduced. It's nice to see. There's also the education side of things. It gives kids a better chance.
"To be so fortunate to be a footballer makes you forget about anything you could have been or might have been. I was the lucky one. I was just interested in football." And football was interested in Johnson. From a young age.
At nine he made his debut at Wembley, for Peterlee Boys. He roomed with goalkeeper Dale Roberts, his best friend who committed suicide just over two years ago. It was their first time in London. "We were just being stupid, running around the hotel," he adds. "It was fun then. You didn't really think about what you were about to do. The excitement was there where you couldn't sleep, but you don't realise how big it is at the time. You're little.
"I played for Cleveland Juniors and all the scouts would be there from a young age. It definitely helped me to carry it on. You know you are on the first step towards becoming a player. It was the prospect of being a footballer which spurred me on. The thought of not making it spurred me on more. There wasn't going to be anything else.
"My dad once said he had been talking to scouts after a game I'd played. I'd have been eight or nine. You don't know how serious it is. You go home, you go out and you play five-a-side with your mates. It's only looking back you realise the importance.
"I've been with loads of lads who've had all the ability and not kicked on, it didn't work out for them for one reason or another. They might have been on the streets or whatever. The main thing is that I was not going to let that chance go away. I was going to stay focused."
He went to the Newcastle Academy first. Then to Middlesbrough's. He became the winger-in-waiting to succeed Stewart Downing. There were eight England Under-19 caps, loan spells at Leeds and Watford (five goals in 12 games) before he shone for the first team at the Riverside. By 2010, a £9m offer had been tabled by Manchester City. He went and won FA Cup and Premier League winners' medals.
"But for a few certain things I would still have been there," he says. "Things happen in football. When I knew I was leaving I was focused on football and succeeding at Sunderland.
"Looking back at Middlesbrough I probably deserved to be playing when I wasn't. It was the same case at City, although not as much because of the rotation and things. That was what this move to Sunderland was about, coming and playing most games. Playing football is what you want to do. That has never changed, I wasn't happy to just sit there and let my career pass by."
So he moved to Sunderland, back home, for £10m in August. There was a hamstring injury to clear, a new club to get used to, leaving one of the biggest clubs in Europe. It took time to settle, but his form has returned. There have been four Premier League goals and four assists in the 21 games he has started. Martin O'Neill has shown loyalty.
"He stuck by me. He's one of the best man-managers around and he was keen to let us get on with it. He didn't say any magic words, he just wanted to stick with us and urged us to stick through it. The gaffer knows attacking players have the most pressure on them to create or score a goal. He knew it would come. When we were struggling to score at the start of the season, the creativity gets blamed on the wingers. That doesn't bother me.
"We have to progress as a club like we have in the last couple of months. If we can keep winning games and moving up, then who knows where that can take us? For a player to be involved every week, that gives you some extra freedom. It does help to know the manager is sticking with you."
Once more he must turn the head of the England manager. Roy Hodgson left the 25-year-old out of his squad for next week's friendly with Brazil, but international ambitions were a reason for leaving the Etihad Stadium.
"That's big for me but there is more than a year before the next World Cup," Johnson adds. "I just have to concentrate on playing for Sunderland, scoring goals and creating goals. If I can keep doing that then it can be hard to ignore."
He is less gifted at table football, and loses. As does O'Shea, without a tip, against a group of teenagers, with a chance.
My Other Life
"I haven't played golf this year, not since October. I'm a fair-weather golfer. You won't see me when the weather is poor. The clubs are in the garage but I will still play off 12 when I do get round to playing again, don't worry!
"I just tend to go home on an afternoon after training. I don't do much. I don't play 'Fifa 13' so much on the PlayStation, I play 'Medal of Honour' a lot more now."
Join our new commenting forum
Join thought-provoking conversations, follow other Independent readers and see their replies